Power Up With Pilates
Health & Fitness
|
Issue 241
Sculpt a lean, strong body with this cutting-edge Pilates workout from Fiit trainer Gede Foster
Need an all-round body MOT? You can't go wrong with Pilates. It suits all ages and fitness levels, works on the deepest muscles in the body to strengthen, realign and iron out any imbalances, and is perfect for posture, making you stand tall and feel longer. But as well as being an ideal as an independent workout, Pilates is also a great way to support and enhance any other training that you enjoy.
By strengthening and rebalancing your body, you'll perform better, reduce you chance of injury and recover quicker, too, which is why we've teamed up with Gede Foster, advanced Pilates teacher and head of fitness at Fiit (fitt.tv) to bring you a workout that will let you reap the benefits of Pilates in just seven moves.
POWERFUL PILATES
Gede, who devised the following sequence especially for H&F readers, says, 'My style of teaching is a slow burn,' says Gede. 'I lead clients through a very technical practice, moving slowly with precision, applying the correct breath pattern to build a string fire in the core.' This workout also has a strong core focus, challenging your abdominals three dimensionally through all planes of motion. 'It starts with your deeper core muscles, laying a good foundation for you to build on and layer on top of,' says Gede. And the benefits? 'These exercises will really help to ease any lower back or neck tension, and help to improve posture,' she adds. 'When you finish this sequence you will feel stronger, supported and be standing taller.' Turn the page to give it a go.
1 DEAD BUG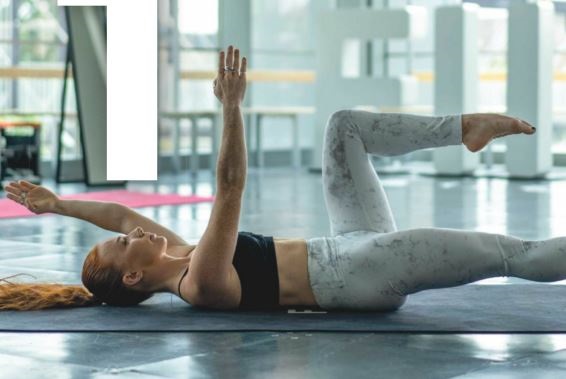 How: Start by lying on your back. Imprint your spine by exhaling and drawing your hip bones and your lower ribs towards each other, letting your lower back melt into the floor. Inhale and lift one leg to tabletop then exhale and bring up the other leg. Lift your arms up to the ceiling. Inhale then exhale as you extend your right leg and left arm away from your body (pictured). Inhale to return to tabletop. Repeat both sides for 10 reps and repeat 3 times.
Watch out for: As one leg moves away, the opposite leg might try to creep into your chest, which makes it easier on your lower abdominals. Really challenge the stability of your core by keeping the leg in table top super still.
You can read up to 3 premium stories before you subscribe to Magzter GOLD
Log in, if you are already a subscriber
Get unlimited access to thousands of curated premium stories, newspapers and 5,000+ magazines
READ THE ENTIRE ISSUE
Issue 241