15 Ways To Upgrade Your Gym Workout
Health & Fitness
|
October 2015
Back from your holiday? Gym routine gone? Christina Macdonald explains why it's still the best place to be if you want to get back in shape.
Your weekly Spin class might have been the furthest thing from your mind while you soaked up the sun, but the holiday season is over and the gym can promise new classes, variety and, best of all, a chance to lose those post-holiday pounds. Gyms are evolving fast to offer you a new, sophisticated and effective way to get results. Mix up your training, try different classes, get involved with a personal trainer or devise your own mini circuit sessions. Here are 15 ways to kick-start your gym workouts, boost results and have fun while you get fit…
01. TRY BOOTCAMPS… INSIDE!

Such is the success of outdoor bootcamp classes, they're now coming to the gym floor. 'We're seeing a lot of "outdoor-style" activity in the gym,' says Technogym master trainer Steve Harrison (technogym.com). 'It involves plenty of space, running drills, small group interactions and shorter, sharper classes.' Bootcamp classes are varied, improving your cardio fitness and stamina as you'll be running, doing intervals and encountering obstacles. You'll also boost strength using dumbbells, resistance bands or your own body weight.
TRY: David Lloyd's Orangetheory class (davidlloyd. co.uk). It's claimed to burn 500 calories a session.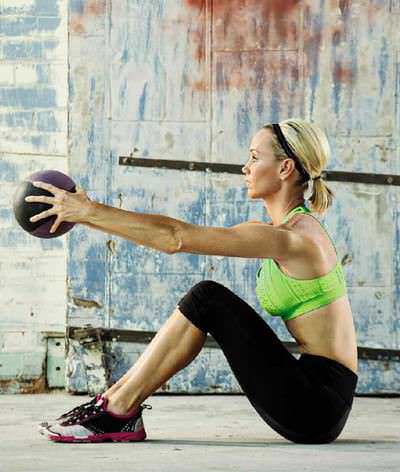 02. COUNT TIME, NOT REPS
If you want to burn more calories, forget about counting the number of reps for each set of an exercise – try 'time under tension' instead. This means thinking about the timing of your exercises, rather than simply counting reps. This style of workout will also improve your strength. A study published online in the Journal of Physiology showed that slower lifting movements create more strength – spend twice as long lowering the weight as lifting it for best results.
TRY: 'Work 30-45 seconds flat doing as many reps as you can, which will burn more calories than counting reps without worrying about a time limit,' says Anthony Mendoza, David Lloyd platinum personal trainer.
03. BE THE BOSS
Want some one-to-one advice but don't like the idea of being bossed around by a PT? Good news. There's a new, more empathetic breed of personal trainer, re-shaping themselves as lifestyle coaches and trying to find out what really makes you tick. The result? You get to take control of the sessions. 'I tell trainers to let the client lead the workout,' says Harrison. 'There's no point having a varied workout if the client doesn't like it. I encourage personal trainers to ask their clients: "Do you think you'd like to run?" or "What sort of activities did you enjoy on holiday and how can you bring them back into daily life?" The aim is to relax and have fun.'
TRY: Tell a prospective personal trainer what exercises you like and dislike. A good trainer should be willing to ditch those you don't enjoy and offer alternatives.
04. DO ALTITUDE TRAINING
Mere mortals can now reap the huge benefits of training at altitude, athlete-style, without having to head for the mountains.
TRY: Virgin Active's new Walbrook Club in London (virginactive.co.uk) has an altitude studio, which simulates the conditions of being at 3,000m, upping your heart- and breathing rates and making your muscles work harder. You'll burn lots of calories and get fitter, fast.
05. MAKE IT SHORT
Gyms know your time is precious, so increasingly, they're offering express classes to get you fit in half the time of regular ones. 'During a shorter session, you tend to push yourself harder and the results are longer lasting,' says Harrison. If you work to the max, your metabolic rate will be elevated afterwards, meaning calories are burned at a faster rate post-exercise. Kettlebells are great for improving your strength and power, while also giving you a cardio workout, as your heart rate will soar, even while you're doing the basic kettlebell swing. TRY: Nuffield Health (nuffieldhealth. com) offers Express Kettlebells and Circuits that work your whole body in half an hour. Both are high intensity, so your heart rate will rise.
06. WORK OUT IN 3D
You can read up to 3 premium stories before you subscribe to Magzter GOLD
Log in, if you are already a subscriber
Get unlimited access to thousands of curated premium stories, newspapers and 5,000+ magazines
READ THE ENTIRE ISSUE
October 2015