A weight off -YOUR MIND
Good Health Choices
|
November 2019
IF YOUR WEIGHT FLUCTUATES AS MUCH AS YOUR MOODS BECAUSE OF DIETING, THEN NUTRITIONIST MICHELE CHEVALLEY HEDGE HAS SOME SAGE ADVICE
'A healthy lifestyle doesn't need to feel like deprivation'
Flicking through the first few pages of Michele Chevalley Hedge's newbook, there is a chapter about how no matter what we do or how healthy we are, sometimes life just has other plans for us. Her younger brother Greg was a firefighter and found himself at the scene of the World Trade Center tragedy on September 11, 2001. Three years later, despite his healthy lifestyle, he was diagnosed with lung cancer and given only months to live.
Given Michele is both a qualified nutritionist and an ambassador for Cure Cancer; one might naturally expect that the story to follow would be of how his cancer was cured with the power of nutritional medicine. But that isn't what happened at all.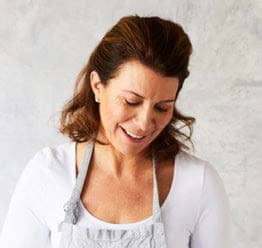 'my brother greg was as healthy as a horse, he just happened to be exposed to toxins'
The turning point
"After the diagnosis, I would tell Greg we were going to have a green smoothie, but he would say, 'No Michele, we're not. I'm going to have a beer and you're going to have a martini, and this is how we are going to play this out,'" she says. "It was a really big turning point in my life and how I thought about health.
"Previously, I'd say to people that if you practise yoga, do meditation, drink green smoothies and stay hydrated, the stats will tell you that you'll have better wellbeing and a longer life. But that isn't the full truth, because my brother Greg was as healthy as a horse, he just happened to be exposed to toxins. It doesn't matter if you're living the healthiest of lives, sometimes things just happen beyond your control."
Life is to be enjoyed
Her new book, Eat, Drink & Still Shrink, honours her belief that while a healthy lifestyle is essential for feeling at your best, life is meant to be enjoyed. A life of 'no' is no life at all, and a healthy lifestyle doesn't need to feel like punishment or deprivation.
You can read up to 3 premium stories before you subscribe to Magzter GOLD
Log in, if you are already a subscriber
Get unlimited access to thousands of curated premium stories, newspapers and 5,000+ magazines
READ THE ENTIRE ISSUE
November 2019