Baby Steps For Fortis
Forbes India
|
September 18, 2015
In two years, India's second largest health care company has reduced its debt from a high of Rs 7,000 crore to less than Rs 1,200 crore. But, in the process, promoters Malvinder and Shivinder Mohan Singh had to sacrifice their international dreams.
A giant ivory-coloured smiling baby with a stethoscope dangling from its ears sits in the middle of the lobby at Fortis Memorial Research Institute in Gurgaon near Delhi. The diaphragm of the stethoscope rests firmly on the ground. The sculpture had been commissioned by brothers Malvinder and Shivinder Mohan Singh, the founders of India's second-largest hospital chain, Fortis Healthcare Ltd. The baby represents Fortis, and the stethoscope signifies its grounded approach to the business of health care. "We had asked artist Jitish Kallat to do a marquee piece for us for our ninth anniversary (in 2010)," says 40-year-old Shivinder, the younger of the two brothers and executive vice chairman of the company. "We [Fortis] have become very large but are child-like in our approach to health care because we still have our ear to the ground."
Five years have gone by since the installation of the sculpture, during which time Fortis's revenue has increased 341 percent from Rs 938 crore in FY2010 to Rs 4,140 crore in FY2015. Shivinder jokes that the baby, too, should have grown in size. "Maybe we need to give it some clothes and shoes," he laughs. Almost immediately, the mirth fades and he adds solemnly: "But we did sell a lot of our international assets as well, so that reduced our size." And this sums up Fortis Healthcare's 14-year-old journey, which started in 2001 with a single hospital in Mohali, Punjab.
In a little over a decade, the company has seen one too many flip-flops. It set up 55 hospitals across 15 states in India; then from 2010, it began expanding to Singapore, Dubai, Vietnam, Hong Kong and Australia, only to sell off most of its overseas assets by 2015. The reason for this U-turn was the company's huge debt pile, which at its peak in 2013, stood at Rs 7,000 crore. In our August 9, 2013, issue—when Fortis had just started offloading its excess foreign baggage—Forbes India had written about the health care group's 'acquisition madness' and its decision to trim losses ('Fortis Has a Renewed Focus on India').
Contrast this to its closest rival and market leader, Apollo Hospitals, which has chosen a more calibrated approach to international expansion. While Apollo does have one hospital in Dhaka, Bangladesh, it focuses on attracting medical tourists to India.
In May this year, Fortis sold diagnostics company RadLink-Asia Pte Ltd in Singapore and, in doing so, has erased the multinational label it had once aspired to wear (see box 'International businesses acquired and sold').
With the sell-offs, Fortis has managed to reduce its net debt to Rs 1,183 crore (as of FY2015). Its interest outgo has also dropped from Rs 178 crore in Q1FY13 to Rs 32 crore in Q1FY16.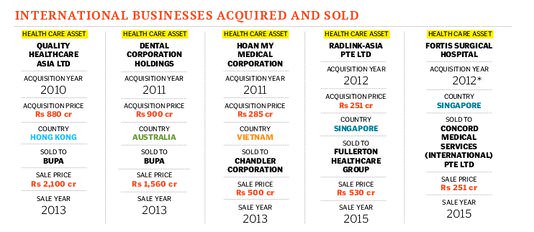 Was it a case of the baby learning to walk before it could crawl? Shivinder and Malvinder—who are known for their ambition, aggression and penchant for growth through acquisitions—have no regrets. "We have invested a fair amount of capital because we are a young company. We have been aggressive in our expansion and now we need to milk that to generate returns," says 42-year-old Malvinder, executive chairman of Fortis.
He and his brother have been playing in this field for many years, having sold their stake in Ranbaxy Laboratories to Daiichi Sankyo for $4.6 billion in 2008 and acquiring 10 hospitals from Wockhardt in 2009. "We have done this by keeping in mind the feedback we received [from investors]," says Shivinder, defending the decision to divest Fortis's international portfolio. The hospital chain's debt-to-equity ratio is currently down to less than 0.25 from 1:1 in the previous financial year.
This hasn't done much for its profitability, though. In FY2015, the company reported a loss of Rs 144 crore on revenues of Rs 4,140 crore. The Singhs have a plan to remedy this so that the hospital chain will become PAT-positive in FY2016. They have mapped out an ambitious but achievable target given that India's health care market, estimated to be $119.6 billion, is growing at a compound annual growth rate (CAGR) of 15 percent.
You can read up to 3 premium stories before you subscribe to Magzter GOLD
Log in, if you are already a subscriber
Get unlimited access to thousands of curated premium stories, newspapers and 5,000+ magazines
READ THE ENTIRE ISSUE
September 18, 2015