The Amazing World Of Blissful Parenthood At ARC
Food & Health
|
September 2018
The field of medicine and healthcare is a highly respected industry across the world.
While any other sickness, ailment or disease affects an individual and creates an indirect impact for the family and community; the problem or health challenge concerning infertility and reproduction will not only affect the individual and their family but also their community and the entire human race for that matter. Imagine a situation where there are no babies to become the next generation - the entire human life will come to a grinding halt and collapse.
Knowing the seriousness and importance of this field of medicine and healthcare namely fertility and reproduction, around the world many committed and highly learned medical professionals invest their time, money and efforts to address this challenge that is poised against humankind and have came out with amazing solutions to ensure that the human life cycle goes on and on.
One such dedicated couple in the field of medicine and healthcare, who have strong convictions and high determinations which emerged close to two decades ago and who have been continuously putting their heart, soul, money and efforts is Dr. L. Saravanan and Dr. Mahalakshmi Saravanan of ARC International Fertility & Research Centre.
The need for Infertility treatment has made an impression that it is over hyped, whereas the fact of the matter is the challenge to deal with this issue which is really high for medical practitioners as people are still not coming out with their inhibitions in this matter. Parenting is a universal joy and the phenomenon is common across all of humanity. To be unable to experience this joy and aspect of life can be a source of great sorrow to any couple. It not only affects them but also depresses the entire family.
ARC has become a prominent name in treating infertility related issues. Dr. Saravanan and Dr. Mahalakshmi Saravanan have dedicated years of experience to bring the best fertility care to patients through local clinics. ARC has benefited tens of thousands of patients to get pregnant through essential treatment provided with care. They enjoy a unique gift of trust that patients have shown them. They are our testament, their team work to provide the best of medical care at affordable cost. And they believe that everyone has the right to get pregnant, despite their financial condition Says Dr. Saravanan and Dr. Mahalakshmi Saravanan.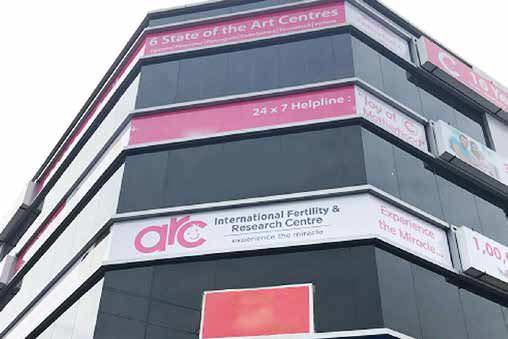 You can read up to 3 premium stories before you subscribe to Magzter GOLD
Log in, if you are already a subscriber
Get unlimited access to thousands of curated premium stories, newspapers and 5,000+ magazines
READ THE ENTIRE ISSUE
September 2018