DR G. BAKTHAVATHSALAM CHAIRMAN - KG HOSPITALS GROUP
A MULTI TALENTED & LEGENDARY MEDICAL PROFESSIONAL OF INDIA
Over the years, there have been many ideas of what a Hero is. Some people believe a hero is an exceptional athlete, others think it is someone who made news for a job well done, or a few relate the word to Superheroes. Being a Hero is more than being the strongest person around.
These are the people people who make a huge difference in millions of lives with their unparalleled contribution, and are truly deserving of greater recognition and appreciation. These are the heroes who are not spoken much about, and nor do they expect it. These are "The Everyday Heroes" that exist in our world. Their life experiences teach us more than any book ever can.
One such remarkable individual is The Chairman of KG Group of Institutions, Dr. G. Bakthavathsalam, fondly known as Dr KGB, a Legend in the medical field and an epitome of Humility, Compassion and Love, whose incredible story needs to be shared and celebrated.
Dr. KGB is a multifaceted personality - a visionary, a renowned surgeon, a philanthropist, an orator, a leading industrialist, a dedicated teacher, a successful professional, an entrepreneur and an ardent believer in social work.
His ceaseless curiosity, boundless courage and world-changing ingenuity has impacted the society and pushed every individual he has interacted with to think Bigger, move forward and create big dreams. He strives to teach students the core principles of understanding medicine and human values, so that they are able to figure things out, rather than just teaching them to memorize lists of facts and statistics. He also brings a sense of fun and enthusiasm to his teaching. He is a compassionate doctor and a meticulous surgeon who has personally mentored hundreds of good doctors and nurses.
Known for his sharp memory, he says he saves the phone number of every individual he speaks to. With around 15,000 contacts on his phone list, he believes it's the small things, like even addressing people by their name on a phone call, that make people happy.
A Memorable Childhood & Education
Born on April 5th 1942, in Annur a small village in Coimbatore district, Dr G. Bakthavathsalam was born in an underprivileged family to uneducated parents, K. Govind Swamy Naidu and Rukmani Naidu.
Although not being very financially strong, the father knew that Education would give his children the knowledge of the world and would help them change the society to something better. He wanted all his children to be educated well and do good to the society. This developed in Dr. KGB a perspective of looking at life.
Starting with basic elementary school in a small classroom of 4 students, he recalls going to the Professor's house for his schooling in a Bullock Cart (which he calls as a Mercedes Benz of those days) and had an ecofriendly way of Studying with a Slate and chalk. Astonishingly, he completed Kindergarten to Grade 2 in one year in the village elementary school and then completed his schooling in a Tamil Medium school in Coimbatore.
Having completed his graduation and post-graduation from Madras Medical College, he had his postgraduate training in Surgery at Mount Sinai Hospital, Chicago, the US. He returned to India to set up KG Hospital which has now attained international reputation. The hospital has so far treated over 4.5 million patients.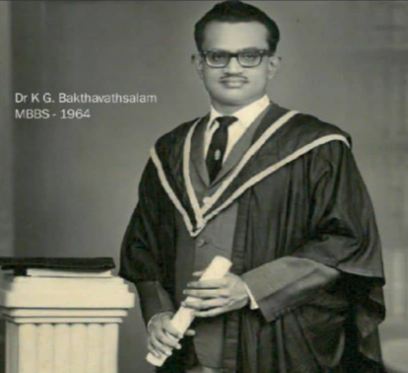 Following the Footsteps of His True Role Model His Father
Amongst all his uncles, Dr. KGB claims his father is the only son to his grandfather who had a vision and was well-known in the society. None of the other sons made a mark in the society. With a motive to educate every child in his village, his father built a school in his village, KG women's School and a Hospital centrally located in the city of Coimbatore, KG Hospital. The hospital, being a Trust Hospital, functions on a not-for-profit alone basis, so that any person could take treatment in the hospital, whether he is rich or poor, at a fairly reasonable cost. The Vision is to "Keep the Patient Happy at all times."
Dreaming Big is the success tip he learnt from his father. No institute in the world teaches a person to Dream. Dr. KGB says his technical knowledge only helped him set up the hospital, but his father taught him other professional ethics. He never turns away any patient for want of money and in deserving cases he is magnanimous enough to extend concessions.
Following the selfless vision set by his father, Dr. Bakthavathsalam, dreams to serve the society and spread happiness. Collectively, DR. KGB and his family manage 25 institutions providing employment to thousands.
Stating that his father had divinity in his words, DR. KGB believes that God spoke to him through his father. He considers himself lucky to have the opportunity to serve his father and also have operated on him, a privilege not earned by many.
Realizing his Father's Dream
Dr. KGB says his father imbibed the dream in him to become a doctor. Quite a revolutionary thought to make him the best in his field despite coming from a lower stratum of the society, known as the Kshatriyas, who usually work in the fields or work as soldiers and lead an ordinary life.
You can read up to 3 premium stories before you subscribe to Magzter GOLD
Log in, if you are already a subscriber
Get unlimited access to thousands of curated premium stories, newspapers and 5,000+ magazines
READ THE ENTIRE ISSUE
May 2020