A Medical Stalwart With The Golden Heart & Magical Hands - Dr. Naresh Trehan
Food & Health
|
September 2018
(Nominee of the prestigous 'INDIAN BOOK OF ACHIEVERS RECORDS & AWARDS 2018')
A Born Leader
Dr. Naresh Trehan is one of the most renowned cardiovascular surgeons in India. He returned to India in 1988 after a mind sweeping career in the United Stares of America. And with very high degree of commitment and determination, he marched himself to the next level in the field of medicine, medical research, advanced treatments and soon.
He holds the credit for being a personal surgeon to the President of India and has received numerous awards for his contributions in the field of healthcare. However, success didn't come to him overnight. He says that his accomplishments have got more to do with his determination than destiny.
Dr. Naresh believes in living his life to the fullest and hence, prizes every life more than anything else. With more than 50,000 cardiac surgeries to his name, this high spirited doctor strongly believes that to be healthy one must be multidimensional. He has been leading very disciplined, yet a fun filled life. And his dedication and contribution as a heart surgeon is respected and appreciated by all sections of the society. As a legendary Medical Professional, he has been working and contributing for the welfare of the people in their needs. Success to him has been like steps in the ladder that take him one step ahead towards his mission and goals.
There are various aspects about Trehan's childhood and teenage that are not related to medicine, but have surely fuelled his competitiveness and creativity in that field. These include the time when Trehan used to be forced to write with his right hand, despite being left-handed. This ambidexterity went on to become one of his greatest strengths as a surgeon.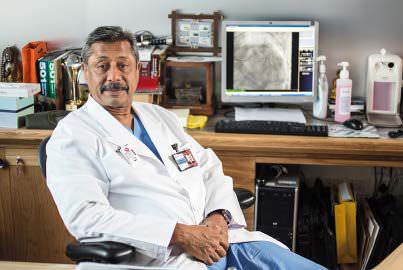 Early Life & Inspirations
Ever since his childhood, Dr. Naresh had the making of a genius and was forever intrigued by new things. Born to ENT specialist father and gynaecologist mother, Dr. Naresh Trehan had a modest upbringing. He attended Modern School (Barakhamba Road), where he was a member of the hockey and cricket teams and president of the aero-modeling club. Being born to doctor parents, Dr. Naresh had come to value the satisfaction that comes with the profession from a very early age. His father was an exemplary figure to him, not just because he was a doctor of big repute, but because of the medical services he rendered to the poor and needy patients for free. Although he enrolled in Hindu College for his higher studies, he simultaneously kept preparing for medical school. From Hindu, he went to King George's Medical College, Lucknow for further studies.
Trehan was always fond of using his hands to create things. A highlight of his childhood days was the birthday his father got him a Meccano set (used for model construction). Working with this set helped Trehan realise his creativity and also got him into aero modelling, which further helped him hone his creative skills. The stigma around being left-handed didn't work very well for Trehan when he was a child. His tutor used to be very strict and made him write with his right hand. This didn't make Trehan feel happy about himself at all. Little did he know that being ambidextrous would come handy during his gruelling hospital training in New York, years after he graduated from school and college. As Trehan could use both hands simultaneously, he could do things much faster than others.
Trehan's family moved to Connaught Place in New Delhi after the partition of India in 1947. They got a three-room flat in settlement, with two rooms being used as clinics. Because, Naresh Trehan's father was practicing as an ENT Specialist and his mother, who is also a Doctor practicing Gynaecologist. As a Child, Trehan used to see patients come with tears and leave with a smile on their faces, which had a great impact on him. Surprisingly, Its quite interesting to know that Trehan's parents didn't encourage him to become a doctor as it took a lot of hard work and missing out on family time. But, Naresh Trehan was highly determined and was inspired by His Parents and their service to Pursue Medicine, and he wanted to make visible Impact on Society through his medical services one day.
As a surgeon, one needs unlimited stamina. Trehan got this during school years, while he was at Modern School (Barakhamba Road), New Delhi. He started excelling at sports and was on the cricket and hockey teams. Playing at the state level helped him develop the spirit of sportsmanship, competitiveness and stamina — things which help him even today during the long and tiring hours spent doing surgeries and treatments.
You can read up to 3 premium stories before you subscribe to Magzter GOLD
Log in, if you are already a subscriber
Get unlimited access to thousands of curated premium stories, newspapers and 5,000+ magazines
READ THE ENTIRE ISSUE
September 2018