The TIES that BIND
Arthritis Today|May/June 2020
Arthritis can be hard on reationships, but learning to cope can strengthen bonds –and even bring blessings.
When Wendy Santos married her husband, Vince, in 2001, she couldn't have predicted what lay ahead. Within a few years she would need to become "a specialist in respiratory care" through a trio of surgeries to enlarge Vince's airways, which had been damaged over a lifetime with juvenile arthritis. She didn't anticipate the shots, wound care and missed days of work that would come with those and eight additional surgeries. She didn't realize how Vince's arthritis would affect their lives even on good days.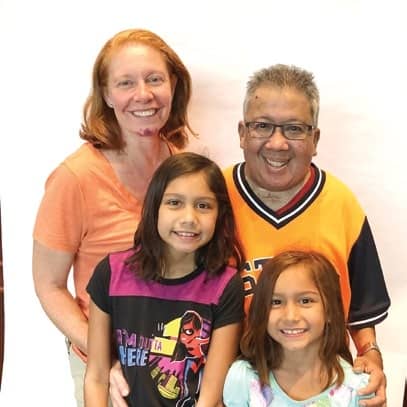 Arthritis is a family affair for Wendy and Vince Santos and their daughters, Joy and Hope.
"I didn't know enough to know what I was getting myself into," says Wendy. "But I felt like he really loved me, and I really loved him, so we'll figure it out. Once I agreed [to marry him], I just never looked back."
Vince himself didn't know what to expect from the disease he had battled since he was 2 years old. But once Wendy came into his life, he says, one of his greatest concerns was how it would affect her.
Eighteen years of marriage and two daughters later, the Houston couple's life together has been a lesson in the trials arthritis can bring to a relationship, the determination, compassion and love it takes to deal with them, and the rewards of a strong and loving partnership.
"We have learned a lot. We have gone through so much together," says Wendy. "Still, I would do it all over again, because what we have is really special."
Chances are, you have had relationship challenges as a result of your arthritis, too. While the impacts may be hardest on your closest ties, chronic illnesses also can challenge relationships with other family members, friends and coworkers.
All those connections are important for both mental and physical well-being. In fact, research has shown that strong relations and social support can help people maintain a healthy body mass index, control blood sugar, improve cancer survival, reduce risk of death from cardiovascular disease, ease depression and improve overall mental health.
With communication and creativity, your relationships can survive and even thrive despite your arthritis, says Katie Willard Virant, a St. Louis psychotherapist in private practice who specializes in working with people with chronic diseases.
life partners
When arthritis forced Vince to leave his job in corporate travel, it was "definitely a challenge knowing I was staying at home and [Wendy] was the one out working every day," he says. "So emotionally and psychologically, that was a little bit of an adjustment."
Becoming the family breadwinner was an adjustment for Wendy, too, she says. But rather than focusing on who did what in the relationship, they focused on the big picture – raising a family together. They knew that working together was the best way to achieve that goal.
You can read up to 3 premium stories before you subscribe to Magzter GOLD
Log in, if you are already a subscriber
Get unlimited access to thousands of curated premium stories and 5,000+ magazines
READ THE ENTIRE ISSUE
May/June 2020