TWO TO TRY
Kitchen Garden|August 2020
If you're looking to trim the hedges in your garden or around your veg patch, here are two different products Tony Flanagan has been putting to the test
ONE TO TRY Shear beauty
I'm lucky enough to have hedges around my garden – lots of them. It's both a blessing and a curse. The good bit is that they provide a lovely home for nesting birds, they stand up to the ravaging winds that we seem to get here in Lincolnshire and the hawthorn blossom in spring is just gorgeous. On the downside, they do need trimming and good tools are essential, whether you are just trimming back a few small garden hedges or you have something more substantial to manage.
K-900Z ARS TELESCOPIC SHEARS
These K-900Z ARS telescopic shears have a length ranging from 72-105cm (28-41in), a blade length of 15cm (6in) and a weight of 980g (34½oz). The blades are made from high carbon steel and have been thermally treated to enhance their hardness. Each blade has a chemical nickelled surface finish which will offer protection from plant resin, staining, and rust. The dial center nut system means you can cut to the full length of the blades, which have a maximum cut diameter of 6mm (¼in). It has two inner shock absorbers on the inside of the handles to take any vibration out of the cutting process. With the telescopic grips, it's just a matter of pressing the button on the inside of each one and sliding the handles down to extend or shorten the overall length of the shears.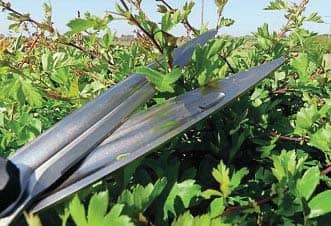 You can read up to 3 premium stories before you subscribe to Magzter GOLD
Log in, if you are already a subscriber
Get unlimited access to thousands of curated premium stories and 5,000+ magazines
READ THE ENTIRE ISSUE
August 2020