PICK A PECK OF PERFECT PEPPERS
Kitchen Garden|August 2020
Whether you're growing sweet peppers for the first time or are a seasoned devotee, avid grower Tony Flanagan has some top tips for you
One of the joys of summer into autumn is to see a burgeoning crop of fulsome sweet peppers in the polytunnel or greenhouse. If you have grown different varieties, you will feast your eyes on a spangled array of greens, yellows, oranges, and reds (even purple perhaps?) of different shapes and sizes. These might be smaller snack peppers or larger, even cuboid ones. But even if you have only grown one plant, you won't be disappointed.
With their origins in South America, the sweet pepper (or bell pepper) Capsicum annuum likes it warm, so tends to be grown undercover. You can grow them outside too, of course, if you have a warm, sheltered spot in the garden which gets plenty of suns, but success will be somewhat dependent on the weather which, as we know in the UK, can vary greatly.
For this reason, I grow mine in a polytunnel but if you're just starting out, mini-greenhouses with plastic coverings are relatively inexpensive and will serve you well.
A warm porch or sheltered balcony which gets plenty of light or a conservatory if you have one are good places too.
SOWING
If you want peppers by mid-summer, you need to sow early: February-March. You can sow in April too but May is leaving it a little late as developing plants will not get the best of summer light and sun, and cropping will be quite late and unlikely to be as productive as you would find starting earlier. Most of the work with growing peppers come in the early stages, getting good germination and then the aftercare required with seedlings and young plants.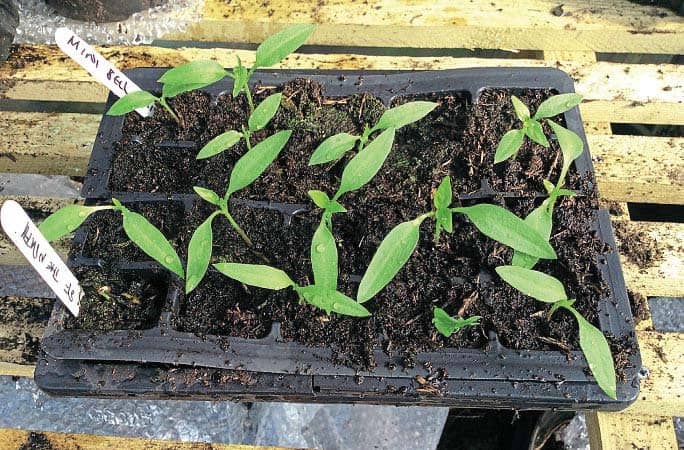 In an ideal world, you have a heated propagator and growing lights. In this case, you can sow seeds in February-March as you will be able to provide sufficient light and heat (around 20C/68F). Sow in seed trays or cell trays filled with about 5cm (2in) of multipurpose compost, setting the seeds about 2.5cm (1in) apart. Cover with a sprinkling of sieved compost and water in lightly. Seeds take about 10 days to germinate and when they are big enough to handle, prick out (or move on) the seedlings to small pots, once again filled with multi-purpose compost. As they grow, turn down the heat in the propagator little by little so that they don't grow too spindly, which also gets them used to a lower temperature.
If you don't have a propagator or growing lights, start off in April on a warm windowsill in the same way and cover with a clear polythene bag – you need to provide both heat and light in sufficient quantities. If you do get spindly seedlings, when you come to move them into 7.5-9cm (3-3½in) pots, position them so most of the stem up to the leaves is buried (as you might do with tomato seedlings) but water in lightly. This always seems to work for me.
You can read up to 3 premium stories before you subscribe to Magzter GOLD
Log in, if you are already a subscriber
Get unlimited access to thousands of curated premium stories and 5,000+ magazines
READ THE ENTIRE ISSUE
August 2020