Grow a salad bar
Kitchen Garden|May 2020
Watery iceberg lettuce and under-ripe tomatoes, anyone? Not on your nelly! Grow your own salad bar and give the limp and lacklustre the heave-ho, implores Benedict Vanheems
Insipid salads are an unfortunate mainstay of far too many British pubs, cafes and restaurants. The situation is getting better– slowly – but the vast majority of salads still involve the same old sorry suspects: watery iceberg lettuce, a flavourless tomato (you know the type – pale, hard and chewy) and, if you're lucky, a slice of cucumber. No wonder the salad bar is viewed with such contempt by so many!
If you want to create sensational salads, bursting with taste and in a rainbow of colours, there's only one solution: grow them yourself. A garden-grown salad bar can be a thing of great beauty. Consider this glorious combo: creamy butterhead and red 'Salad Bowl' lettuce, cut with feathery mizuna and brought to life with bloodveined sorrel and shavings of pungent candy caned 'Chioggia' beetroot. Or how about frilly 'Red Russian' kale, startlingly scarlet orache, baby spinach and 'French Breakfast' radishes quartered lengthways? Then zhoosh them all up some more with heritage varieties of tomato, finger carrots and a scattering of seeds. Say adios average, hello extraordinary!
LEAFY FOUNDATIONS
Let's start building our salad with some leaves. Leaves contribute bulk, a variety of textures and, of course, a symphony of taste. Aim for a balance of heat and bitterness levels, and plan for a mix of leaf shapes and colours for visual interest too.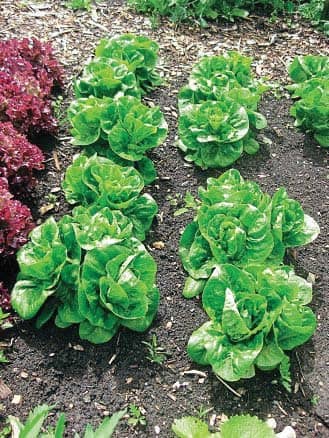 LETTUCE
There are so many different types of lettuce it's hard to know where to start. Head-forming lettuces can be harvested all at once or little and often, picking a few leaves at a time from each plant so that the central rosette continues growing to replace them. Harvesting like this – cut-and-come-again style – means plants last longer, cropping for up to four months before eventually running to seed. It's handy for the time-pressed gardener too, because if plants last longer there's less sowing, pricking out or thinning required.
Sow lettuce from late January undercover or mid-spring outside, as soon as the ground is a little warmer and has dried out from all that winter rain. Continue sowing as needed until late July or early August, when winter-hardy varieties of lettuce can be sown to keep you in leaves during the colder months.
You can read upto 3 premium stories before you subscribe to Magzter GOLD
Log-in, if you are already a subscriber
Get unlimited access to thousands of curated premium stories and 5,000+ magazines
READ THE ENTIRE ISSUE
May 2020