Release Your Housebound Hyacinths
Christopher Lloyd tells us how to make the best use of hyacinths in the garden
The florists' hyacinth is an artificial creation – but how lovable! The stiffness of the plant, the way its stays creak and squeak when leaves and stems rub together, the carefully crimped curl of its petals, and above all its powerful and exotic scent – all these qualities are most endearing.
Most of us think of hyacinths in the context of our homes; their use in bowls from Christmas onwards to gladden the dark days. But what I find particularly cheering about them is that when the flowers in the last bowlful have faded, there is no need to say goodbye to hyacinths for another year. They will just be starting up in the garden, and from early March to early May we can revel in them all over again.
There are two ways of getting hyacinths into your garden: first, by subsequently transferring the indoor-grown plants to a garden site; second, by buying bulbs especially for garden use. Let us look at these two systems.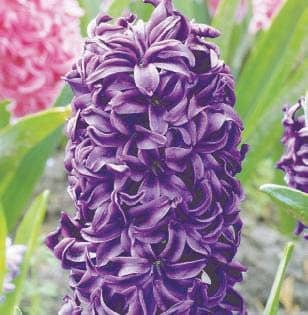 Look after indoor bulbs
Always look after your indoor bulbs when they have flowered. The dying spikes must be removed (they smell appalling at this stage), and the bowls can be stood in the window of a spare little-used room, in a cold frame or in a greenhouse.
Continue Reading with Magzter GOLD
Log-in, if you are already a subscriber
Get unlimited access to thousands of curated premium stories and 5,000+ magazines
READ THE ENTIRE ISSUE
January 11, 2020