Perfume a patio with Night-scented flowers
Amateur Gardening
|
August 08, 2020
As evening falls, add another dimension to a seating area courtesy of moth-pleasing flowers that fragrance the air. Graham Rice selects the balmiest of bedtime blooms
THERE'S nothing better on a warm summer evening than relaxing outdoors with a glass of something cold. Actually, though, there is. A rather special group of plants can make this simple pleasure even more delightful as they have flowers that release their scent when the sun dips and the light fades, perfuming your garden – and your evening – with their intoxicating fragrances.
Night-scented flowers wake up as other garden favourites are clocking off for the day. The reason? It's all about pollinators. As dusk falls, bees head home to their hives and nests, leaving other insects to take over and attend to the important business of pollinating. Moths are especially important; 40 different species have been noted as pollinators for our flowers, in particular hawkmoths and the silver Y. However, there are also night-flying beetles.
Glow in the dark
Certain flowers are adapted to be pollinated by nature's night shift. Many of them have pale-coloured blooms that show up much more than darker hues when the light fades – they literally seem to glow in the dark. And as they open, they release their alluring scents just when those night-flying insects start to become active.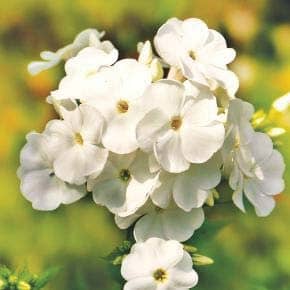 Adding some evening and night-scented flowers to your plot should be a given, but when it comes to choosing which to plant, the nose rather than the eyes will have it. More than daytime scents, these fragrances seem to be a matter of personal taste: some are heavy and sweet, some are more musky; some are citric, others are flowery; while some are rather spicy and clove-like.
Sniffing out your favourites before you buy is tricky, so the only option is to take a chance and give them a whirl. If you find that a fragrance is not to your liking, simply dig up the plant and give it to someone who appreciates it.
The perfect spot
Positioning, meanwhile, is easy. The ideal spot to plant these treasures is anywhere you pass by or sit near in the evenings. Set plants – especially frost tender kinds – in patio containers that can be sited exactly where colour and evening scent is needed, moved if necessary as the weeks pass, and taken into shelter for the winter. Plant them, too, in patio borders, by gates, and over archways along paths, where you'll walk when you come home from an evening out. If you like to leave your bedroom window open at night, a little fragrance wafting in from just outside is lovely.
You can read up to 3 premium stories before you subscribe to Magzter GOLD
Log in, if you are already a subscriber
Get unlimited access to thousands of curated premium stories, newspapers and 5,000+ magazines
READ THE ENTIRE ISSUE
August 08, 2020