My favourite plant, and why
Amateur Gardening
|
August 29, 2020
In these extracts from 1939, AG readers reveal their favourite plants and explain why they wouldn't be without them in their gardens
English bluebells (Hyacinthoides non-scripta)
From AG 6 May 1939
Bluebells
ALTHOUGH I make an effort to grow all types of flowers in my garden, from the majestic Japanese chrysanthemum to the little pansy, and I am able to command a certain amount of success, I should like to champion the virtues and graces of the common bluebell of English woodland and copse. Here is a flower that will grow in any part of the garden, in the shade or in the open, and in any kind of soil.
There are probably many odd corners of barren soil in gardens where, seemingly, nothing will grow. Such spots are where the bluebell comes into its own – and without any trouble whatsoever – producing a lovely carpet of the blue flowers that appear with unfailing regularity year after year at the end of April or beginning of May.
Even the children can plant these little gems, and obtain as much success as the experienced gardener. For those who like them, there is a delicate white variety to be had from bulbsmen and also one on pink. But the blue is my delight.
T. E. Pennington, Finchley, London
The editor from 1939 replies: We agree with the foregoing remarks, for one of the typically English landscapes is a woodland entirely carpeted with bluebells. Grown in the garden they need to be planted thickly over a good area, or the effect is thin and weak. Where space does allow, the Spanish bluebell is the better plant, being sturdier, bolder, and carrying fine spikes of bell-shaped flowers in pale blue.
Note: The RHS now advises against growing Spanish bluebells in rural gardens due to their ability to hybridise with the native English form and the potential for them to oust our native bluebells.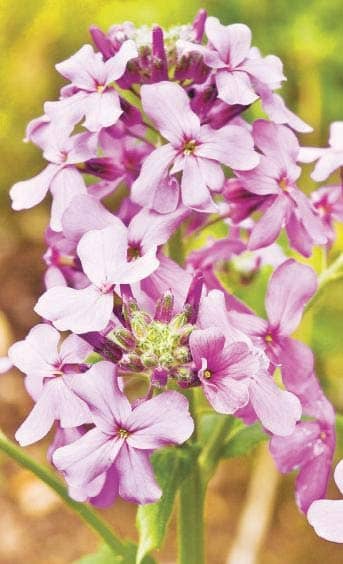 Sweet rocket has a wonderful perfume
From AG 3 June 1939
Sweet rocket
FIRST, I want to change the title to 'My Favourite Plant and How' because it depends upon how the sweet rocket is managed, whether or not it will justify its choice as a favourite.
You can read up to 3 premium stories before you subscribe to Magzter GOLD
Log in, if you are already a subscriber
Get unlimited access to thousands of curated premium stories, newspapers and 5,000+ magazines
READ THE ENTIRE ISSUE
August 29, 2020