Lacy and lovely PeeGee hydrangeas
Amateur Gardening
|
August 08, 2020
For fabulous flowers without the faff, these paniculatas are ideal. Ideal for any size of garden, it's little wonder they are more popular than ever, says Graham Rice
IN recent years, many flowers that were previously deemed old fashioned have enjoyed a revival – and right now, it's the turn of hydrangeas. However, their return to favour is not being spearheaded by the traditional, floppy old mophead types; those are now being passed over in favour of varieties with double flowers, bi-coloured flowers, and completely new hybrids. And, increasingly, it's the PeeGee hydrangeas, the summer- and autumn-flowering varieties with their tapering lacecap flowerheads, that are grabbing our attention.
It's not hard to see why. They're easy to fit into small gardens – some are even neat enough for containers; they flower for months, and they're very good dried; they're never damaged by frost, and they are happy in just about any soil that's not waterlogged. PeeGees also take more drought than other hydrangeas, and will perform well in a little shade (although they prefer sunshine). And did I mention that they are very easy to prune…?
Initial attraction
But why are they called 'PeeGee' hydrangeas? What on earth does it mean? The first hydrangea of this type, introduced from Japan in the 1860s, was H. paniculata 'Grandiflora'. Its ability to take far lower winter temperatures than other hydrangeas made it a big hit in North America, where – always looking for a marketable name – nurseries used the initial letters to create something catchy. The name PeeGee is now used for any varieties of this type.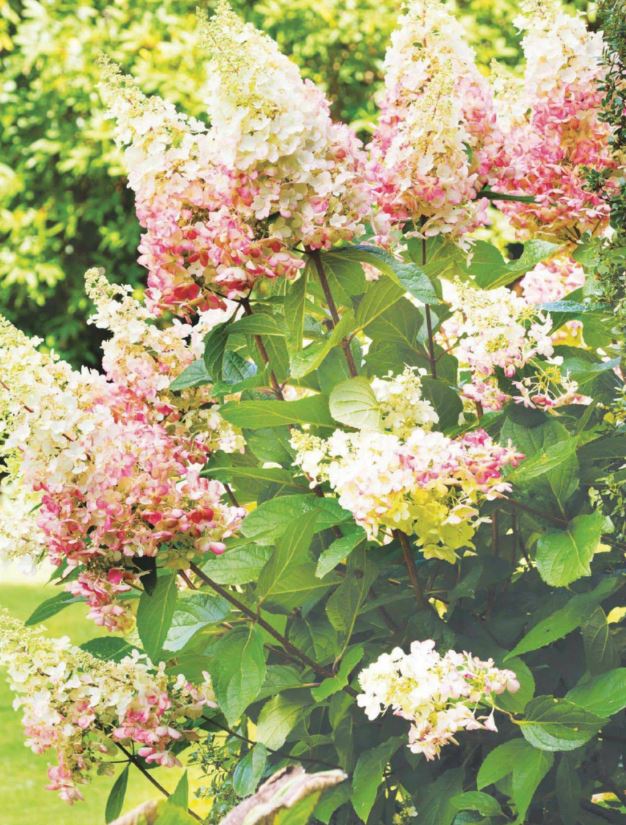 Like the familiar lacecap hydrangeas, PeeGee flowerheads are made up of a mass of small fertile florets as well as much larger sterile florets. But these are cone-shaped – sometimes slender and reminiscent of a buddleia; sometimes short and fat. Generally, the flowers open creamy white and develop pinktinges as they mature. However, some mature to red, and some of the prettiest are greenish white. Eventually, they turn a handsome autumnal brown.
Cutting candidates
All make impressive cut flowers, fresh or dried, and are becoming especially popular for summer and autumn weddings. A few are even scented! PeeGees are perfectly happy in chilly parts of the country, where the flower buds of regular mophead hydrangeas can be damaged by frost. Colourwise, they are more predictable – acid soil or limey, the flowers are always the same. Pruning could hardly be simpler (see page 34) and you can even use pruning to control flowering time and the size of the heads.
Me? I don't grow those old mophead hydrangeas at all, but I've just planted another PeeGee. I would definitely recommend giving them a go.
8 perfect PeeGees
You can read up to 3 premium stories before you subscribe to Magzter GOLD
Log in, if you are already a subscriber
Get unlimited access to thousands of curated premium stories, newspapers and 5,000+ magazines
READ THE ENTIRE ISSUE
August 08, 2020