Is it time to rethink Rambler roses?
Amateur Gardening|May 30, 2020
Space-hungry, disease-prone, difficult…? Ramblers get bad press, but they're not all the same and modern types are well worth making space for, says Graham Clarke
IF you've ever been confused about the difference between rambler and climbing roses it is, essentially, this: climbers want to reach upwards, while ramblers just want to… ramble! They do what it says on the tin, scrambling over a pergola, fence, arch, unsightly object or garage roof, or up, over and through trees – they don't care.
In my view, rambler roses have been done a disservice in recent years. Detractors will say that they produce just a single flush of flowers in summer, and then it's over. Traditionally, this was indeed the case; although, for me, the flowering was so dramatic that it was worth the wait. These days, however, there are a number of very excellent repeat-flowering ramblers (such as the David Austin English Rose ramblers).
The second misconception is that these roses are mildew-prone, requiring regular spraying to stay healthy. In fact, not all old ramblers were susceptible – the likelihood of getting mildew depends more on the general health of the plant, on how it's grown and where it is sited. And, in any case, these days most modern ramblers show a good degree of disease-resistance.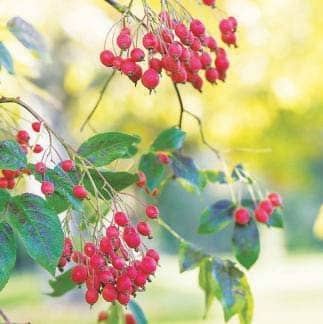 Problematic pruning?
What's more, the flowers were always thought of as only coming on new wood, necessitating a tricky and cumbersome late summer pruning – while the plants were still in full leaf. Well, this pruning advice has now been revised (see box, overleaf). Third misconception!
The first of the ramblers to bloom is Rosa banksiae 'Lutea' AGM. It flowers in late April, producing gorgeous hanging sprays of small, scented, double, primrose-yellow flowers. It's thornless, with bright green, polished leaves, but despite being the hardiest of the Banksiaes, it still requires a sunny and very sheltered position.
In general, though, ramblers are midsummer spectacles, with hundreds of small-to-medium-sized flowers held in large bunches. Many varieties also produce beautiful hips in the autumn, providing prolonged colour and interest.
So assuming you have the space – and the desire for some breathtaking mid-summer colour and fragrance – I'd definitely recommend a rambler rose.
Ramblers for all spaces
Large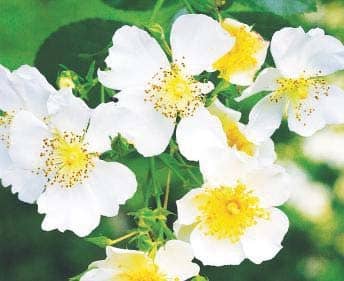 Rosa filipes 'Kiftsgate' AGM
Probably the most famous of the large, vigorous ramblers, this produces masses of cream-white, clove-scented flowers in large clusters in June/July. Will tolerate a lot of shade, making it the ideal tree climber. H&S: 30ft (9m) or more.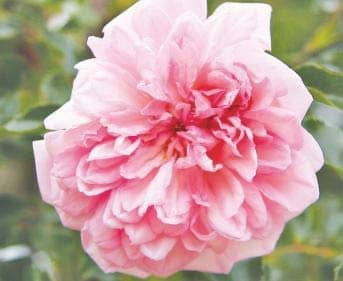 'François Juranville' AGM
You can read up to 3 premium stories before you subscribe to Magzter GOLD
Log in, if you are already a subscriber
Get unlimited access to thousands of curated premium stories and 5,000+ magazines
READ THE ENTIRE ISSUE
May 30, 2020