How to master Prairie-style planting
Amateur Gardening
|
July 18, 2020
Popular with show garden designers, this relaxed look can be tailored to fit any size of plot and, once established, requires little maintenance,
IN my gardening lifetime fashions have come and gone, but of them, all my favourite is the current trend towards a more natural-looking style. This encourages undisturbed areas for wildlife and the choice of easygoing plants to suit soil and climate. Many of us have let some lawn grow up as meadow, or allowed a margin of wildflowers to prosper. If you love this relaxed look and enjoy visiting prairie style plantings like those at the RHS Garden Wisley, the Hauser and Wirth Garden in Somerset or Pensthorpe in Norfolk, why not take the next step and bring a slice of prairie to your plot.
The wild prairie habitats of North America and also Europe and the Asian steppes consist mostly of grasses, coloured with flowering herbaceous perennials (they die back for winter and grow again in spring) and dotted with isolated scrub or trees.
Adaptable approach
In nature, they were maintained by herds of grazing animals and, where these have been hunted almost to extinction, prairies have disappeared, with the best, those on richer soils and areas of higher rainfall, replaced by agriculture. In our gardens we create cultivated versions of these lost prairies, using plants from different continents. This might sound like a grand project but it's easy to scale down – you can replace a more traditional bed or border with an area of prairie planting, or use to fill a container.
This new take on a wild look was initially developed in Germany, as a low maintenance solution for public parks. The results have the soft suggestiveness of an Impressionist painting, rather than the painting-by-numbers feel of traditional mixed or herbaceous borders. Start with weed-free, well-conditioned soil in an open, sunny position and let yourself loose to experiment.
Getting started
I would first choose a dominant plant, perhaps a grass such as 4ft (1.2m) tall Calamagrostis brachytricha or Helianthus 'Carine'. Dot this through the area, then fill in with groups and swathes of others. By all means, use bold and colourful favourites, but I love searching out more ethereal, wilder-looking prairie plants. Many are easy to raise cheaply from seed, or from basal cuttings taken in spring. Apart from the initial watering and weeding, you can then sit back and let the plants fight it out among themselves.
Late-season prairie perennials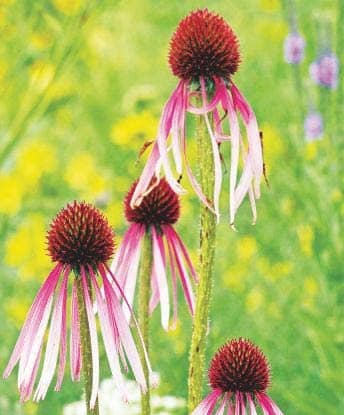 Echinacea pallida
When the fragile shuttlecocks of dark cones and slim petals die back, they leave behind brown, hat-like structures. Native to the eastern USA, plants are easy from seed, but tend to be shortlived where mild, wet winters prevail. HxS: 50inx1ft (1mx30cm).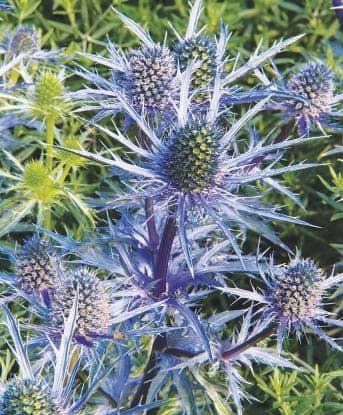 Eryngium bourgatii 'Picos Blue' AGM
You can read up to 3 premium stories before you subscribe to Magzter GOLD
Log in, if you are already a subscriber
Get unlimited access to thousands of curated premium stories, newspapers and 5,000+ magazines
READ THE ENTIRE ISSUE
July 18, 2020