Focus On... Compact Growing
Amateur Gardening|May 23, 2020
You may not have sweeping fruiting vistas and endless rows of veggies, but you can still dream big if you grow in small spaces. Lucy considers the options of compact growing
In times when we're all assessing our food availability, you may well be tempted to cram as many fruit, vegetables and herbs into your garden as possible. Well, I don't blame you! Some crops positively thrive when grown in close quarters, but others won't enjoy it at all, which will result in parsimonious or poor-quality yields. So let's explore the edibles that enjoy life cheek by jowl.
"Some edibles actually enjoy life cheek by jowl"
Spacing basics
Crop spacing influences two things: yield per unit area, and individual crop size. Some crops, notably onions, leeks and carrots, will still produce their highest yields per square metre if spaced close together, but individual bulb, shaft or root size becomes smaller.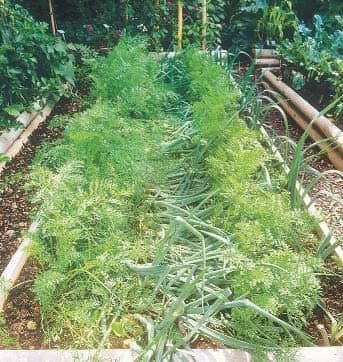 Onions, leeks or carrots in close quarters may just be individually smaller
Beetroot, turnip and radish, however, will produce all leaf and little root if they​ are packed in too tightly – that's not what we're after!
A heading lettuce like 'Little Gem' will grow like a loose-leaf variety if seedlings are packed tightly together, and yields will still be high. Equally, hearting cabbages can be forced to act like spring greens at close spacings. As you can see, there's lots of room to experiment!
TOPTIP
We can't be sure summer will bring deluge or dearth. But rain or shine, we can 'weatherproof' our crops with careful soil management. Adding bulky organic matter (composted bark or well-rotted farmyard manure) makes light soils more moisture retentive and heavy plots less claggy. Dig gullies alongside crops, plugging them up to catch your irrigation water in a drought or opening them up in heavy rain. Add water butts to capture rainfall. Also, grow a bit of everything – drought-tolerant asparagus and globe artichokes with moisture-loving rhubarb and oriental leaves.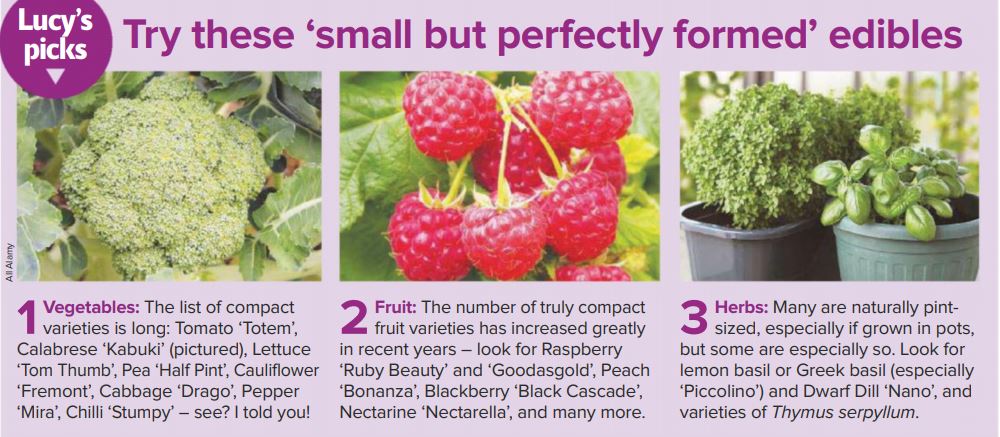 Dwarf varieties
We can take advantage of varieties of fruit, veg and herb that are naturally compact (see page 16). Fruit training methods (such as fans, stepovers and cordons) also take up very little space.
You can read up to 3 premium stories before you subscribe to Magzter GOLD
Log in, if you are already a subscriber
Get unlimited access to thousands of curated premium stories and 5,000+ magazines
READ THE ENTIRE ISSUE
May 23, 2020