Beef up beds with Beautiful biennials
Amateur Gardening|May 16, 2020
Sow seeds now to guarantee gorgeous gap-filling flowers in a year's time – we promise the results will definitely be worth the wait, says Anne Swithinbank
AS May leans towards June, there is sometimes a lull in flower colour as we wait for bedding plants to bulk up and herbaceous perennials to hit their high summer stride. Perfect for filling this gap is a group of plants described as biennial because they are sown one year to flower the next. This might sound like a test of patience, but these colourful characters are well worth the wait.
Sowings made from May to July yield young plants ready to set out in late summer or early autumn, so they can put down good roots into warm, moist soil. Hardy ground-covering rosettes then sit tight through winter, ready to rise up and flower from the following spring. Most biennials are simple, rather than highly bred plants, and their pretty, semiwild appearance is ideally suited to the modern, wildlife-friendly garden. Many, like native viper's bugloss (Echium vulgare) attract pollinating insects and are adept self-seeders, happy to just get on and grow untended.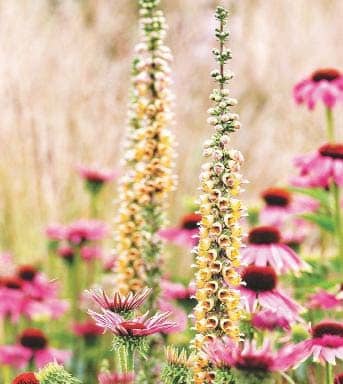 Marvellous myosotis
In my garden the show starts with a sea of blue forget-me-nots descended from plants added some 15 years ago. Any growing in the wrong place are easily pulled up. These are soon followed by honesty, which shines out from dry, shady corners and hedge bottoms, doubling as food plants for the caterpillars of orange tip butterflies. Their flat seedpods start off green, before turning to silvery coins that persist well into winter. June brings towering foxgloves and borders threaded with fragrant sweet rocket, whose white, pink or purple four-petalled flowers glimmer at dusk. There are plenty of options for drier conditions, where biennial clary (Salvia sclarea 'Turkestanica') will shimmer alongside the giant silvery thistles of onopordums. Horned and Iceland poppies enjoy well-drained gravel and scree beds.
Many garden biennials are, by nature, short-lived perennials, although they tend to turn woody and produce fewer flowers in their third year. I enjoy their fleeting character, which I view as an opportunity to ring the changes from year to year. And with more time to spend in the garden yet restricted access to plants, now seems the ideal time to sow for next year's blooms.
6 beautiful border biennials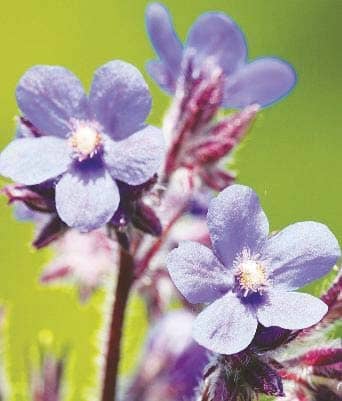 Anchusa azurea
You can read up to 3 premium stories before you subscribe to Magzter GOLD
Log in, if you are already a subscriber
Get unlimited access to thousands of curated premium stories and 5,000+ magazines
READ THE ENTIRE ISSUE
May 16, 2020