Added impact with Tall perennials
Amateur Gardening|July 04, 2020
If you want statement plants that will provide a dramatic focal point, it pays to think big – even if you have a small garden, as Graham Rice reveals…
AT this time of year, it's not unusual to see sunflowers towering over garden fences as varieties with names like 'Titan' and 'Russian Giant' reach for the skies (though none have yet to challenge the current Guiness World Record holder at just over 30ft!). These cheerful colossi are not the only options if you are looking for a whopper, though, and by opting for something a little more unexpected you will only add to the wow factor.
In fact, there are plenty of plants with lofty ambitions – from tree lilies to ferns – and you do not need to have a massive plot to grow them. The best will make their presence felt and bring a brilliant and bold focal point to the whole garden, without overshadowing everything else (both literally and metaphorically). If you want something that will astonish and delight in equal measure then sheer size always does the trick, but careful choice and positioning (back of the border, every time) are key to carrying it off.
Upwards, not outwards
Tall plants shouldn't only be tall – they need to have real character, too. It's also a good idea to stick to those that go up without spreading out, as these will have all of the impact while taking up relatively little ground space – a factor that is particularly important in more modest gardens where every square inch counts. Tall but narrow does mean that some form of support is likely to be essential, however, as these plants tend to lean, especially in very windy weather and after heavy rain – both of which are hardly unusual here in the UK.
Of course, one obvious option for a height hit is to plant a tall and fastgrowing tree. A golden-leaved Leyland cypress certainly packs a punch and might sound ideal for a dramatic focus in the garden. The trouble is, it will just keep on growing, and – sooner rather than later – you'll have to pay a tree surgeon to take it down. A far better bet is to stick to tall perennials – that way, if the time comes when you need a change, or your chosen plant grows too big, it will be far easier (and less expensive) to manage.
Spatial tricks For optimum impact, planting a single specimen, or a clump of the same variety, is a good approach. Or group together two or three different choices in a back corner of the garden where they can tower above all your other plantings. Rather than make the garden look smaller, they will draw the eye, giving the illusion of more space.
5 whoppers for flowers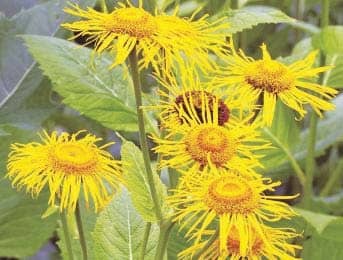 Telekia speciosa
You can read up to 3 premium stories before you subscribe to Magzter GOLD
Log in, if you are already a subscriber
Get unlimited access to thousands of curated premium stories and 5,000+ magazines
READ THE ENTIRE ISSUE
July 04, 2020