Discovering Shizuoka – A Culinary Haven For Top Quality Ingredients
Japanese cuisine is in a class of its own, but do we really know what goes on behind the scenes from farm to table? How are tea leaves processed to make world famous Japanese green tea? What makes Japanese tomatoes and muskmelons so sweet and juicy? The answers lie in Shizuoka's abundant produce
AN INSIGHT INTO JAPANESE TEA CULTURE
Tea drinking has been a pillar of Japanese culture for over 1000 years, and Shizuoka is one of the largest green tea growing regions in the country, home to several tea auctions for the buying and selling of tea leaves. The famous Shizuoka Japanese Tea Market is the only tea market that handles tea from all over Japan, working with a large number of tea buyers across the country.
Farmers pick tea leaves in the afternoon and roll them at night before sending the freshly rolled tea to the tea market early the next morning. Hand-rolled tea is a special form of Japanese craftsmanship, and though the craft typically yields a much smaller volume, it results in a better aroma than when machine-rolled.
Tea buyers participate in a rigorous selection process to decide which tea leaves they wish to purchase. The selected varietal of tea leaves are then steeped in boiling water for a short period of time, after which the leaves are tested for aroma and the tea for taste. The final step is analysing the colour and the clarity of the brewed tea to determine the quality of tea leaves—the clearer the liquid, the better the quality.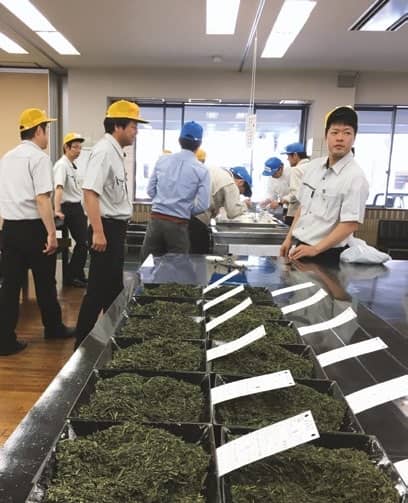 PROCESSING TEA LEAVES
The Marumo Mori Factory processes the harvested tea leaves for sale to consumers, and specialises in providing clients with fully customised green tea according to their needs. The first step of processing involves mixing and blending the raw, unprocessed tea leaves together, so that different varieties of green tea are used. Like coffee, the Japanese prefer different single origin teas that are mixed together to create tea blends of differing taste profiles. The tea leaves are then sorted according to colour to remove twigs and skins of tea leaves, leaving behind just the premium tea leaves. Weight and density of the leaves are also considered—the heavier or denser the leaves, the better the quality. After sorting, the leaves are loosened up by a machine before being sent for roasting. Different levels of heat result in different tea colours; typically, the higher the heat, the more yellow the hue. Nothing goes to waste in the processing of tea leaves. Twigs are made into the second flush bancha, while tea dust is mixed with matcha powder for tea bag filling.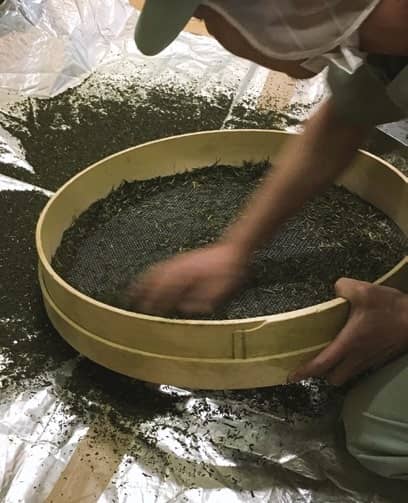 Continue Reading with Magzter GOLD
Log-in, if you are already a subscriber
Get unlimited access to thousands of curated premium stories and 5,000+ magazines
READ THE ENTIRE ISSUE
November - December 2019