TRAY BON!
Olive|June 2020
Six brilliantly inventive sweet traybakes from O's baking expert Edd Kimber – and they all use the same size tin!
'Coffee' coffee cake
1 HOUR 30 MINUTES SERVES 12-15 | EASY
This bake originated in the US, where a coffee cake is one that is served with coffee rather than one actually made with it. I still feel a little short-changed when coffee cake is missing its main identifying ingredient. So to correct decades of baking injustice I've snuck espresso powder into this one. The soured cream gives the cake a little tang and results in a wonderfully textured bake that stays moist for days.
BROWN-BUTTER STREUSEL
unsalted butter 125g, plus extra for the tin
plain flour 160g
caster sugar 115g
fine sea salt ½ tsp
ESPRESSO SWIRL
soft light brown sugar 100g
instant espresso powder 3 tsp
ground cinnamon 2 tsp
SOURED CREAM CAKE
unsalted butter 175g softened
caster sugar 300g
plain flour 315g
baking powder 1 tbsp
fine sea salt 1 tsp
vanilla extract 1 tsp
eggs 3 large
soured cream 180ml
• Heat the oven to 180C/fan 160C/gas 4. Lightly butter a 33cm x 23cm, 5cm-deep baking tin and line with a piece of baking paper that overhangs the two long sides of the tin.
• Start by making the streusel as it needs to chill a little before baking. Mix the flour, sugar and salt in a bowl. Melt the butter in a small pan over a medium heat, stirring frequently. The butter will sizzle and splatter, and then start to foam. As it foams, little golden brown flecks will start to appear. Before these flecks burn, remove the pan from the heat. Gradually drizzle the butter over the dry ingredients, using a fork to stir as you do, letting it clump together, so you end up with a mix of small and big chunks. Put the bowl in the freezer.
• Next, make the espresso swirl. Mix the sugar, espresso powder and cinnamon in a small bowl and set aside.
• For the cake, put the butter and sugar into the bowl of an electric stand mixer fitted with the paddle attachment (or use electric hand beaters), and mix on medium speed for 5 minutes, or until light and fluffy.
• Meanwhile, mix the flour, baking powder and salt in a separate bowl. Add the vanilla to the butter mixture and mix briefly to combine. Add the eggs, one at a time, beating until fully combined before adding another. Add the flour mixture in three batches, alternating with the soured cream, starting and finishing with the flour.
• Spoon two-thirds of the cake batter into the prepared tin, spreading into an even layer. Sprinkle over the espresso swirl then dot small spoonfuls of the remaining batter all over the top, covering as much of the swirl mixture as possible before gently spreading so that all of the swirl mixture is covered. Be patient and don't worry if some of the espresso swirl sugar mixes in a little, it will all meld together in the oven.
• Sprinkle over the streusel in an even layer. Bake for 45-50 minutes or until a skewer inserted into the middle of the cake comes out clean. Leave to cool in the tin for 15-20 minutes before using the baking paper to gently lift it out on to a wire rack to cool completely. Once cool, cut into portions and serve. The cake will keep in an airtight container for 2-3 days.
PER SERVING (15) 446 KCALS | FAT 20.4G
SATURATES 12.4G | CARBS 59.4G | SUGARS 34.9G
FIBRE 1.5G | PROTEIN 5.4G | SALT 0.8G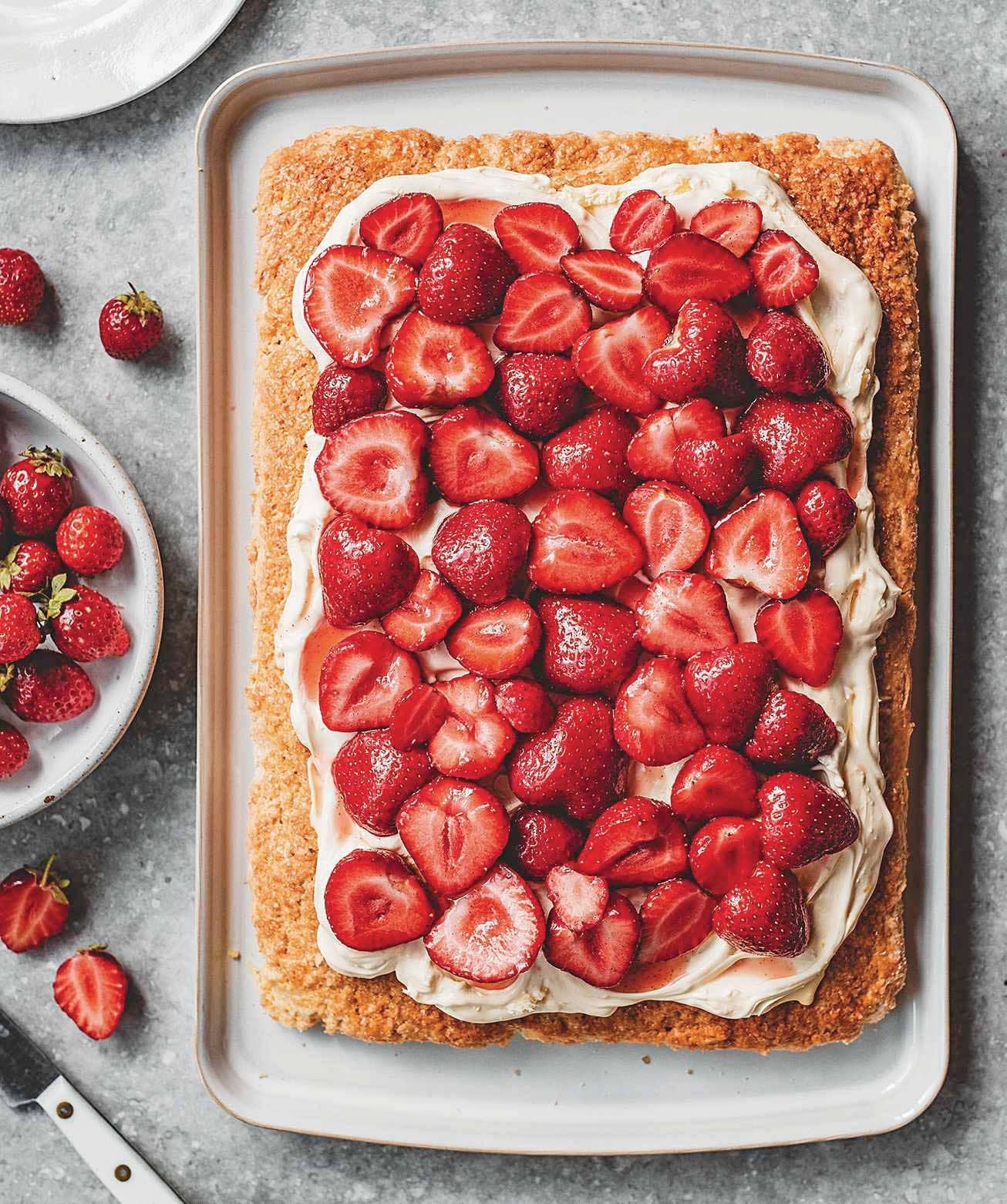 Slab scone
1 HOUR + MACERATING + COOLING | SERVES 8-10 | EASY
Given that we can't all agree on how to correctly pronounce the word scone, or even whether the jam or cream should go on first, this slab scone will be sacrilege for some. But I love it as it turns a dainty afternoon tea staple into a perfect summer sharing dessert. I have kept the clotted cream, of course – it is one of the best-tasting things in the world. For the topping, however, I have lightened it up using fresh macerated strawberries with a hint of vanilla instead of traditional jam. If you can't get clotted cream, you can also use mascarpone or whipped cream.
self-raising flour 500g, plus extra for dusting
baking powder 1½ tsp
caster sugar 50g
fine sea salt ½ tsp
lemon 1, zested
unsalted butter 150g, chilled and diced
eggs 4 large
whole milk 120ml, plus a splash for the egg wash
demerara sugar 1-2 tbsp
TOPPING
strawberries 400g hulled and halved
caster sugar 25g
vanilla bean paste ½ tsp
clotted cream 340g
• Heat the oven to 190C/fan 170C/gas 5. Line the base of a 33cm x 23cm, 5cm-deep baking tin with a strip of baking paper, so some excess hangs over the longer sides of the tin.
• Mix the flour, baking powder, sugar, salt and lemon zest in a large bowl, then rub in the butter until it resembles coarse breadcrumbs with a few larger pieces remaining.
• Beat 3 of the eggs, then make a well in the middle of the dry ingredients and pour in the milk and the beaten eggs, stirring to form a soft but not sticky dough.
• Tip the dough onto a lightly floured work surface, press or roll into a rough 33cm x 23cm rectangle and transfer to the tin. Beat the remaining egg with a splash of milk to form an egg wash, and brush over the top of the scone, then sprinkle liberally with the demerara sugar. Bake for 20-25 minutes or until risen and golden brown. Set aside to cool completely in the tin.
• Meanwhile, prepare the topping. Put the strawberries into a large bowl and sprinkle over the sugar and vanilla, stirring briefly. Leave to macerate for 30 minutes-1 hour, until the sugar has dissolved.
You can read up to 3 premium stories before you subscribe to Magzter GOLD
Log in, if you are already a subscriber
Get unlimited access to thousands of curated premium stories and 5,000+ magazines
READ THE ENTIRE ISSUE
June 2020