Movers, bakers & shakers - The Outer Hebrides
Travel editor Rhiannon Batten meets a Swedish ex-pat baking cinnamon rolls to order, a hotelier who hand-dives for scallops and a chocolatier making ganaches with local gin on a road trip through this Atlantic island chain
It's not unknown for locals to re-purpose microwaves as letter boxes on North Uist, Kate MacDonald tells me. Midway up the Outer Hebrides – the 130-mile chain of islands off the north-west coast of Scotland that are strung together by single-track road and ferry – the low-lying Atlantic outcrop is hit as harshly by wind and rain as its neighbouring isles. If the microwaves offer letters secure shelter then the heather that thrives here offers similar protection for the island's wildlife. At least, that has traditionally been one of its purposes. Now, the purple-flowered shrub serves another function.
Kate and her partner, Jonny Ingledew, recently set up the North Uist Distillery (northuistdistillery.com). When they were researching botanicals for their first release, Downpour gin, the couple worked with a forager to create a botanical library specific to the island. Having spent months playing with finds such as pineapple weed, the couple plumped for sustainability: no rare plants would be destroyed in the gin's making, instead they would focus on foraged heather, which is both abundant and adds a honeyed note to the gin.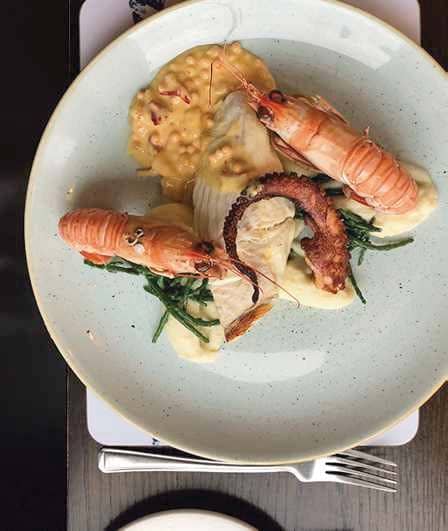 Named after its strength of flavour rather than the local climate, Downpour gets its gutsy taste from a high ratio of botanicals (lemon, grapefruit, clove, cardamom and coriander among them); dispersing oils from these are what give the gin its distinctive clouding when tonic is added, a reflection of the shadows that skitter across the wide local skies. The gin is a success but it's also a side hustle, the consequence of a long wait while the distillery's first whisky matures.
"The island, with its watery lochs, peatlands and barley-growing crofts, provides the ideal ingredients for whisky," explains Jonny when I meet the couple at Hamersay House, in Lochmaddy, for a lunch of fat seared scallops (hand-dived by the hotel's owner, Niall) with grilled Stornoway black pudding, samphire hollandaise, chorizo and steamed samphire (hamersayhouse.co.uk).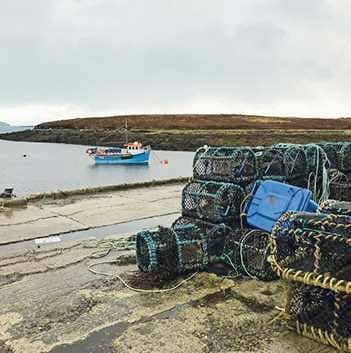 That barley isn't just any barley, either. It's bere, the oldest grain still in use in the British Isles. "Every whisky used to be made with bere but it's rare now as most farmers have switched to crops with higher yields and pest resistance (but less flavour). In the Hebrides crofters never stopped growing it, as they use it on smallholdings as animal feed." Kate and Jonny's distillery will be the only one in the world to use this type of barley in its core line of whiskies. "Most distillers focus on wood, maturing in different casks to instil flavour, but we believe the grain will give our whisky flavour," adds Kate.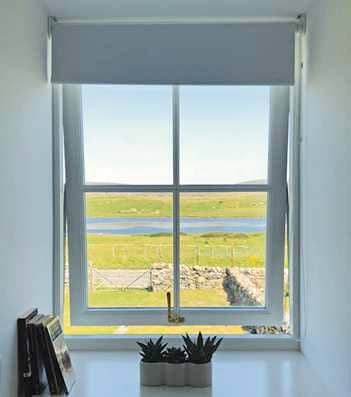 You can read up to 3 premium stories before you subscribe to Magzter GOLD
Log in, if you are already a subscriber
Get unlimited access to thousands of curated premium stories, newspapers and 5,000+ magazines
READ THE ENTIRE ISSUE
July 2020