Working it out
Gourmet Traveller|July 2020
Science has proven that the simple act of cooking can alleviate depression and improve our mental well-being. JORDAN KRETCHMER meets four people who have leveraged their relationship with food to find more balance.
ELIZABETH HEWSON
HEAD OF CREATIVE AT FINK GROUP, AUTHOR AND PASTA ENTHUSIAST
My story isn't about overcoming adversity or trauma – it's a rather ordinary tale of overcoming anxiety. I've always struggled with anxiety: that all-consuming, often paralysing state of being. When it flairs up, often brought on by a stressful situation, it leads me to lack confidence, questioning every decision and analysing every comment.
This struggle led me to search for a coping mechanism that would distract me from those plaguing thoughts. Something I could lose myself in. Like most people, I've always loved eating pasta. Having lived and studied in Italy, I have a deep understanding and appreciation of it. There's a pasta for every moment, every occasion, every place. Their food not only celebrates, it also heals. So, one Saturday afternoon, I decided to make pasta. I poured a glass of wine, turned on the music and started to knead.
Much to my delight, the kneading alone proved to be intensely therapeutic – I can't recommend enough the satisfying feeling of channelling a really shitty week into dough. I started to repeat this routine every Saturday night, wanting to recreate the curative effect it had on me.
Mindfulness is about being present in the moment and I soon realised that for me, absorbing myself in the act of making pasta provided this. During this time, my husband was travelling a lot for work, so most often it was just myself and my Bernese Mountain dog, Forest, at home alone. Learning to make pasta alone felt safe. It became a place to learn, to make mistakes and to know that the decisions I made were only going to affect dinner and nothing beyond that. There is a sense of value you get when you cook for yourself, it's extremely nurturing and empowering. Cooking and eating alone allowed me to establish this self-care ritual.
In March this year, I had a baby. It's true what they say about becoming a mother for the first time; having Louis turned my world upside down. You are instantly changed, in a process that almost happens against your will. I wasn't prepared for the adjustment. Going from a productive, busy and exciting life – a full-time job that I loved, writing a book and doing what I wanted, when I wanted – was challenging. I struggled with the demands and repetition that came with a newborn. It was here that I leaned into my self-care ritual. Making pasta during this time was one of the things that made me feel more like me. Yet again, it became my escapism. We're eight weeks in now and the fog has started to lift. Gradually you become more confident and comfortable with the change of pace. And a smile from Louis certainly helped.
Whilst not conventional, making pasta on Saturday night has become my way of dealing with anxiety. This routine combined with the magic that comes with the process of making something simple has resulted in an immensely comforting experience. Sure, it might not be the best pasta in the world – but it's the best for me because I made it with my own two hands.
Elizabeth Hewson's book Saturday Night Pasta will be published in November.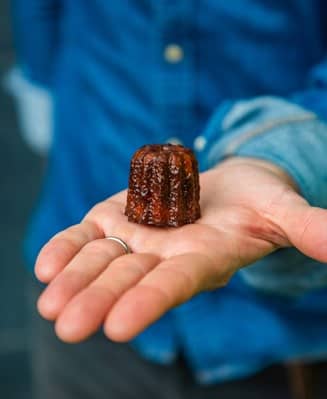 ADRIEN BOCHEL
OWNER, SACREBLEU
Baking was not my initial passion, and it wasn't my first livelihood either. When I was young, growing up in France, I always loved cooking and preparing meals using cookbooks from iconic French chefs like Alain Ducasse, Joël Robuchon and Michel Guérard. My parents took me to beautiful restaurants, and I loved having conversations with the chefs afterwards. I've always been fascinated by the craftsmanship of cooking.
You can read up to 3 premium stories before you subscribe to Magzter GOLD
Log in, if you are already a subscriber
Get unlimited access to thousands of curated premium stories and 5,000+ magazines
READ THE ENTIRE ISSUE
July 2020