Flavours of Bombay
Gourmet Traveller|June 2020
The team behind London's much-loved Dishoom restaurant shares spice-fuelled recipes in the new cookbook, Dishoom: From Bombay with Love.
SHAMIL THAKRAR, KAVI THAKRAR & NAVED NASIR
Our relationship with Bombay, like the best sort of relationship, continues to mature and deepen with the passage of time. Admittedly, the city is not always easy to love. It is an utterly imperfect city, full of the best and the worst; the extremes of human existence cohabiting cheerfully, hemmed in tight against each other by the ocean on three sides.
Endless wanderings in Bombay have brought us more knowledge, to be sure. However, each wandering, each look into the history of this or that building, and each meeting with a Bombay character full of stories to tell has brought much more. As our knowledge has grown, so has our obsession with the city.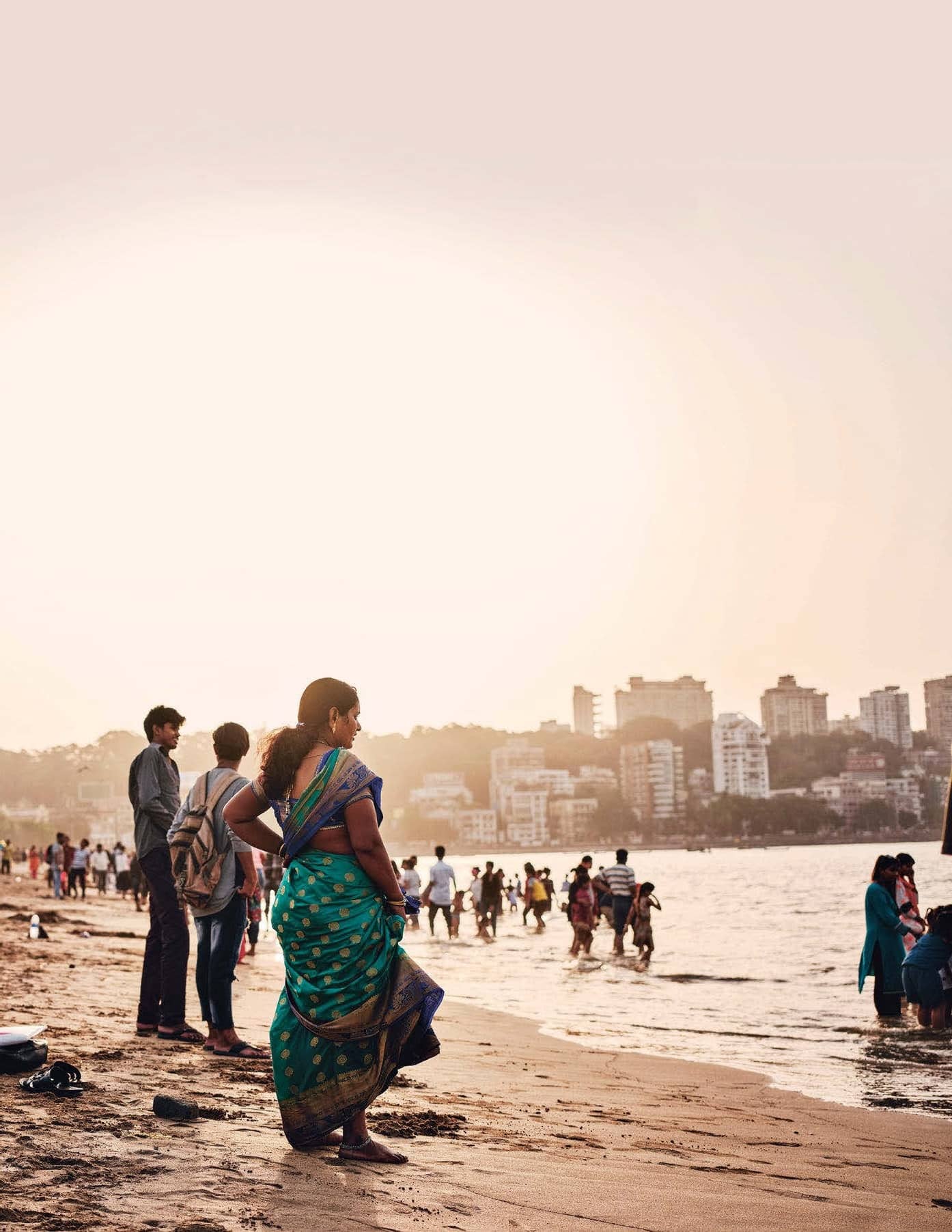 There is nothing we love more than feeding people in our restaurants, and we are extremely happy to be sharing our recipes so you can cook them in your own kitchen.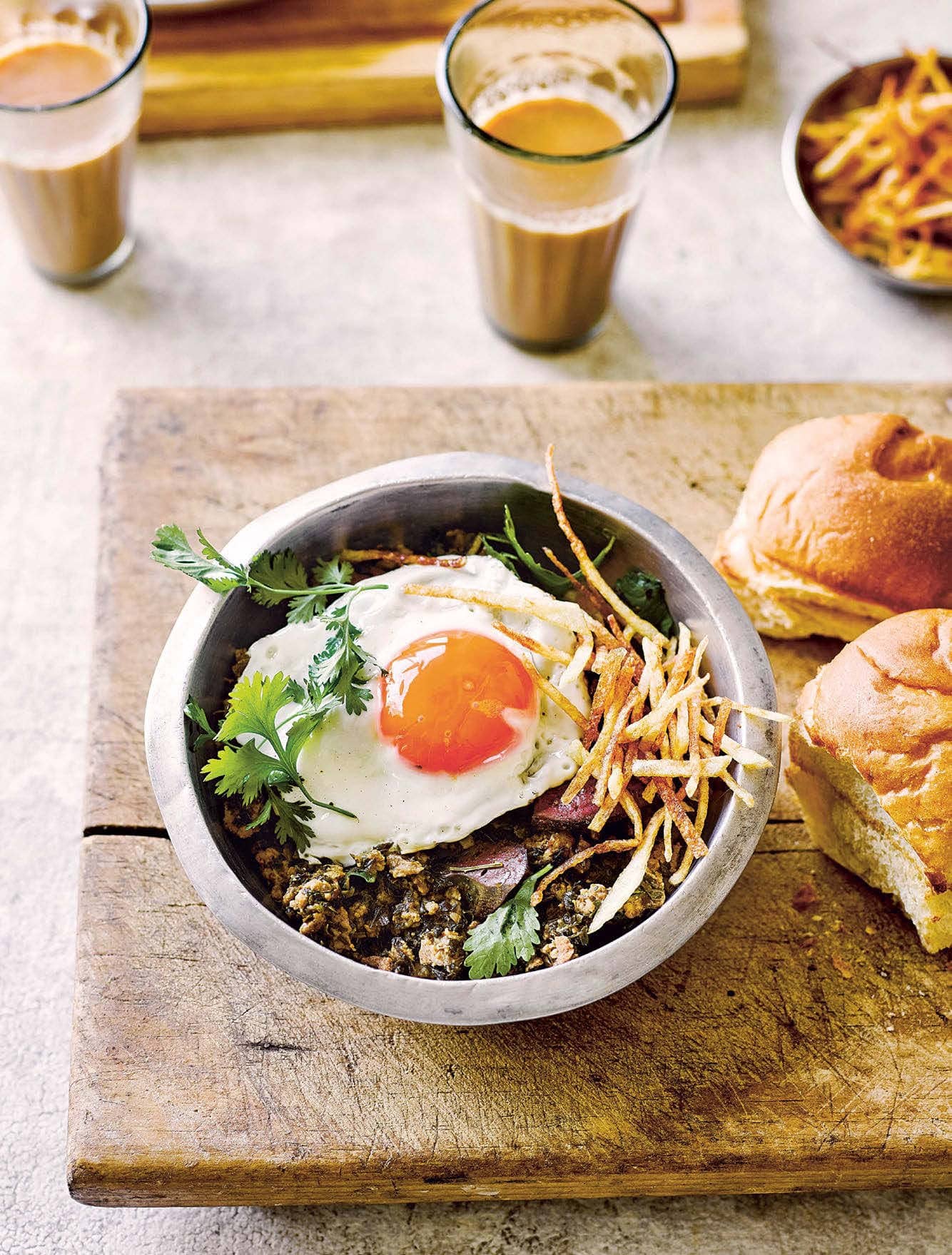 Keema per eedu (spiced mince)
SERVES 4
You'll find Irani cafés all over south Bombay serving little dishes of keema (spiced lamb mince) and fresh bread for breakfast, lunch and dinner. While this lamb dish, keema pau, sits on our all-day menu, at breakfast we serve a lighter variation using chicken mince.
500 gm minced chicken
25 gm garlic, minced
20 gm ginger, minced
2½ tsp garam masala
2 tsp deggi mirch chilli powder (see note)
2 tsp ground cumin
80 gm Greek yoghurt
¼ tsp ground turmeric
70 ml vegetable oil
175 gm white onions, finely diced
1 dried bay leaf
3 green cardamom pods
1 cinnamon stick
35 gm fenugreek leaves (see note)
A handful of coriander leaves, coarsely chopped, plus extra leaves, to serve
4 eggs, fried, to serve
Fried potato matchsticks, to serve (see note)
4 soft white buns, halved, toasted and buttered, to serve
1 Combine minced chicken, garlic, ginger, garam masala, chilli powder, cumin, 1 tsp fine salt and 50gm yoghurt in a bowl. Cover and refrigerate (1 hour or overnight).
2 Combine turmeric, 200ml cold water and 1 tsp salt in a separate bowl then set aside.
3 Heat oil in a saucepan over medium-high heat. Add onion and sauté until dark golden brown (15 minutes). Add bay leaf, cardamom pods and cinnamon stick and cook until fragrant (1 minute). Add marinated chicken, 1 tsp salt and remaining yoghurt. Sauté over high heat until starting to brown (10 minutes), then turn heat down to low and sauté until cooked through (15 minutes).
4 Meanwhile, soak fenugreek leaves in the turmeric water to rehydrate (5-10 minutes). Drain and squeeze out water, then add to the pan and cook until infused (5 minutes). Add coriander, stir, then turn off heat. Cover and set aside (5 minutes).
5 Divide keema between bowls then top with a fried egg, potato matchsticks, coriander and season with black pepper. Serve with a bun to the side.
Note Deggi mirch chilli powder is available from Indian food stores, or thespicelibrary.com.au. Fenugreek leaves are available from Indian food stores. If unavailable, substitute celery leaves. For potato matchsticks, cut a potato into julienne then fry in vegetable oil until crisp.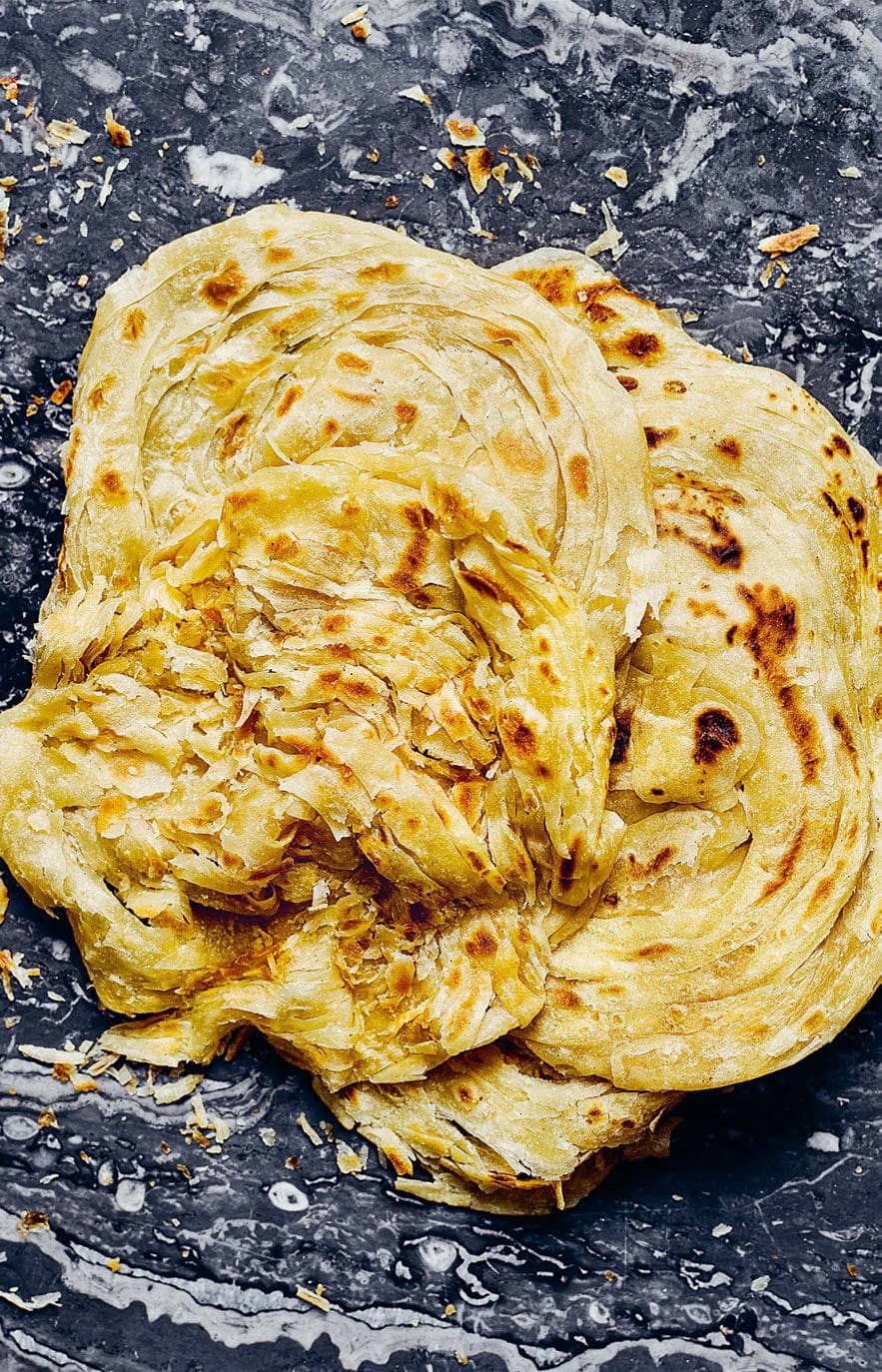 Malabar paratha
MAKES 10
An oily, flaky bread from Kerala, paratha accompanies south Indian-style dishes very nicely, particularly the butter garlic crab (p88).
You can read up to 3 premium stories before you subscribe to Magzter GOLD
Log in, if you are already a subscriber
Get unlimited access to thousands of curated premium stories and 5,000+ magazines
READ THE ENTIRE ISSUE
June 2020