Centre Stage
Gourmet Traveller|December 2019
Build your Christmas menu around a showstopping centre piece, from a DIY wrap-and-roll prawn cocktail tower to roast pork with the best ever crackling.
Prawn cocktail tower
SERVES 6 // PREP TIME 20 MINS // COOK 30 MINS (PLUS SOAKING)
And that's a wrap – the perfect self-serve summer dish. Start this recipe a day ahead to soak the chillies. Pictured p114.
1 kg cooked prawns, peeled and deveined Semi-ripe mango, cut into wedges, to serve
1 bunch snake beans, cut into 10cm batons 1 Lebanese cucumber, cut into 10cm batons Lettuce leaves, for wrapping Thai basil, coriander, roasted unsalted peanuts and shredded fresh coconut, to serve CHILLI-PRAWN RELISH
60 ml (1⁄4 cup) neutral oil, such as grapeseed oil
12 dried long red chillies, soaked in cold water overnight
4 golden shallots, diced
2 garlic cloves, coarsely chopped
1 tbsp dried shrimp, soaked in warm water for 10 minutes, then drained
30 gm palm sugar (or to taste)
3 tsp shrimp paste
2 tsp fish sauce (or to taste)
1 tbsp lime juice (or to taste)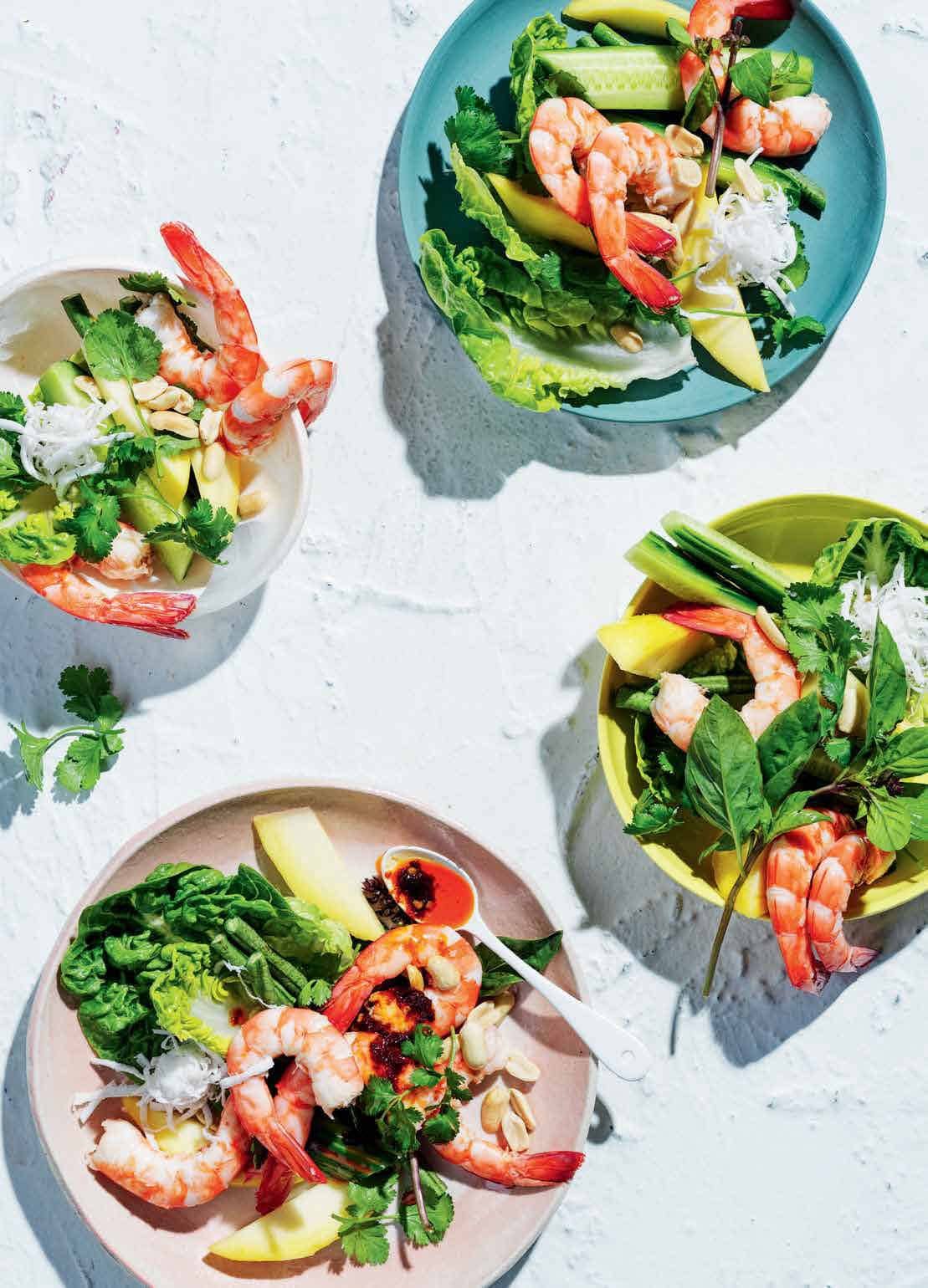 1 For relish, heat oil in a saucepan over medium heat. Add chillies, shallot and garlic, and cook, stirring occasionally, until caramelised (10-15 minutes). Add remaining ingredients (except fish sauce and lime juice). Stir occasionally until colour deepens and mixture is caramelised (10-15 minutes). Season to taste with fish sauce and lime juice.
2 Layer bowls by placing a "stand" in the centre of a base bowl, ensuring it's very stable. Alternatively, place a smaller bowl with the snake beans, cucumber, lettuce and herbs in the centre of a larger bowl with mango and prawns arranged over ice. Serve with relish and remaining ingredients.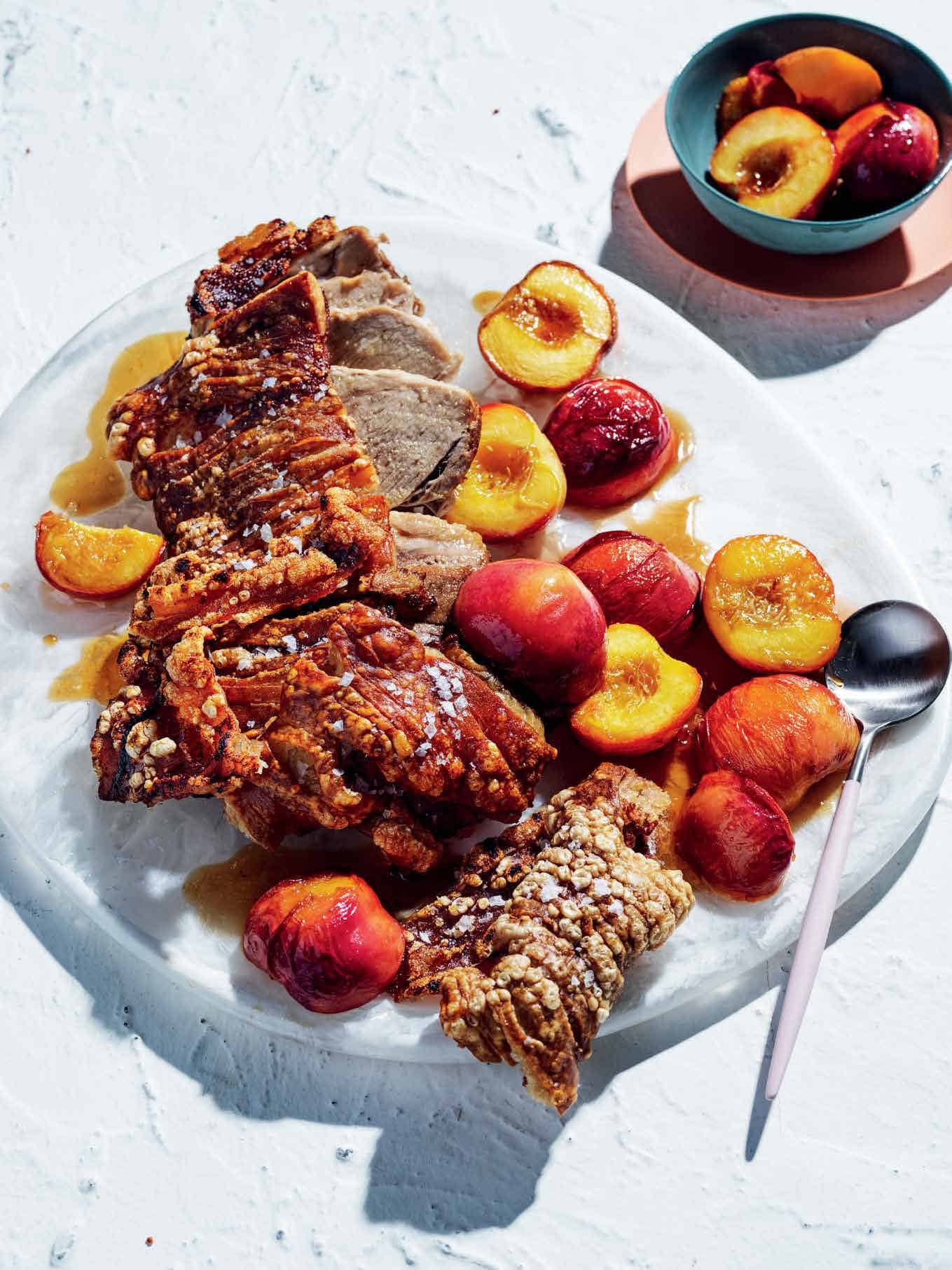 Roasted pork with the best crackling and roasted nectarines
SERVES 6 // PREP TIME 20 MINS // COOK 4 HRS 30 MINS (PLUS MARINATING, RESTING)
However hot it is outside, this roast pork is worth the oven time. The shoulder has so much flavour and is ideal for slower cooking. Start this recipe a day ahead to marinate the pork.
1 tbsp fennel seeds
1 tsp coriander seeds Finely grated zest of ½ orange
60 ml (1⁄4 cup) olive oil
1 boneless pork shoulder (about 3kg), skin on ROASTED NECTARINES
6 nectarines, halved, pitted
3-4 tbsp rapadura sugar, for sprinkling 2-3 tbsp apple cider vinegar (or to taste)
1 Dry-roast spices in a frying pan (10-20 seconds; see cook's notes p176). Finely grind with a mortar and pestle, transfer to a bowl and combine with zest, oil and 2 tsp salt flakes. Rub marinade into pork flesh (not the skin) and refrigerate, uncovered, skin-side up to marinate and dry out the skin (overnight). Score skin at 1cm intervals with a very sharp knife (a new Stanley knife blade works well), sprinkle skin liberally with fine salt and tie with kitchen string to secure.
2 Preheat oven to 170°C. Place pork, skin-side up in a roasting pan and roast until skin is crisp and deep golden brown, and the juices just start to run clear when pork is pierced with a sharp knife or skewer (31⁄2-4 hours). Increase oven to 250°C until skin crackles (20-30 minutes). Rest, uncovered, for 30 minutes.
3 Meanwhile, for roasted nectarines, place nectarines on a separate baking tray, scatter with sugar and roast until caramelised (15-20 minutes). Splash with vinegar to taste.
4 Transfer pork to a platter and remove string. Sprinkle with salt flakes and serve with roasted nectarines and their pan juices.
You can read up to 3 premium stories before you subscribe to Magzter GOLD
Log in, if you are already a subscriber
Get unlimited access to thousands of curated premium stories and 5,000+ magazines
READ THE ENTIRE ISSUE
December 2019