Old Waverly Farm Hams are Delicious Year-Round
Eat Drink Mississippi
|
April/May 2020
Old Waverly Farm does one thing, and they do it well. "We make hams and we sell them one ham at a time," says Dee Berry. And many in the Golden Triangle area of Mississippi, and now around the country, will agree it's the best ham they've ever had.
Dee and her husband, Ted, both worked for Bryan Foods in West Point, a processed meat company that is no longer in operation. "When they closed, everybody really missed their bone-in ham that was wrapped in yellow paper. It was one of their best-selling hams." In 2013, George Bryan contacted Ted with the idea of producing a ham that would be like the Bryan Traditional Ham. "To make the original bone-in ham would be cost-prohibitive today," says Berry. "It would cost nearly $100, and no one is going to pay that much money for a ham." Ted, George, and other former Bryan Foods employees worked to formulate a ham that could have the flavor and texture of the original ham, and a company was born. The decision was made to make the boneless Old Waverly Farm Ham.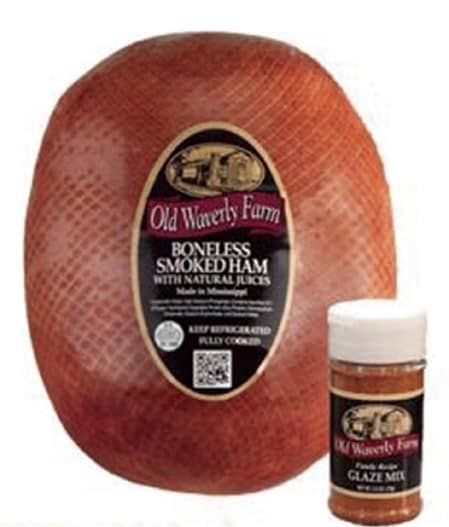 The recipe that Ted and George came up with is very close to the old Bryan Foods ham. Old Waverly Farm was established in 2013, although Berry says there is no Old Waverly Farm. "We've lived on a farm for over 30 years, but it has a different name." Berry says the name is most likely a nod to the Old Waverly Golf Course in West Point.
The Old Waverly Farm ham is boneless. "It's lean, with no water added," Dee says. "It has the taste and texture of a bone-in ham when prepared properly." The ham is slow-cooked with real hickory wood chips. Each ham averages five to six pounds and comes fully-cooked, enough to serve 12 to 15 people or more, depending on how they are sliced. Berry says the hams are made at the Polk's plant in Magee. "We are proud that our ham is made in Mississippi."
You can read up to 3 premium stories before you subscribe to Magzter GOLD
Log in, if you are already a subscriber
Get unlimited access to thousands of curated premium stories, newspapers and 5,000+ magazines
READ THE ENTIRE ISSUE
April/May 2020