SUSANA BALBO
The pioneering winemaker has forged an outstanding career in Argentina, helping to put its wines onto an international stage and even extending her influence into politics and female empowerment. Sorrel Moseley-Williams meets the Queen of Torrontés
When she graduated as Argentina's first female oenologist, Susana Balbo set the tone for the trailblazing career that followed. The last four decades have witnessed her propel the industry forward as a three-times president of Wines of Argentina, consult for the biggest names in the business, and build her own eponymous bodega. One of the country's most respected winemakers, she says: 'I'm the architect of my own life.'
Winemaking hasn't been her only focus. In 2015, Balbo neatly sidestepped into politics, tackling territory far removed from barrel tasting at her winery in Agrelo, Mendoza. Today, however, she presides over her familyrun bodega, which celebrated its 20th anniversary last December, the inspiration that guides Argentina's undisputed first lady of wine and 'Queen of Torrontés'.
The daughter of linen manufacturers from Córdoba who made their home in Guaymallén, wine wasn't part of Balbo's world despite growing up in Greater Mendoza. 'My parents were modest people who sold embroidered tablecloths door to door. It wasn't until the 1980s, as I was graduating, that they bought a vineyard for my brother as he didn't want to follow in their footsteps.'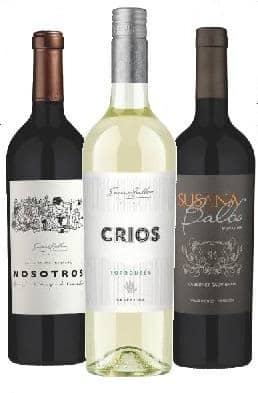 Starting out
Undertaking an oenology degree was a process of elimination for the bright 17-year-old, given that Argentina was on the brink of a dictatorship. 'I wanted to study nuclear physics in Patagonia, but because the social situation was unstable, my parents wouldn't let me move there – or to San Juan to study chemistry – so I went for oenology.'
The first woman in Argentina ever to graduate in oenology – and at the top of her class – in 1981, she fast encountered hurdles trying to enter the profession. 'I learned a huge amount as a laboratory head but loved being in the bodega. I wanted to make wine, but as a woman I was only offered lab jobs in Mendoza.'
SUSANA BALBO AT A GLANCE
Born Mendoza, 1956 Education Universidad Don Bosco, Mendoza Career Graduated as Argentina's first woman oenologist in 1981; three-times Wines of Argentina president; national deputy for Mendoza province; W20 Argentina chair; president of Susana Balbo Wines Family Children José, 35, and Ana, 33; three grandchildren Other interests Keen horsewoman and gardener who loves reading and playing with her grandchildren, and practises yoga
Following six months of rejections, she then applied for an oenology position requiring three years' experience and the ability to speak English at Michel Torino in Cafayate; the talented 23-year-old was hired over 86 others. Balbo says: 'It was a stroke of luck, because I had a great academic record, but certainly couldn't speak a word of English.'
Filled with youthful enthusiasm, she set off on the 870-mile, one-way journey. 'Cafayate was a tiny village with a bar, a church – and nothing else. A diesel tank supplied electricity and was switched off at 10pm; phoning Mendoza via an operator took eight hours. It was very basic,' she says.
You can read up to 3 premium stories before you subscribe to Magzter GOLD
Log in, if you are already a subscriber
Get unlimited access to thousands of curated premium stories, newspapers and 5,000+ magazines
READ THE ENTIRE ISSUE
October 2020