ROBERT M PARKER JR
Decanter|August 2020
The most influential wine critic of all time? He can't be described as anything less than a towering presence over the last four decades. Prolific, informed, at times divisive, always unflinchingly honest, Parker's writings have made fortunes and redefined wine styles in some of the most famous regions – and become the go-to reference for wine collectors, investors and trade alike. Having set down his wine critic's pen for good, the time is right for Robert Parker to enter the Decanter Hall of Fame. Andrew Jefford explains why
Robert M Parker Jr is the 37th entrant to the Decanter Hall of Fame (previously Decanter Man of the Year) – or, more accurately, the 39th, since in 1985 and 2014 the award was shared by two recipients. He may well be the most controversial.
Decanter itself never formally adopted a position of antagonism towards Parker or his work, but Decanter contributors and readers often have, notably in the magazine's Letters forum. Hostility to the man from Maryland focused on his use of points scores, the trenchancy of his verdicts, the undiplomatic asperity of his responses to criticism, his peremptory dismissal of the wine-tasting skills and scholarship of others, the effect of his scores on the price of fine wines, and what were perceived to be his stylistic penchants.
Now that Robert Parker has hung up his tasting glass for good and The Wine Advocate sits in the Michelin portfolio, readers may be wondering why Decanter has chosen this moment to recognise his achievements.
Well, here's why...
Whole new level
Robert Parker is the only rock star the wine world has ever produced. By that metaphor, I mean a figure whose reach and influence is global, and whose name had a resonance beyond the confines of wine traders, enthusiasts, geeks and nerds. He not only expanded that circle of enthusiasm colossally, but he altered and lifted the aesthetic parameters of what was possible in every wine-producing region around the world. He did this directly in some cases, notably in Bordeaux, in California and in the Rhône Valley, but indirectly in other cases – simply by generating excitement and thrills about great wine itself.
ROBERT M PARKER JR AT A GLANCE
Born 23 July 1947 in Baltimore, Maryland
Parents Robert 'Buddy' Parker Sr, farmer, later businessman; Ruth 'Siddy' Parker, homemaker
Education Hereford High School; University of Maryland, University of Maryland Law School
Family Wife Patricia Etzel (high-school sweetheart), daughter Maia Song Elizabeth
Interests All genres of music except rap; photography; snorkelling; English bulldogs and basset hounds
He brought untold wealth (millions of dollars or euros) to the community of wine producers by championing their individual efforts, but he also dragged whole regions into a new, lustrous light they had never known before, via a circuit of uplift. His writing increased regional sales, boosted prices and raised expectations; that in turn encouraged quality increments. He made the tasting, drinking and collection of wine a sexy, aspirational and culturally rewarding activity for many around the world who had formerly considered it locked beyond their reach, the preserve of a wealthy European bourgeois elite or of snooty intellectuals.
Parker's contagious enthusiasm was a kind of plasma jet, igniting and illuminating interest in wines wherever it reached. You may agree with his assessments or you may not, but his critical energy, his work rate and the sum of his achievement between the launch of the then-named Baltimore-Maryland Wine Advocate in August 1978 and his gradual retirement over the last decade was utterly phenomenal, unparalleled by any individual before and since, and probably unattainable in the future.
Out of the blue
How did it happen? He was brought up in a wineless household by a teetotal mother and a spirit-drinking, cigarette-smoking father. He got unpleasantly drunk on Cold Duck (sweet, cheap sparkling wine) on his 18th birthday. He won a sports scholarship to university; he was a 6'1" soccer goalie. He smoked a few joints. He became a lawyer for the Farm Credit Banks of Baltimore. He married his school sweetheart in 1969. There was no wine at the wedding.
In 1967 he had, though, visited Paris for the first time; his future wife Pat was at that point studying in Strasbourg. 'She took me to a low-budget bistro near the Eiffel Tower,' says Parker. 'I would've preferred to drink Coca- Cola, but my future wife said a bottle of Coke was more expensive than a carafe of French wine. Moreover, I was in France and had to try their cuisine – the freaky looking mussels and snails. I'd consumed plenty of liquor in college, mostly cheap booze blended with fruit drinks to encourage some bravado to act like an ass around girls at parties. So a beverage low in alcohol, with an alluring perfume and vivid red and black fruits was a revelation. Maybe an epiphany. The measured, incremental euphoria was unlike anything I'd experienced. The fact that it seemed to enhance the food and make me more articulate were additional merits. I was hooked.'
He became a wine geek himself, and one so committed that he kept the apartment he shared with Pat in Maryland at 55°F (below 13°C) through the Maryland winter – so that his nascent wine collection wouldn't be damaged. Indeed, he claims that the main reason for starting a wine publication was so that he and his tasting companion Victor Morgenroth could keep buying colossal amounts of wine without going bankrupt and thus 'avoid losing our wives because of our obsessive behaviour'.
'I drew a lot of my formative wine education,' he recalls, 'from British wine writers. Before I started The Wine Advocate in 1978, I had read all of their published works and their importance in my formative years and to the foundation of The Wine Advocate was significant, although I ended up taking a completely different focus.'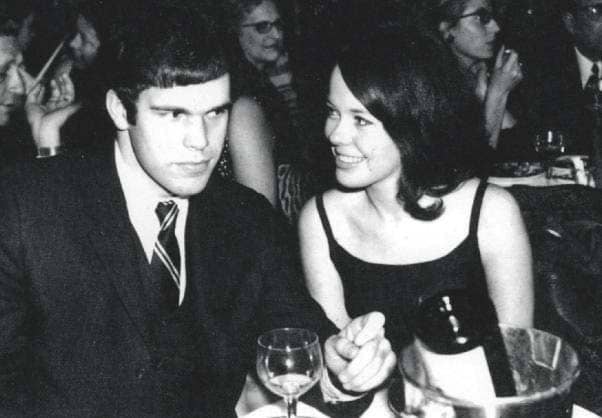 The Decanter Hall of Fame
2019 Becky Wasserman-Hone, Burgundy
2018 Eduardo Chadwick, Chile
2017 Steven Spurrier, England
2016 Denis Dubourdieu, France
2015 Alvaro Palacios, Spain
2014 Jean-Pierre & François Perrin, Rhône
2013 Gerard Basset OBE MW MS, England
2012 Paul Symington, Portugal
2011 Giacomo Tachis, Italy
2010 Aubert de Villaine, Burgundy
2009 Nicolás Catena, Argentina
2008 Christian Moueix, Bordeaux
2007 Anthony Barton, Bordeaux
2006 Marcel Guigal, Rhône
2005 Ernst Loosen, Mosel
2004 Brian Croser, Adelaide Hills
2003 Jean-Michel Cazes, Bordeaux
You can read up to 3 premium stories before you subscribe to Magzter GOLD
Log in, if you are already a subscriber
Get unlimited access to thousands of curated premium stories and 5,000+ magazines
READ THE ENTIRE ISSUE
August 2020