A perfect family BBQ
BBC Good Food UK|June 2020
The smell and taste of smoky burgers, sizzling kebabs and charred corn can only mean one thing: it's summer! We're making the most of veg, meat and fish with mix-and-match recipes that cater for all, including veggies and vegans. So, throw open the doors and fire up the coals – or a griddle pan, if the weather isn't quite as scorching
CASSIE BEST and ESTHER CLARK
Molten-cheese-stuffed burgers
Take burgers to the next level by stuffing them with a combo of cheddar and mozzarella for a gooey centre, and topping them with a dollop of herby burger sauce. Use the best quality mince you can get – it shouldn't have any more than 10 per cent fat content.
SERVES 4 PREP 45 mins plus chilling COOK 35 mins MORE EFFORT
1 ½ tbsp olive oil
1 onion, very finely chopped
70g smoked pancetta, finely chopped
1 garlic clove, crushed
4 thyme sprigs, leaves picked
500g lean beef mince (no more than 10% fat)
50g fresh breadcrumbs 1 egg yolk
60g mature cheddar, grated
60g grated mozzarella
For the herby burger sauce
120g mayonnaise
2 ½ tsp English mustard
½ small bunch of parsley, finely chopped
½ small bunch of basil
50g baby gherkins, finely chopped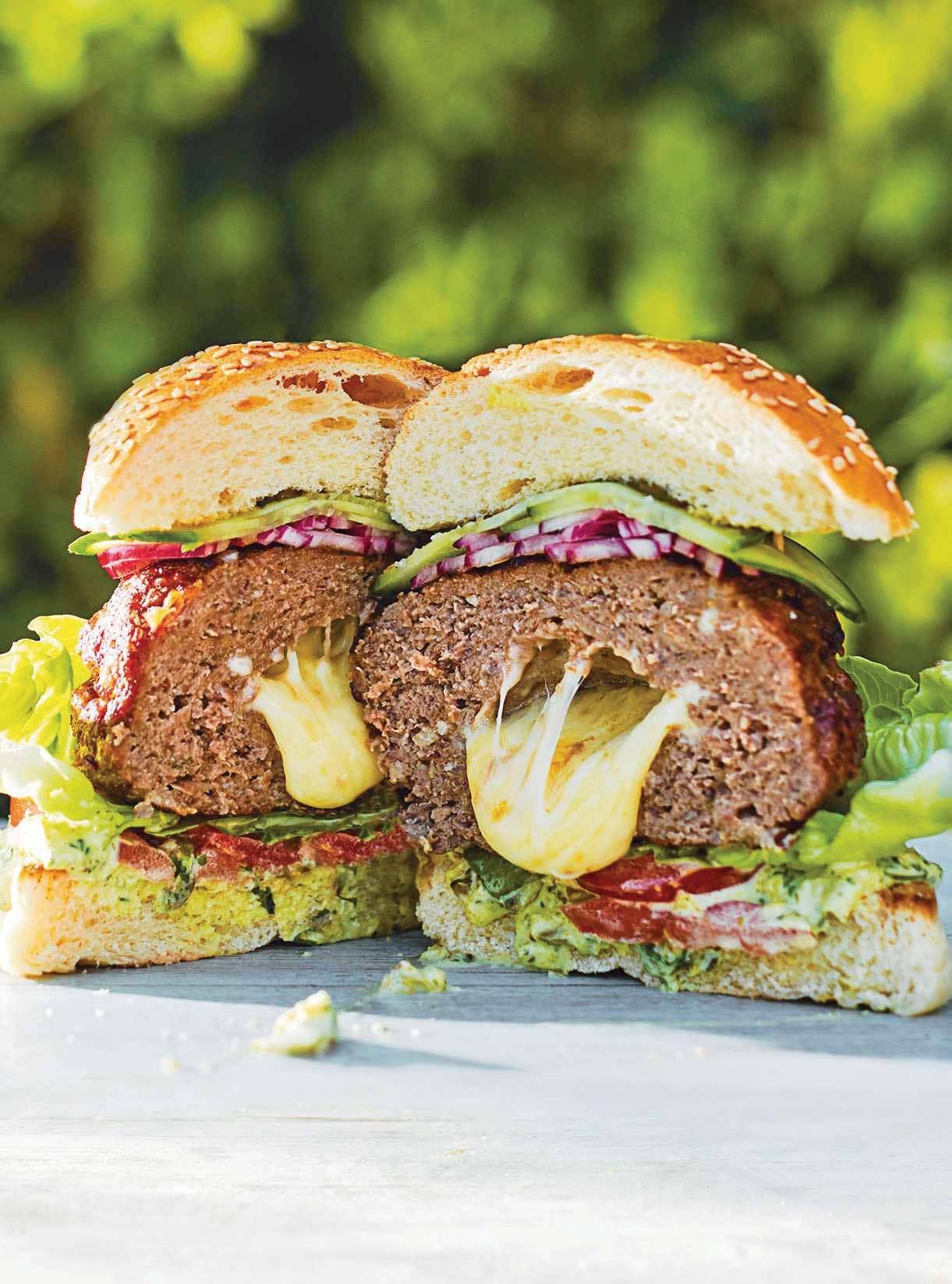 To serve
4 seeded burger buns, split
2-3 Little Gem lettuces, leaves separated
2 ripe tomatoes, sliced
50g crispy fried onions
1 Heat the oil in a frying pan over a medium heat and fry the onion with a good pinch of salt for 15 mins until soft and translucent. Add the pancetta and cook for 5 mins more, then add the garlic and thyme, and cook for 2 mins. Remove from the heat and leave to cool for 15 mins.
2 Tip the mince into a large bowl. Massage with your hands for 5 mins to tenderise the meat, then add the cooled onion mix, the breadcrumbs and egg yolk. Season well. Divide evenly into four, weighing for accuracy, if you like. Mix the cheddar and mozzarella together. Form the beef portions into patties, patting each into a 10cm round. Divide the cheese into four, and, in your hands, form each portion into a ball, then press into a roughly 4cm disc. Working one at a time, put the cheese into the centre of each patty, then bring the meat around the cheese to cover it. Pat with the palm of your hand to flatten slightly, then chill, covered, for at least 30 mins or up to 48 hrs.
3 Make the sauce by whizzing the mayonnaise, mustard and herbs together in a small food processor. Stir through the gherkins, then cover and chill until ready to use.
4 Light the barbecue (see p29). When the flames have died down, grill the burgers on each side for 4-5 mins until charred (if you don't have a barbecue, see tip, right). Wrap individually in foil and leave on the barbecue for 5-7 mins so that the cheese in the centre melts.
5 Grill the buns, cut-side down, for 1-2 mins until toasted. Spread all the cut sides with the sauce, then fill with the beef patties, lettuce, tomatoes and crispy onions.
GOOD TO KNOW calcium
PER SERVING 654 kcals • fat 49g • saturates 13g • carbs 11g • sugars 4g • fibre 2g • protein 40g • salt 2.1g
tip COOK BURGERS ON THE HOB
•If you don't have a barbecue, heat a frying pan over a medium heat and wipe with a little oil. Cook the burgers for 4-5 mins on each side, or until golden. To melt the cheese centre, transfer to a baking sheet and bake for 10 mins at 220C/200C fan/gas 8.
PERK UP YOUR KETCHUP
There's no need to buy dozens of sauces for your barbecue. Turn a bottle of ketchup into something special with the following suggestions.
Honeyed sriracha ketchup
This is sweet, spicy and totally addictive. Smear over your burger buns for a fiery chilli smack around the chops.
Mix 100g ketchup with 1 tbsp sriracha, 1/2 tbsp honey and a squeeze of lemon or lime juice.
Zesty chipotle ketchup
This is the ideal partner to sweet potato chips.
Mix 100g ketchup with 1 tbsp barbecue sauce, 2 tsp chipotle paste, the zest and juice of 1/2 lime and a pinch of finely chopped coriander.
French onion ketchup
The perfect hot dog sauce.
Combine 100g ketchup, 2 tbsp caramelised onion chutney, 1/2 tbsp Dijon mustard and 1/2 tsp garlic powder.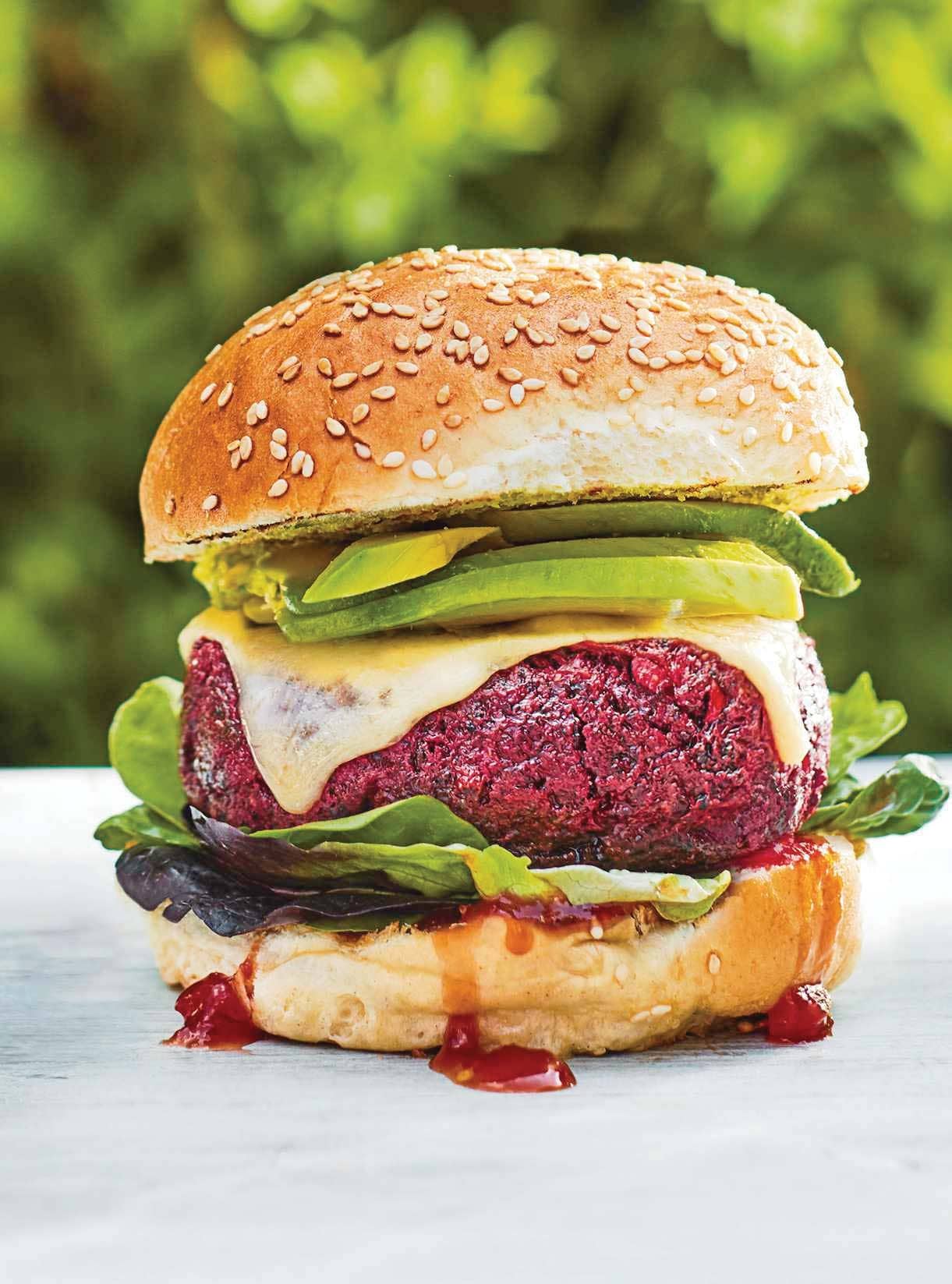 Can't-believe-it's-vegan burger
We've thought long and hard about what makes the perfect vegan burger. The flavour, texture, smell and appearance are all important aspects. After many tests, we're confident that meat-eaters, veggies and vegans alike will love this recipe. This burger has bite and bags of flavour, and can be prepared ahead then frozen. For extra punch, track down some smoked tofu. Regular will work, but it won't taste as smokily intense.
MAKES 8 burgers PREP 30 mins plus chilling and optional freezing COOK 40 mins EASY V
1 onion, quartered
3 tbsp olive oil, plus extra for brushing
2 garlic cloves, crushed
200g chestnut mushrooms
250g smoked or regular tofu
2 (about 100g) cooked beetroots (not in vinegar)
400g can black beans, drained
1 tbsp tomato purée
2 tbsp vegan mayonnaise
1 tbsp miso paste
100g oat flour
2 tbsp ground flaxseed
50g pecans
200g pouch microwave brown rice, cooked
To serve
8 cheese slices, vegan if needed (optional)
8 burger buns, split (vegans should check the label)
tomato chilli jam (see recipe, right)
a few crunchy lettuce leaves
1 avocado, stoned, peeled and roughly mashed
½ lime, juiced
1 Put the onion in a food processor and pulse until it resembles rice. Heat 1 tbsp oil in a large frying pan, tip in the onion and fry for 10 mins until soft and just golden. Stir in the garlic and fry for 1 min more. Tip the mixture into a large bowl.
2 Put the mushrooms in the food processor and pulse until they also resemble rice. Heat the remaining oil in the pan, add the mushrooms and fry for 10-15 mins, until any liquid released has evaporated and the mushrooms are tender. Tip into the bowl with the onions.
You can read up to 3 premium stories before you subscribe to Magzter GOLD
Log in, if you are already a subscriber
Get unlimited access to thousands of curated premium stories and 5,000+ magazines
READ THE ENTIRE ISSUE
June 2020