Smoky Grills To Share
BBC Good Food ME|November 2019
The sun's out, the drinks are chilled and friends are on the way – it's time to barbecue with our pick & mix menu of three sharing skewers plus sides.
choose your kebabs
1 Sticky chicken & chorizo skewers
The winning combo of chicken and chorizo gets even better with sticky garlic, honey and thyme glaze, while padron peppers cut through the richness of it all. Thread the skewers and make the flatbreads ahead of time, then simply add to the barbecue as people arrive.
SERVES 8 (with 16 flatbreads) PREP 40 mins plus 2 hrs marinating and 1 hr proving COOK 40 mins EASY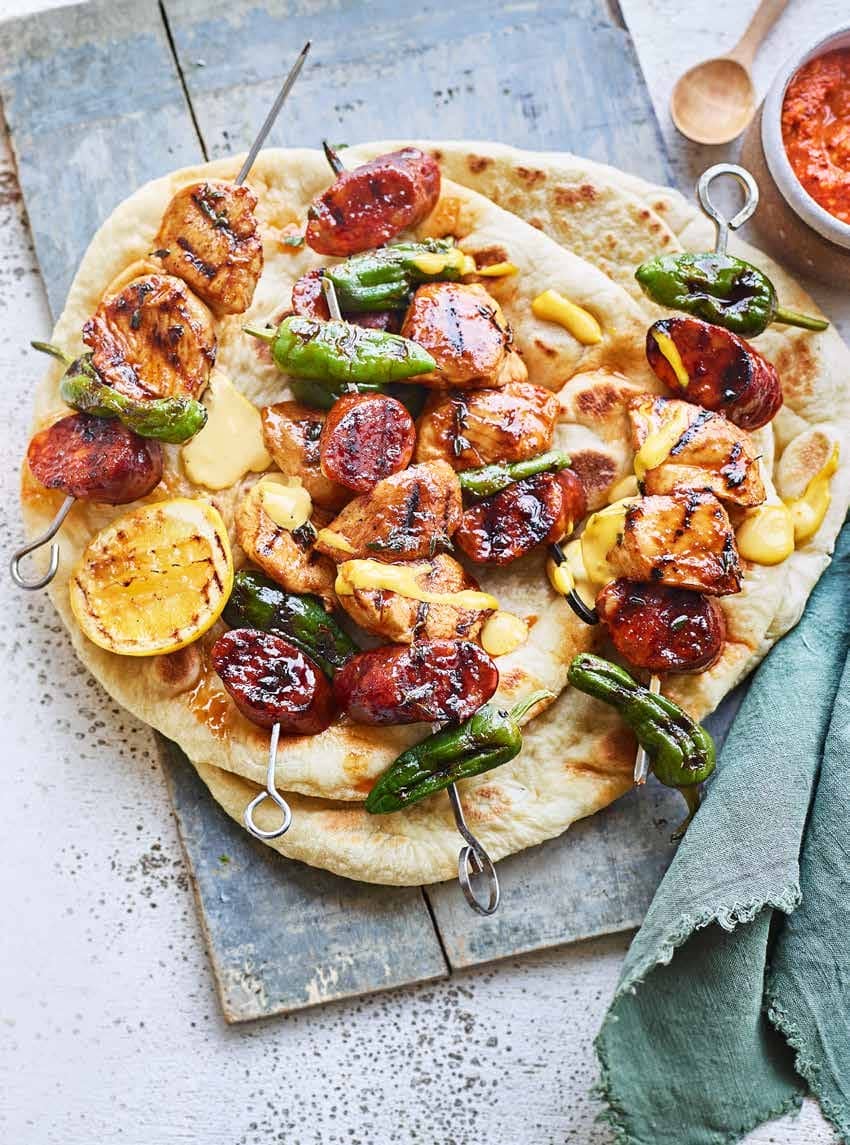 For the skewers
100ml olive oil
75ml sherry vinegar
½ small bunch thyme, leaves picked
1½ tbsp smoked paprika
4 garlic cloves, crushed
3 tbsp honey
4-5 chicken breasts (about 650g), cut into bite-sized chunks
200g chorizo ring, sliced into thick coins
250g padron peppers, or 3 green peppers cut into pieces charred lemon halves or wedges, to serve
For the olive oil flatbreads
1.2kg strong white bread flour, plus extra for dusting
200ml olive oil, plus extra for proving
1 tbsp fine salt
2 x 7g sachets fast-action dried yeast
1 Whisk the olive oil, vinegar, thyme, paprika, garlic and 2 tbsp honey with plenty of black pepper. Pour 3/4 of the marinade over the chicken and chorizo, reserving the rest to glaze the skewers later. Marinate for at least 2 hrs or overnight. Whisk the leftover 1 tbsp honey into the reserved marinade.
2 To make the flatbreads, mix the flour, olive oil, salt and yeast in a large bowl. Add 700ml water and knead to a rough dough. Tip onto a floured work surface and knead for 10 mins until smooth and elastic. Transfer to an oiled bowl and cover. Leave to double in size, about 1 hr.
3 Knock the dough back and divide into 16 small balls about 140g each. Roll each out on a floured work surface until a few millimetres thick and about 20cm wide. Heat a dry frying pan on a medium high heat and cook the dough for 3-4 mins until golden underneath and large bubbles start forming. Flip and cook for 1-2 mins more until lightly golden. You can keep the flatbreads warm in a low oven or on the barbecue, wrapped in foil.
4 Thread the chicken, chorizo and peppers onto eight large or 16 small metal skewers. Season with salt. Light a barbecue, let the flames die down and the coals turn ashy white (see p32), or heat the grill to medium-high. Grill the skewers for 8-10 mins, turning every few mins until the chicken is cooked through. Use the remaining marinade to glaze the meat when turning.
5 With a fork, slide the meat and peppers off the skewers on to the flatbreads. Serve sides separately (see p28) for guests to assemble their own kebabs.
GOOD TO KNOW (BREAD ONLY) vegetarian • vegan
PER SERVING (2) 390 kcals • fat 13g • saturates 2g • carbs 57g • sugars none • fibre 2g • protein 10g • salt 1g
GOOD TO KNOW (SKEWERS ONLY) vit c • gluten free
PER SERVING 344 kcals • fat 22g • saturates 5g • carbs 8g • sugars 7g • fibre 3g • protein 26g • salt 1g
tips
PREP AHEAD AND TOOL UP
Prove the bread overnight in the fridge to get ahead. This will slow down the first proving stage and will mean the bread will be ready for knocking back the next morning.
Metal skewers are better for barbecuing meat than wooden as they don't burn, and they conduct heat, so that the meat cooks from the inside as well as outside.
SPOTLIGHT ON PADRON PEPPERS
Originally from north-western Spain, these tend to be served simply fried in olive oil and sprinkled with sea salt for tapas. This little capsicum is also known as the 'roulette pepper' because around one in 10 are known to be spicier than expected. They have both sweet and bitter notes that work perfectly with rich, smoky chorizo and a sweet sticky marinade. You can buy them from most supermarkets, or online.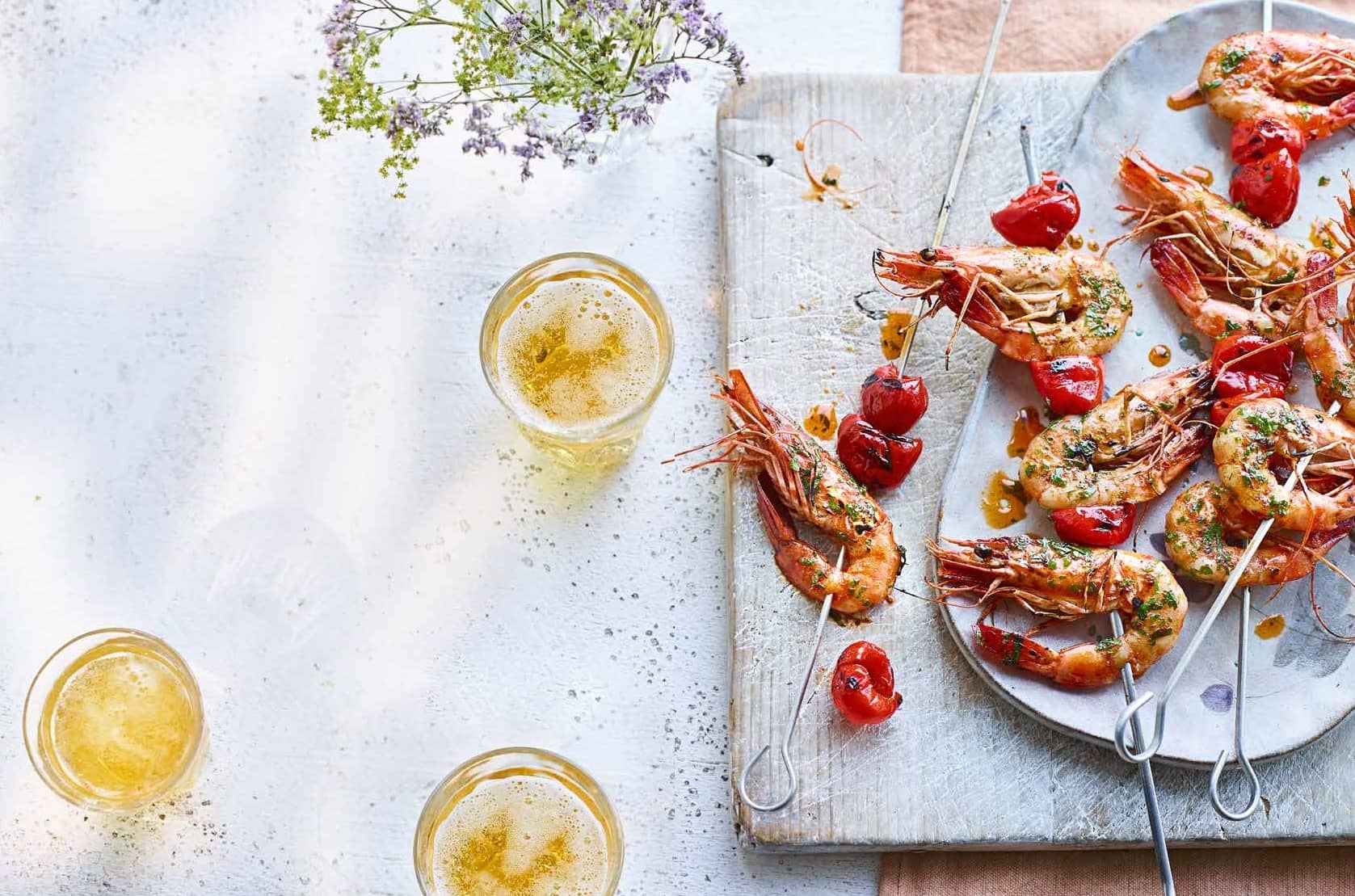 2 Fiery prawn & pepper skewers
MAKES 8-12 PREP 15 mins plus marinating COOK 5 mins EASY
3 garlic cloves, crushed
1 red chilli, finely chopped
1/2 small bunch parsley, finely chopped
1 tsp sweet smoked paprika
1/2 tsp hot smoked paprika
4 tbsp olive oil
400g raw king prawns, in their shells if you like, or keep the tails on 1 jar Peppadew hot sweet piquanté peppers, drained lemon wedges, to serve
1 Whisk the garlic, chilli, parsley, both types of paprika and olive oil together. Stir through the prawns and season well. Cover, put in the fridge and leave to marinate for at least 30 mins before threading on to skewers, interspersing them with a few of the peppers, so that each skewer has about 4-5 prawns.
You can read upto 3 premium stories before you subscribe to Magzter GOLD
Log-in, if you are already a subscriber
Get unlimited access to thousands of curated premium stories and 5,000+ magazines
READ THE ENTIRE ISSUE
November 2019