VLR Mustang
Scale Aircraft Modelling
|
October 2020
Jonathan Kunac Tabinor builds Eduard's latest P-51D
Background
With Iwo Jima captured for use as a base in March 1945, B-29s began to pound the Japanese home islands. To counter the fierce opposition of Japanese interceptors, P51D units were formed to escort the Superfortesses. These eight-hour, 1500mile round trip Very Long Range (VLR) missions ran from April to August 1945. Mustangs were equipped with 110, and later 165, gallon drop tanks permitting carriage of four or six HVAR rockets for attacks on targets of opportunity. The P-51s were modified with a navigation system called 'Uncle Dog' after the Morse phonetic letters used to aid long outward overwater flights, while a similar system on Iwo called 'Brother Agate' assisted returning aircraft. This necessitated twin dorsal aerials, moving the standard aerial under the nose, and changes to the cockpit radio bay.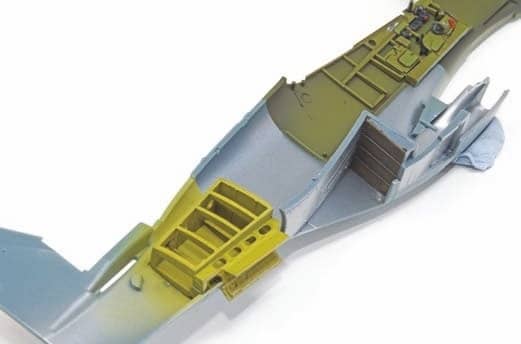 The Kit
Eduard's new release of its recent 1/48 P-51D allows the modeller to recreate one of twelve aircraft from the 15th, 506th, and 21st Fighter Groups. All necessary parts are included to represent the VLR modifications, creating an excellent, well-researched package. I have to say, this is a stunning kit. It has instant 'build me' appeal. Fine recessed surface detail with petite rivets everywhere, apart from the puttied areas of the wings, slide-moulded hollow exhausts, photoetch, resin wheels and rocket stubs, masks and a big decal sheet (of which more later) complete the kit, lifted by eye-catching box art. Reading the instructions is a must though, as there are numerous options throughout construction, depending on which version you desire.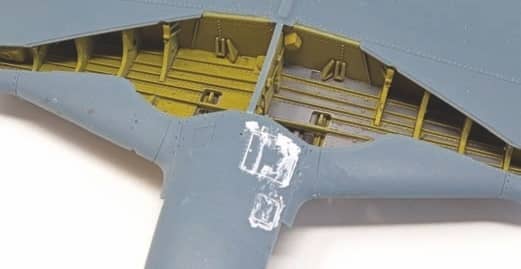 Any Mustang kit always seems to start with painting lots of 'bits', and this is no exception. There are three main base colours: Yellow Zinc Chromate (ZC) primer, Interior Green, and 'silver'. Tamiya Yellow-Green (XF-4), GSI Aqueous Interior Green (H58), and Tamiya Lacquer Silver (LP-11) were my paints of choice. Mr. Self Levelling Thinner was used for all acrylics, with Tamiya Retarder Lacquer Thinner used for their paints.
I chose to abandon painting orthodoxy for the wheel bay (Yellow ZC main spar, aluminium lacquer elsewhere) and go for Yellow ZC overall with a wheel bay roof painted asymmetrically with Yellow ZC and silver. I found several mentions of later block P-51s being finished thus, and it adds interest, especially with roof stringers picked out in yellow too. A wash of Quickshine, water and red-brown-black acrylics served to pop out the lovely details, and in a slightly browner form this was later used on the cockpit and radiator areas too. The cockpit floor was painted Tamiya Light Sand (LP-30), then GSI Wood brown (H37) was airbrushed through a wood grain template. Vallejo Black was brush painted over, then distressed with a piece of scotch pad and scalpel tip to portray the anti-slip floor covering wearing through to the plywood floor beneath. The seat, cockpit coaming and the rudder pedals were all painted Tamiya Olive Drab (LP-28), while the fuel tank was painted Rubber Black (LP-65), with radio boxes, fuel tank details, and armoured seat-back top in Black (LP1). I sprayed the cockpit fuselage sides a darker mix of interior green, then tacked in the separate sidewalls with Maskol, airbrushing Interior Green from a high oblique angle. The shadow areas created under the sidewall details look nice but aren't very noticeable once the fuselage is joined!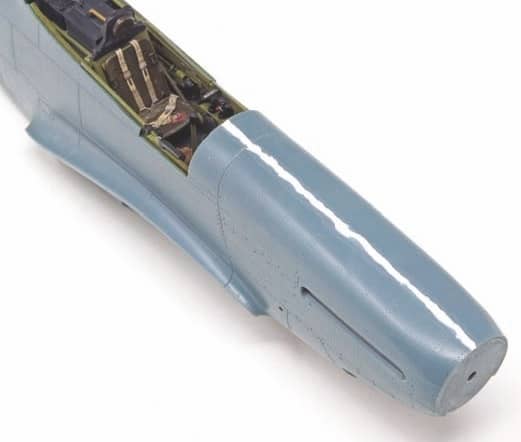 Eduard's approach to the ventral radiator is very simple, although it does sacrifice detail in the intake area (which is acceptable I'd suggest, as you really can't see much through there anyway). The radiator matrix was painted silver, washed with black, dry-brushed a coppery black and then glued to the exhaust tunnel floor, remembering to glue in the small separate flap recesses first. Once this is in you can add the oil cooler exhaust, which locks onto it nicely. Add a small photoetche oil cooler radiator grill at the front and that's it. Having initially airbrushed this area silver, I played safe and brush painted it black to prevent anything being visible apart from the grill.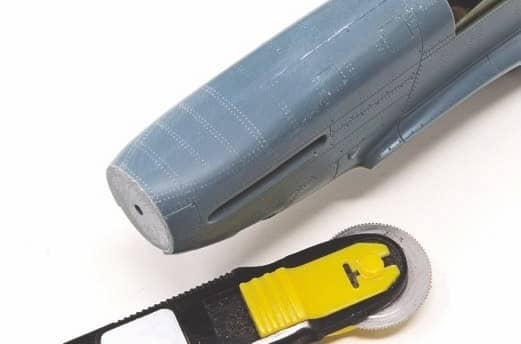 You can read up to 3 premium stories before you subscribe to Magzter GOLD
Log in, if you are already a subscriber
Get unlimited access to thousands of curated premium stories, newspapers and 5,000+ magazines
READ THE ENTIRE ISSUE
October 2020