The Isolated Aviator
Entertainment − and even flying practice − for the grounded pilot
While lock-down and private flying restrictions were being eased as this edition of Pilot went to press, restarting GA looks set to be a gradual process and many of us will continue to seek alternative entertainment− and perhaps even a bit of 'homeschooling'. The Assistant Editor continues with his virtual test flying of simulators−one way of keeping the mind active and staying current, at least when it comes to procedure and overall airmanship, if not providing a true feel for the controls.
Infinite Flight simulator
With ATC and many aircraft models, Infinite Flight is good for fun flying and to practise workload management
"Bournemouth Tower, N505MU left downwind Runway 08, touch and go." "N505MU you are number three in the circuit, report turning base." I slow down to 80kt, lower the flaps to 10° and look out on my left for an XCub that I'm following. It's a sunny spring afternoon with a brisk south-easterly and I'm flying circuits at Bournemouth airport with three other aircraft.
Brakes off, fuel sufficient, engine instruments check, seatbelts secured. I need to extend downwind before turning base because the Cub is quite slow−I'm in a Cessna 172. But at the same time, I'm followed by a Spitfire (yes, a Spitfire) so I don't want to slow him down either.
"N505MU, Bournemouth Tower, speed 100kt if possible." I knew it! Flaps up, power on, and I keep looking out for traffic. It has been years since I have been flying circuits so intensively, and I have to concentrate and work quite hard. When I turn onto final (a long final, it turns out) I initially keep my speed up to help the Spitfire behind me, eventually touching down a bit heavily after a prolonged battle with a crosswind.
As far as pyjama flying goes, this is actually pretty intense. The Infinite Flight simulator that we have chosen for this month's 'Isolated Aviator' is touted by sim enthusiasts exactly for the two features that today I find most striking. First, the sheer variety of aircraft models that you can fly− and that will be flying around you. Second, the opportunity to be guided by an actual Air Traffic Controller (the voices are those of volunteers who have passed a specific test) while surrounded by aircraft flown by other users.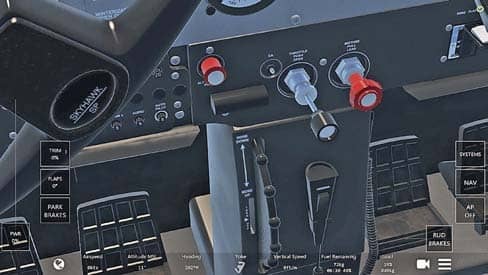 Cub or Tomcat?
I tried Infinite Flight after downloading it on my iPhone from the App Store (it costs £4.99). Like other smartphone simulators, the sim works by using your phone motion detectors, which effectively turn the phone into a control column−tilt forward and backward for pitch, and right/left for turning.
You can read up to 3 premium stories before you subscribe to Magzter GOLD
Log in, if you are already a subscriber
Get unlimited access to thousands of curated premium stories, newspapers and 5,000+ magazines
READ THE ENTIRE ISSUE
June 2020