The Experts Say…
Experts from the leading Approved Training Organisations give their views on the training and job market
Each year, we ask senior representatives from the ATOs a series of questions about the employment opportunities for would-be commercial pilots−both fixedwing and rotary, their training, and new developments. We also ask what advice they would give to potential students.
The first question concerns how good employment prospects are in general for commercial pilots. "The demand is so high, it could not be a better time to be a pilot," responded Richard Gentil of Naples Air Center, Florida. Richard cited Boeing's research showing an estimated demand for pilots between 2019 and 2038 of 804,000 (see graphic). Others agreed: Geoff van Klaveren, VP L3Harris Airline Academy said, "At our last graduation in April, 95% of the 356 pilots graduating were already flying, or had secured jobs, with leading airlines including British Airways, easyJet, Virgin Atlantic and Oman Air." FTA-Global concurred, Alex O'Loughlin saying that "94% of the students that completed their pilot training at FTA in 2018 have secured a job as a pilot." This was echoed by Kyle Johnston, Training & Compliance Manager at Atlantic Flight Training Academy, Ireland saying that almost all their students that completed the MEP CPL IR had been offered a job. He went on to say that AFTA had seen a slowdown in the past couple of months, due probably to the B737 Max issues, but he expects this to tick up again once the Max is reintroduced.
On the rotary-wing side, Captain Sarah Bowen, Managing Director and Head of Training at Helicentre Aviation sees growing demand for "suitably qualified helicopter pilots who have the drive, motivation and attitude to achieve long and fulfilling careers flying helicopters". She sees comparable progression and salaries between offshore oil and gas with airlines, and a variety of onshore roles including HEMS, police and utility work.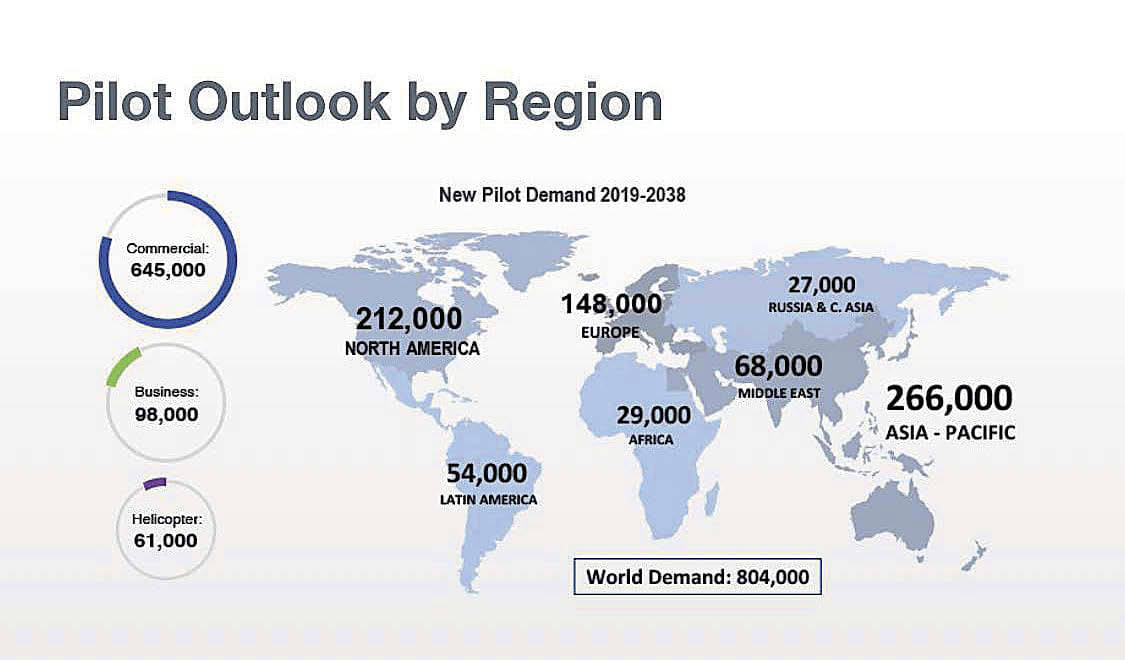 Where are the jobs?
Boeing's research indicates that the highest demand for new pilots will come from the Asia-Pacific region and this is borne out by the responses to our question about which regions, industry sectors, companies and/or airlines offer the best job opportunities. Skyborne's Chief Operating Officer, Ian Cooper confirmed that India is predicted to become the third-largest market for air travel by 2024. Skyborne works with India's IndiGo passenger airline and will train up to 100 pilots a year over the next five years. Several ATOs, including Brian Kane, Sales & Marketing Director BEA−speaking for Booker Aviation, highlighted the growth of budget airlines. He also commented "the worldwide use of internet shopping has created an increasing need for air freight pilots too." Kyle Johnston added that AFTA is seeing "low cost carriers outside Europe accepting non-nationals with EASA licences, as their national students can't afford to pay for the training, or their level of English is not high enough." In Scotland, Graeme Frater of ACS Aviation finds the employment market particularly buoyant "with airlines such as Loganair, Jet2 and Gama Aviation recruiting."
Helicentre takes a slightly different approach alongside traditional recruitment opportunities, creating aviation careers for newly-qualified pilots with fast-track routes to build hours and experience in order to transition into other industry sectors. Selected training academy graduates can move straight into oil and gas careers, and Helicentre has a partnership with Bristow Helicopters offering sponsored training and scholarships to selected ab initio cadets.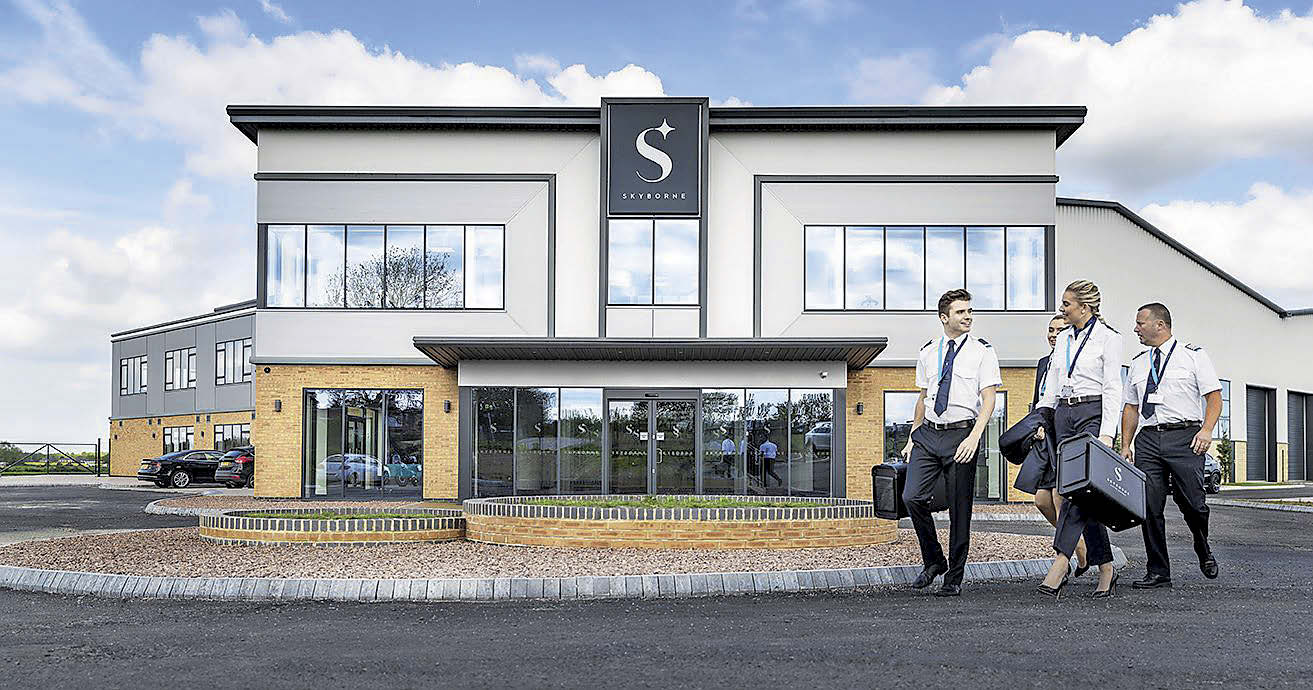 Asking whether the type of training has changed in recent years, ACS's Graeme Frater says that "students are keen to fly on modern glass cockpit aircraft like the Diamond DA42 Twinstar". Skyborne's Ian Cooper, AFTA's Kyle Johnston and Caledonian Advanced Pilot Training's Phil Croucher all confirmed a move into competency- and evidence-based training, with Phil Croucher highlighting the new KSA100 exam. Helicentre has seen a move away from modular self-improvers obtaining a professional licence as a change of career, and has added a fulltime integrated CPL(H) course, allowing "trainee helicopter pilots the option to fast-track their way to a commercial helicopter licence and employment within 12-18 months".
You can read up to 3 premium stories before you subscribe to Magzter GOLD
Log in, if you are already a subscriber
Get unlimited access to thousands of curated premium stories, newspapers and 5,000+ magazines
READ THE ENTIRE ISSUE
November 2019