More Swan Than Ogar
Noisy and ungainly on the ground, the elderly Ogar's element is the sky where it performs gracefully
As we float serenely across Rutland Water I glance across at Roger Pitman and grin wryly. "You weren't joking were you Roger? It really does look like you're sitting in a deckchair!" "Well, might as well be comfortable!" he laughs in reply. One of the great things about being Pilot magazine's Flight Test Editor is not just the quantity and quality of the aircraft I'm lucky enough to test, but also the variety. Some aircraft display almost national and cultural idiosyncrasies (such as the difference in handling between American and French four-seaters), and others even their manufacturers' political ideology.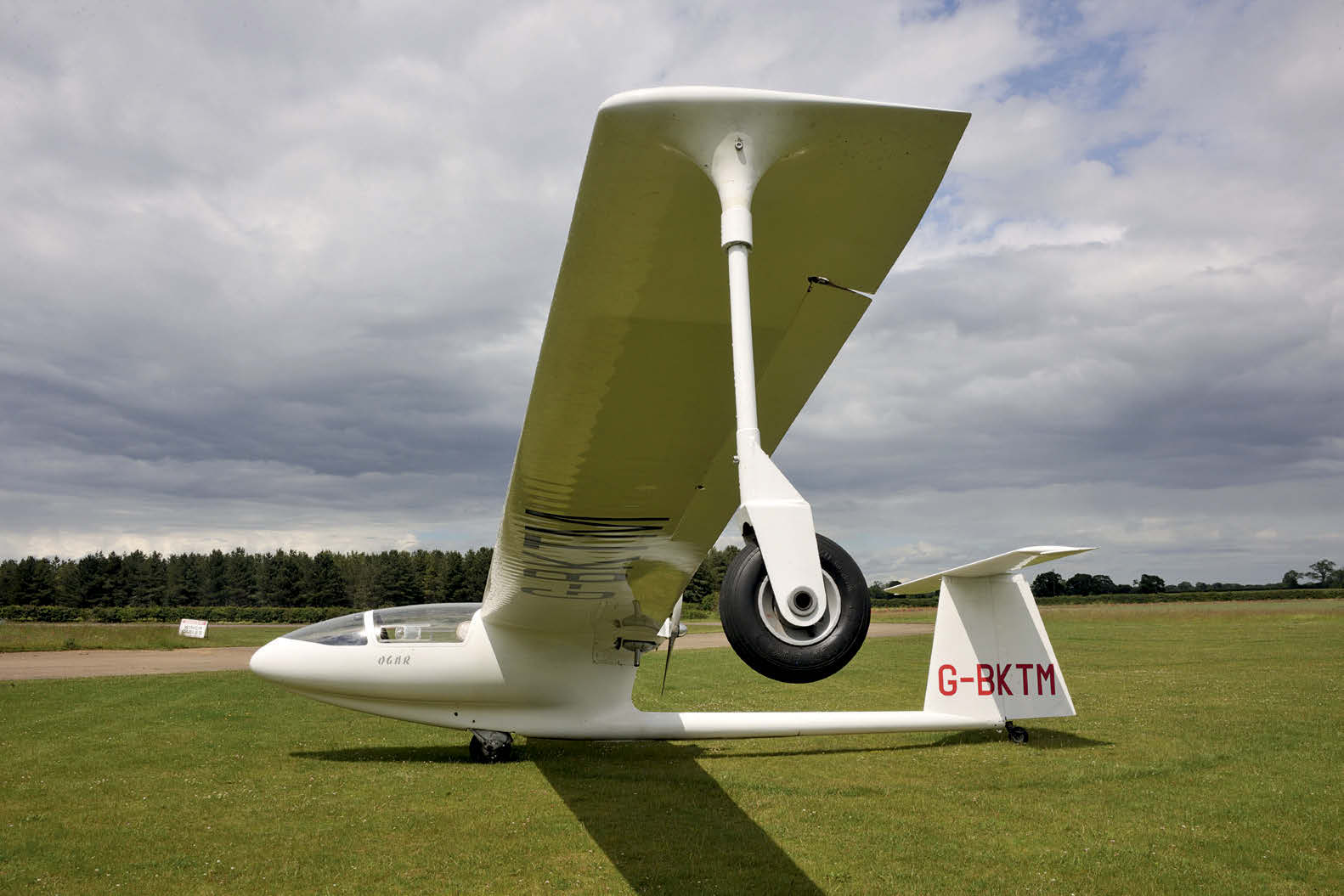 Conceived in the depths of the Cold War and designed by SZD-Bielsko's Dipl.-Ing. Tadeusz Labuc, the SZD-45 Ogar (Hound) is a fascinating flying machine that I've long wanted to fly. It is also one of the most unusual-looking aircraft ever made.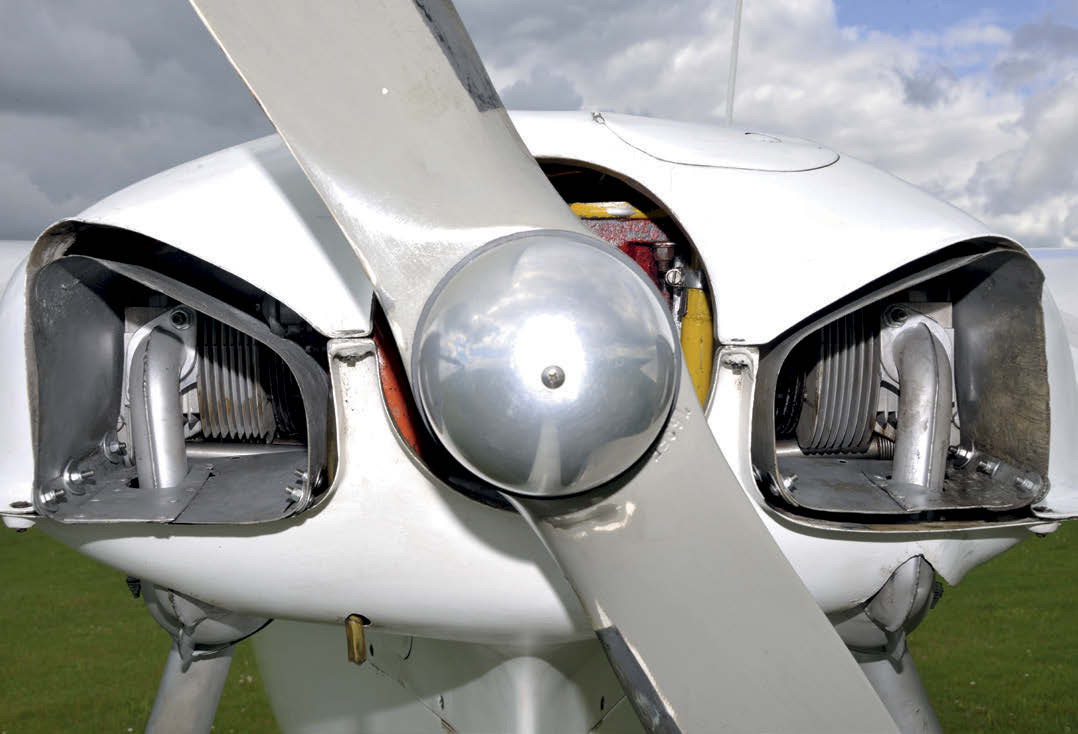 While waiting patiently at Saltby airfield for it to arrive we all heard it before we saw it. And when we did see it we knew what it was, because it looks like nothing else! Featuring a pod and boom configuration, a high-wing, T-tail, and powered by an engine mounted at the back of the fuselage that turns a pusher propeller, it's unmistakeable. The prototype first flew on 29 May 1973, and 64 production aircraft were built between 1974 and 1980 at SZD's factory at BielskoBiala in southern Poland. As part of the USSR, Poland had a centrally-planned state economy and sailplane design was concentrated here. Szybowcowy Zaklad Doswiadczalny translates as Glider Experimental Workshop; all the design work was done by SZD and the aircraft produced here and at other state-owned workshops and factories.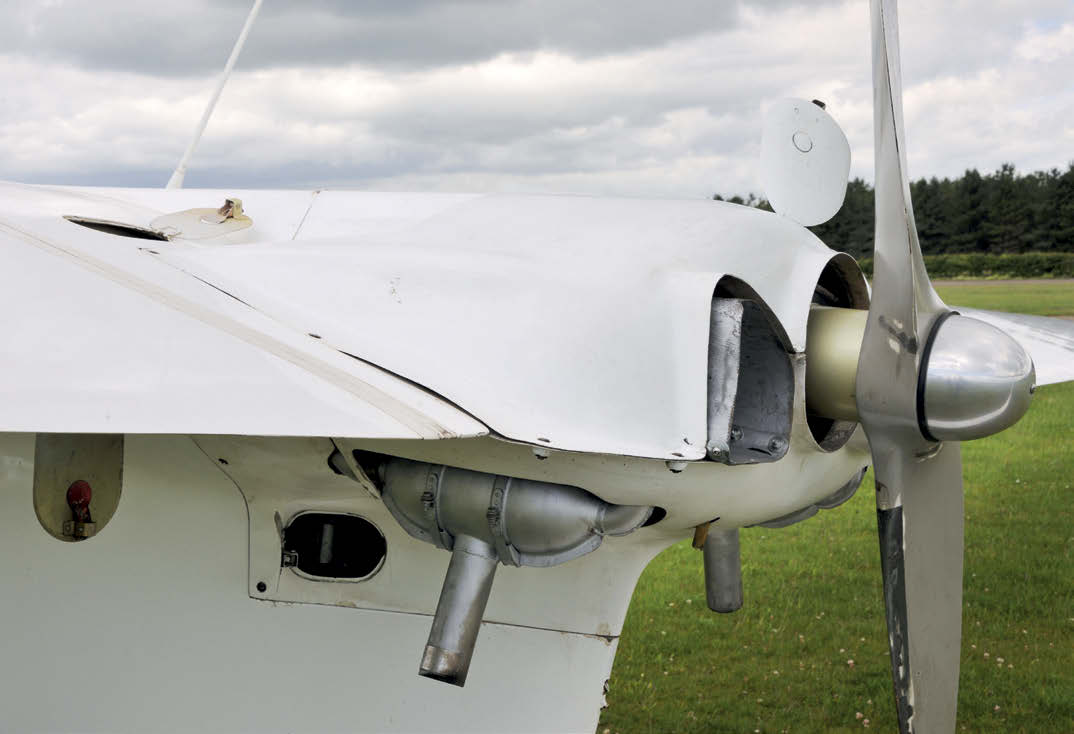 As it taxies towards me I can't help but think how ungainly it looks, with one wingtip-mounted outrigger firmly on the ground and the other pointing at the sky. Then I realise that as the other wing really is a long way off the ground it would actually be easier to taxi than a T-61 or RF5B, as you don't need such a wide taxiway. While I'm still processing this, it pulls onto the grass and performs a very deft 180 degree turn, in not much more than its own length! Anyone who's ever flown a T-61 or RF-5 will know why I put an exclamation mark at the end of the preceding sentence. It might look a little clunky on the ground, but looks aren't everything.
The prop stops and the large aft-hinged canopy swings open and back. I can see Roger unstrapping and preparing to disembark, then realise that the cockpit sills are extraordinarily high off the ground. For the life of me I can't see how he's going to get out and – more importantly how I'm going to get in. Suddenly, he produces a set of welded metal steps, which he carefully places on the sill and then climbs out. Amazing! One thing is already irrefutable, the Ogar is full of surprises! And as I begin to inspect it in greater detail the surprises just keep coming.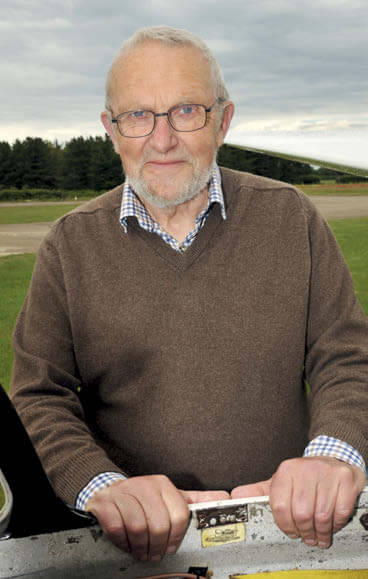 Some aircraft are made from metal, others composites or wood; well, the Ogar uses all of them. The cantilever wings are shoulder-mounted and of wooden single spar construction, skinned with plywood and covered with glass-fibre, while the fuselage pod which carries the cockpit, engine and tailboom consists of a glass-fibre shell over two loadbearing wooden frames. Finally, the tubular boom which extends aft from the keel of the fuselage pod is made from duralumin alloy. The slightly swept-back fin is integral with the tailboom, and carries a large rudder with a cantilever T-tail on top. The fin is quite large, as is the rudder. The quickly-detachable tailplane is on top of the fin and carries a goodsized mass-balanced elevator.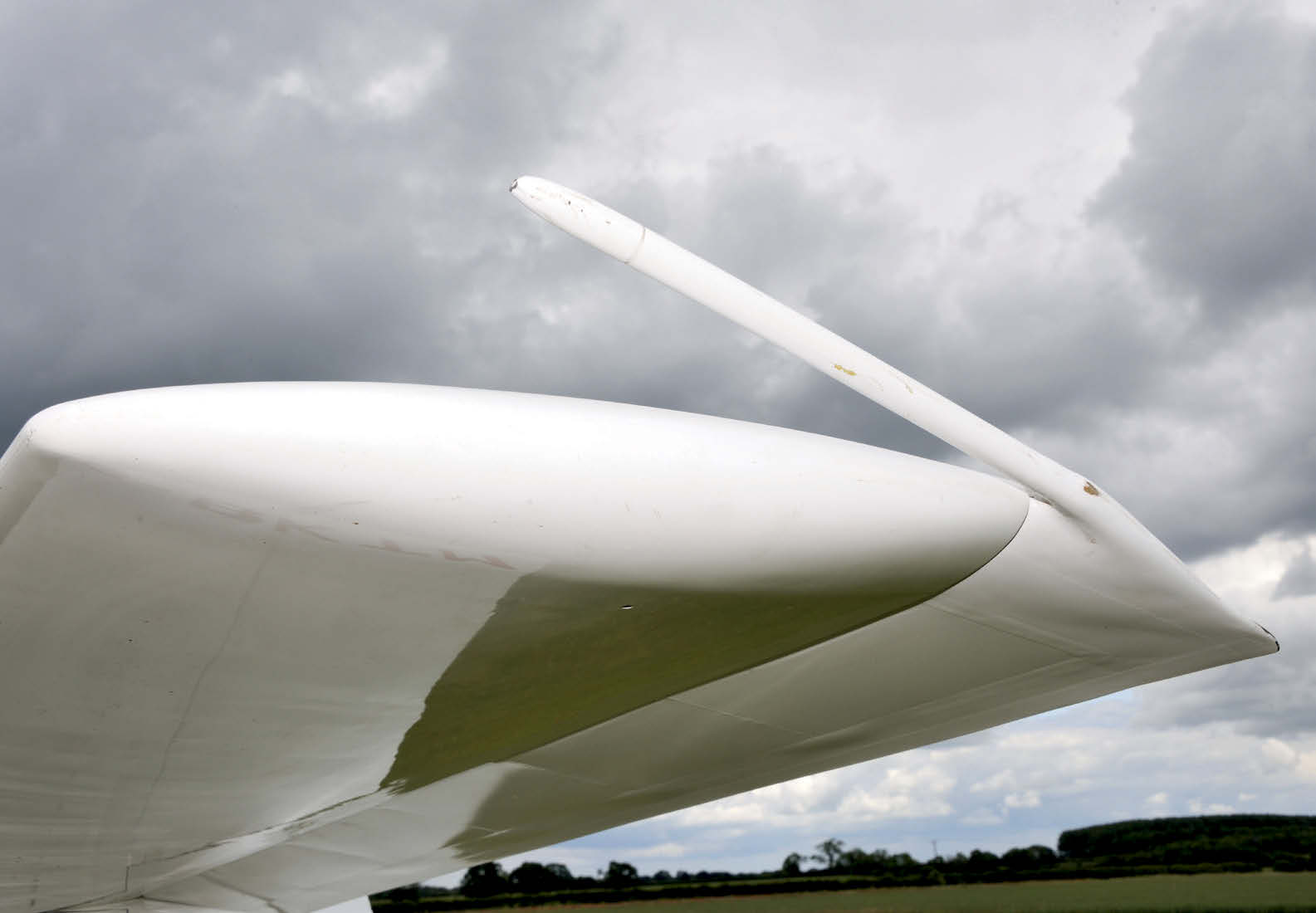 The engine is mounted at the rear of the fuselage pod, aft of the wing's trailing edge, and at the same level. The prototype was powered by a 45hp Stark-Stamo engine, and I strongly suspect that (unless you were operating from the same runway as a MiG21) it was soon appreciated that 45 horses just weren't enough for an aircraft with a MAUW of 700kg and production aircraft were fitted with a Limbach SL1700EC. This is an air-cooled flat-four derived from the classic VW 'Beetle', and produces 68hp at 3,300rpm. It is fed from a single fuel tank of only thirty litres directly behind the cockpit, and turns a two-blade composite pusher propeller. Access to the engine is excellent. There are several inspection panels in the cowling, while the entire top half opens like a car bonnet.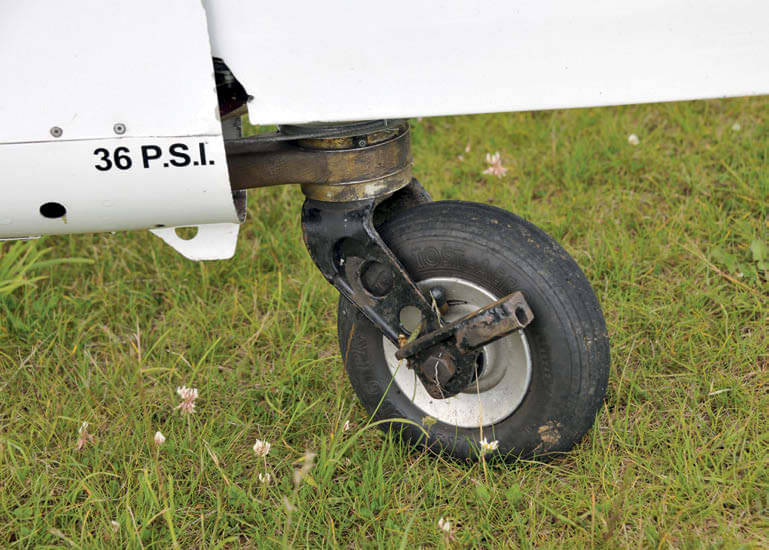 The monowheel undercarriage consists of a mainwheel fitted with a cable-actuated drum brake, outrigger wheels mounted on flexible struts right out at the wing-tips, and a steerable tailwheel. The mainwheel is mechanically retracted into the fuselage but, in common with many motor gliders (and some other Soviet-era aircraft such as the Yak-52), it only half-retracts. The upside of this design is that should you land wheel-up (either by accident, design or malfunction) no damage is done. The downside is that it doesn't reduce total drag by that much. The tailwheel steering unit is supported by a phosphor-bronze bush which Roger describes as "a work of art, and almost as expensive!" I was already starting to get the impression that the Ogar had been built to a specification, not a price, and part of the plan was to make lots of work for lots of people. It's very well made, albeit somewhat over-engineered.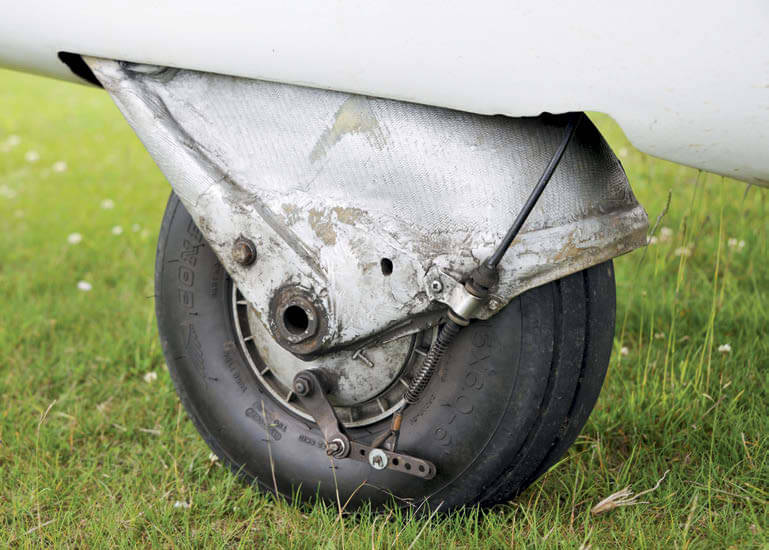 In another significant difference between capitalist and communist thinking, not only do the wings not fold, but I got the distinct impression that de-rigging would not be a trivial affair and would require the assistance of several comrades!
You can read up to 3 premium stories before you subscribe to Magzter GOLD
Log in, if you are already a subscriber
Get unlimited access to thousands of curated premium stories, newspapers and 5,000+ magazines
READ THE ENTIRE ISSUE
November 2019