Come to Sweden!
A French pilot retires to Sweden, where he enjoys great weather, blissful flights and barbecues – and invites British flyers visit this GA-friendly country
When you live and fly in the southwest of France, at the foothills of the beautiful Pyrénées, it seems to be quite a strange idea to move to Sweden, this country of long, cold winters and of billions of mosquitoes in the summer. But as we had made several trips to Scandinavian countries, we had had the opportunity to discover, as they say, the Magic of the North.
Norway, Sweden, Finland and, to a lesser degree, Denmark are flooded with a fantastic light which illuminates peaks, fjords, forests and lakes. Unspoilt nature provides lots of opportunities for cross-country skiing and hiking, and there are numerous ski resorts in the Scandinavian Alps. And obviously, the possibility of great flying in uncrowded airspace was really appealing, as was the kindness of all the people we had met and the total absence of bureaucracy we had encountered during our trips.
That is why we came to our decision: after retirement from my job as a schoolteacher, we would move to Sweden. We had bought a house in a village of central Sweden and had made sure that our Jodel could be hangared at the nearby airfield.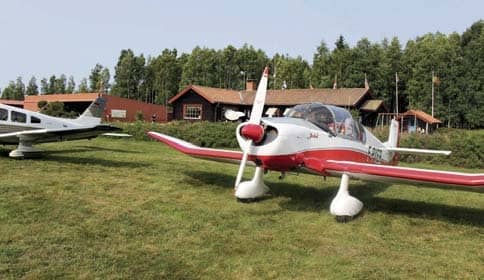 A credit card, a dog, and a half tank...
All our furniture, books, clothes, motorbike and our vintage Renault 4 had been taken away by a removal lorry. All that was left with us was our beloved Jodel, an old Citroën Saxo−and Bichette. The problem of the car was easy to solve: not really suitable for the Swedish winter, it would be left at the airfield to be used as a courtesy car.
But what about Bichette, our lovely little border collie? Of course she had to fly with us in the Jodel. So we had a challenge on our hands. How could we travel from the south of France to central Sweden in a little two-seater with a medium-sized dog, her food for ten days (in case of delays due to bad weather), her bed, her toy and our own luggage? Well, our luggage was very limited indeed, hardly more than our wash bags and a credit card. But Echo Romeo is not the lightest of D.11s ever built, being fitted with an electric starter and generator, a tuned exhaust, flaps and other gizmos which enhance safety and comfort but are detrimental to useful load.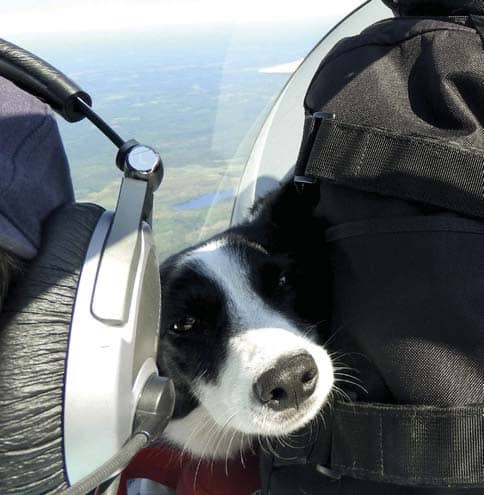 I did the maths and found that we could remain within limits with a full nose tank and a half full (or half-empty, depending on our level of optimism) rear tank. That made for a safe endurance of three and a half hours plus an additional thirty minutes, just in case... As the expected weather was rather hot over France and Germany, we had planned to make several stops along the route to water Bichette, trying not to fly for more than two and a half hours per leg. Thus we would have more than one hour of fuel left on each arrival, which could make for a safe diversion if necessary.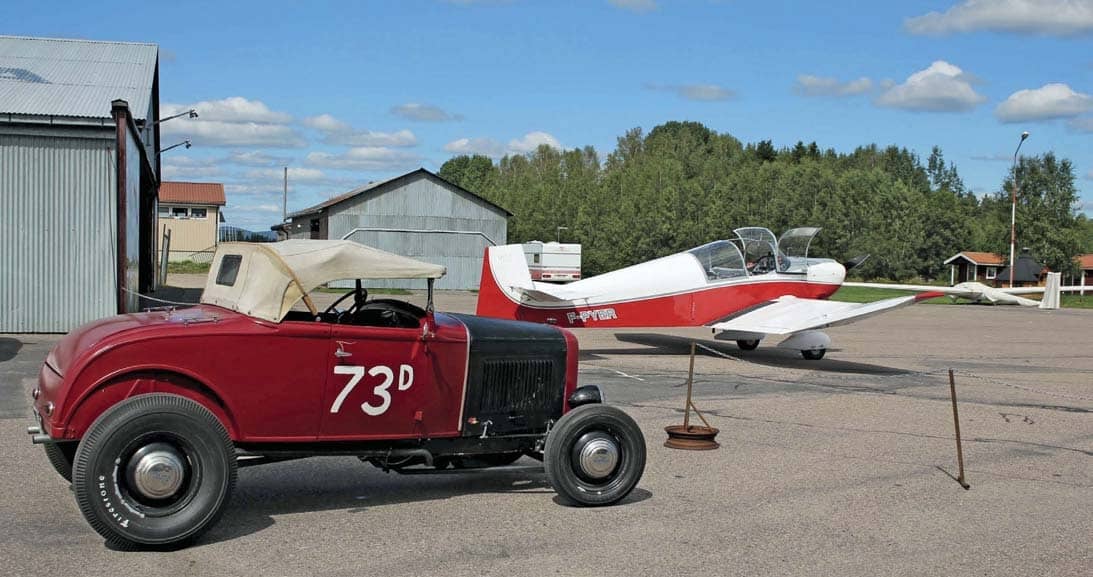 Caroline, who is an expert at this, had carefully checked the weather and Notam, and chosen airfields according to the availability of avgas and−for overnight stops−the price of hotels. My last day of work at school arrived and, as expected, our departure was delayed by my pupils, who all wanted a hug to properly bid their teacher farewell. An emotional moment for all of us, with lots of tears. Nevertheless, waiting for the next morning not a good option: sea fog was forecast to arrive later, and that can sometimes last for days in this part of France.
As you might expect, the late departure caused a late arrival at our first stop, the pleasant city of Angoulême (LFBU), where we enjoyed my first dinner as a retired person. It really tasted different−perhaps better than all I had ever eaten before. At last we had departed, the weather was fine and we were moving with our little plane to a new country to start a new life. Really exciting!
The next day was uneventful: flying in clear blue skies, we stopped for lunch and Bichette's wee at a nearly deserted Auxerre airport (LFLA). We avoided low clouds over the Massif Central, and stopped overnight at Epinal-Dogneville (LFSE)−a nice airfield with a maintenance workshop where Echo Romeo was to be checked before leaving France for good.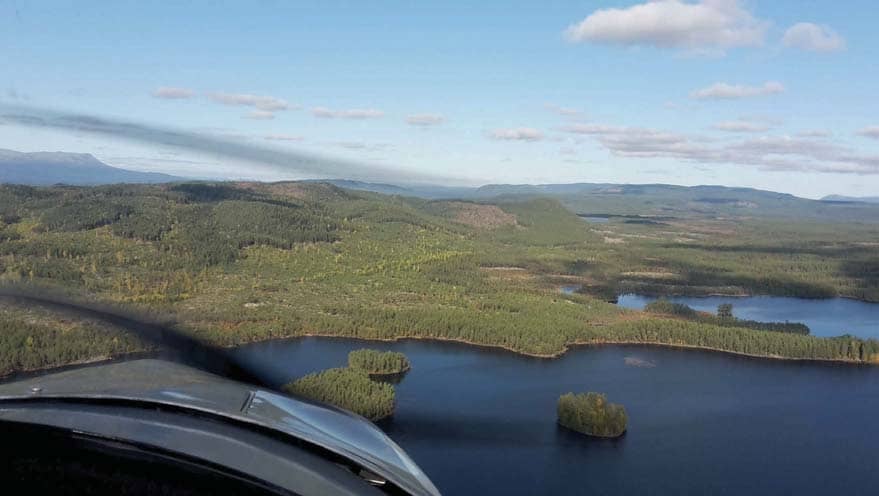 Cross-country bliss
Between France and Sweden lies a country called Germany, which is a paradise for private pilots: airspace is uncomplicated, ATC is proficient and helpful. There are airfields everywhere−and what airfields they are! Most of the time there is avgas and a restaurant on site, sometimes a courtesy car or at least bicycles available, more often than not a hangar for visiting aircraft− not to mention very reasonable landing fees. To avoid the warm temperatures prevailing, we left Epinal quite early and dawdled along the undulations of the Moselle valley, overflying acres of vineyards basking in the morning sun.
You can read up to 3 premium stories before you subscribe to Magzter GOLD
Log in, if you are already a subscriber
Get unlimited access to thousands of curated premium stories, newspapers and 5,000+ magazines
READ THE ENTIRE ISSUE
November 2020