Better Than New
With more power and a glass panel, this refurbished and uprated 1970s Cessna offers almost all the advantages of a new aeroplane at a very attractive price
OK, I hear you ask, what's so new about this aeroplane that Pilot is doing another Cessna 172 flight test? Well, G-LANE is a very different example of what you may find out there in the second-hand or rental Cessna 172 market place.
Many of us will have flown Cessnas or still be flying them. When I learned to fly in the 1970s (yes!) the main training platforms were the two-seat Cessna 150 and four-seat (with certain limitations) Piper Cherokee 140. Many flying clubs and schools also had at least one Cessna 172 on their fleet, available to hire once you had your shiny new Private Pilot's Licence in your sweaty palms, and I certainly aspired to fly one. Other low-wing Cherokee variants were available to rent but−a bit like Marmite−the affinity for high-wing vs low-wing usually polarises pilots.
I continued to rent a C172 until August 1989, when I acquired a 1968 Cessna 172H, powered by the ultra-smooth six-cylinder Rolls-Royce Continental O-300 engine, for the princely sum of £13,500. It performed well and provided me with lots of UK and European touring, as well as being an excellent camera ship for air-toair photography. I kept the aircraft until early 2001, when it was sold to a new owner for almost twice my original purchase price. So yes, I am clearly a fan of the honest and versatile, high-wing Cessna 172.
In spring 2016, an aircraft for sale with one of Pilot magazine's regular advertisers, Just Plane Trading caught the eye of Mark Hadley. A glance at the photograph revealed what might be on offer so he contacted proprietor David Morris. Following a conversation, Mark arranged a viewing and prebuy engineering survey a few days later, which revealed only a couple of snags: a wire to the tail light, which had been incorrectly routed, and a corroded door hinge pin, both of which were fixed during the inspection.
Mark did a rough calculation of the renovation costs the aircraft had benefitted from−including the new panel−and came up with a conservative estimate of £120,000. There and then he offered David the asking price of £62,000. "I knew what it was worth and I wasn't going to insult the man," Mark recalls. Later that day Mark flew G-LANE home to North Weald.
Mark admits that he didn't need the aircraft as he already had shares in a Yak-52 and a Twin Comanche but he adds "I knew the 172 was a bargain and that I could rent it out with ease. It would pay for itself in no time!" He was also looking to the future−setting up a flying school with his friend Eddie Lamb at North Weald. With the recent emphasis on glass cockpit training, the aircraft would provide an excellent platform for this and the IMC rating, which could be done together.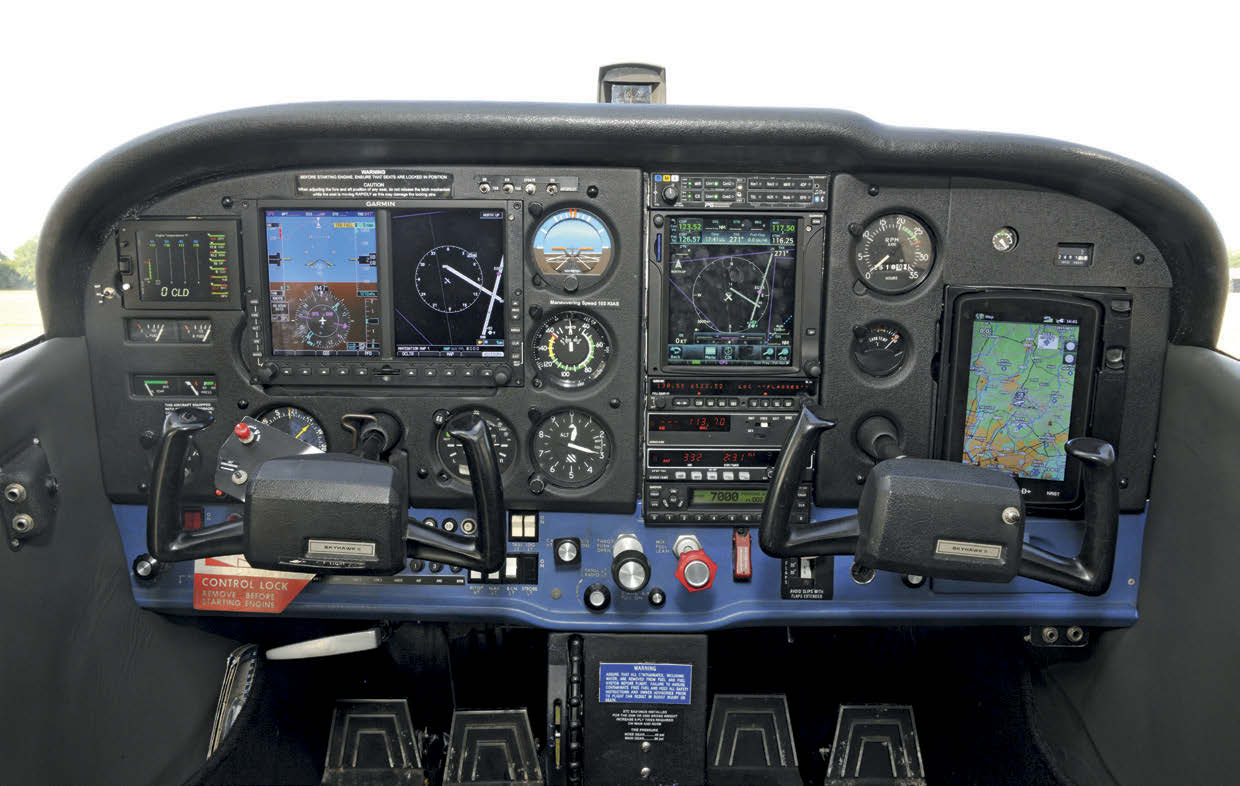 180hp and Garmin glass
G-LANE is a 1979 Reims-built Cessna F172N Skyhawk II, which was imported new into the UK in June 1979. It changed hands a number of times before its then caring owner decided upon a major renovation around 2014. It originally had a 160hp Lycoming O-320-H2AD engine but under engine STC (supplemental type certificate) SA4428SW, this was replaced by a factory-new, normally-aspirated, 180hp Lycoming O-360, driving a new McCauley two-blade, fixed pitch metal propeller. Next, it had a good quality re-spray into a modern scheme, and the inside of the cabin was entirely replaced with a full leather interior, along with new headlining, carpet, and new front seats. All plastics and Perspex were also renewed.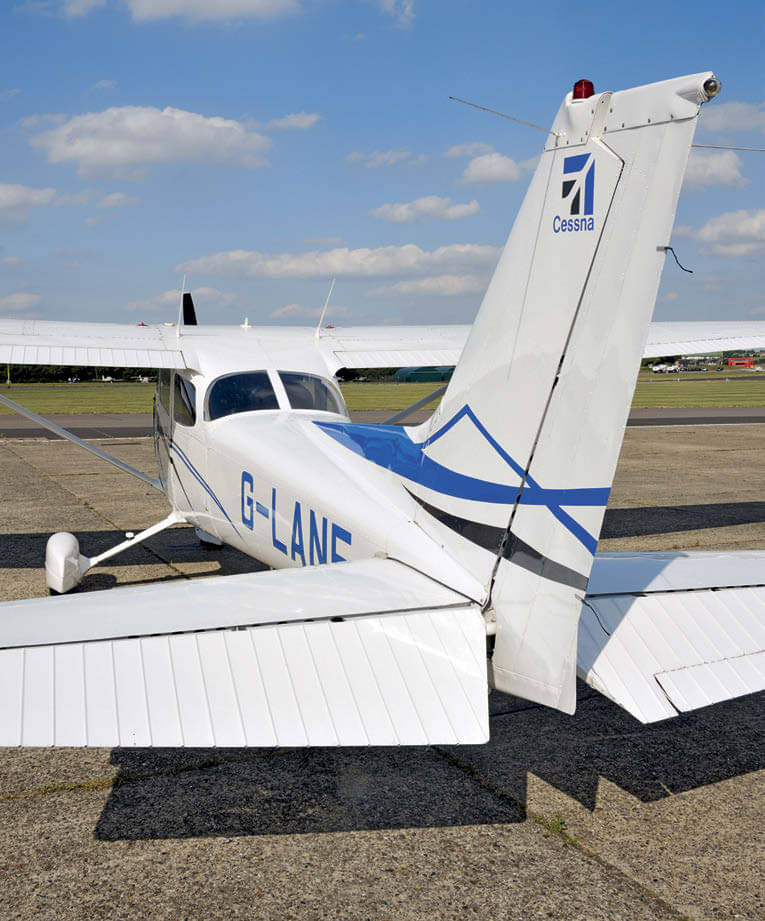 Increased Takeoff Weight STC SA2196CE allowed an increase in the MTOW from 2,300 to 2,550 lb. As a consequence of the STCs, the 40° flap setting has been removed and the aircraft is now limited to a maximum of 30° for landing. Finally, the panel was upgraded−and I do mean seriously upgraded−with state-of-the-art, modern flat-screen technology.
This is a list of the equipment which was added:
Garmin G500 PFD/MFD with Synthetic Vision
Garmin GTN750 GPS/Nav/Com touch-screen moving map display
King KN64 DME
King KR87 TSO ADF
Garmin GTX 328 Mode S transponder
Garmin SL30 Nav/Comm
PS Engineering PMA8000BT Audio Panel
Avidyne (TAS600) TCAS
S-TEC (30) Autopilot with altitude hold
Panel-mounted Garmin 795
J.P. Instruments EDM 730 Engine Monitor
To meet the additional electrical demand, the aircraft has been fitted with a 28-volt alternator and battery, which cope admirably. During my flights the ammeter did not fall off the edge when the power was reduced to idle but the old technology low voltage warning light did occasionally illuminate, although the ammeter still showed a positive charge, and the EDM Engine Analyser would have reported a discharge if it were occurring. According to the engineers, both the modern indicators work correctly while the low voltage warning light is the weak link in the system.
With full fuel (forty US gallons), G-LANE still has a useful load of 760 lb, permitting four occupants and some baggage to be carried. By way of comparison, Mark had previously flown a 300hp Cessna 206 fitted with a Robertson STOL kit: with full fuel the useful load was only around 1,000 lb for all six seats.
You can read up to 3 premium stories before you subscribe to Magzter GOLD
Log in, if you are already a subscriber
Get unlimited access to thousands of curated premium stories, newspapers and 5,000+ magazines
READ THE ENTIRE ISSUE
November 2019