A Greek Odyssey Part 2
Pilot|December 2019
Flying the C182 to Greece using a hard-won Instrument Rating wasn't quite trouble-free. It's now time to contemplate the return trip
Two weeks into our Greek Odyssey and 1,800 miles from my home base at Denham, I had my first accident. Readers may remember from Part One that I'd flown my group owned Cessna 182, G-MICI, with my flying partner Sally, across ten countries and a decent chunk of the Mediterranean, all the way from the UK to Sitia on the eastern edge of Crete. It had taken us over a week to get there in what was turning out to be by far the most challenging and exciting aerial tour of my piloting life. Since then, we'd spent a few days feasting on fish and feta, swimming in azure seas, marvelling at how far we'd travelled in our little flying machine, and watching the weather with a wary eye. Now it was time to start home. And that's when it happened.
We'd arrived at Sitia airport at midday intending to fly 150 miles west to the tiny Ionian island of Kythira, nestling at the southern tip of the Peloponnese. The plan was to grasp a perfect opportunity and turn this into a low-and-slow VFR sightseeing expedition over and around a number of stunning Aegean islands. Given the tortuous complexities of most airport opening times in this part of the world−not to mention the almost total absence of avgas and sometimes sky-high fees− we'd decided not to land at any of those islands along the way.
Actually, let me rephrase that and say that we had originally thought of landing at one of them, Naxos, but the operator rather put me off by suggesting that if I didn't stump up the demanded cash on arrival he could always take my aeroplane. That took Naxos off the list. Kythira, on the other hand, was cheap, cheerful and−we had been told−utterly unspoiled. So it was Kythira or bust.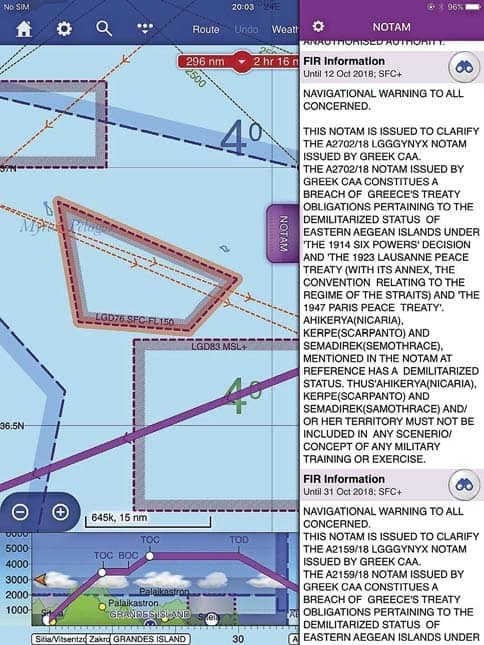 Sitia airport, meanwhile, was packed−largely with German tourists heading home. Our handlers led us past the long queues at security, earning a number of angry glances in our direction. Then we were out onto the apron where MICI sizzled in the sunshine. I was carrying a large box of oil. Not, I confess, the Aeroshell W100 kind, but delicious extra virgin olive oil harvested from the groves of Zakros on the Cretan coast. It was to prove my undoing. Thinking how lucky we were not to have to face all those dreadful queues, I managed to trip over the tiedown hook under our left wing and fall flat on my face. Eight cans of the finest quality olive oil scattered in all directions over the tarmac approximately fifty metres from a Germanwings Airbus A320. I'm sure I saw the pilot applauding. I bet the waiting passengers were.
Before this trip, Sally and I had seriously considered doing the excellent BMAA First-Aid course but somehow life had got in the way, with the result that the various plasters and bandages she managed to stick over parts of my face and body had a distinctly amateurish quality. But they did the job which is what really matters. Once we'd cleared the cans of oil off the apron−all fortuitously intact−we decided to get going pronto. With a quick thumbs-up to our German pilot friends, we taxied to the clifftop runway, stepped on the gas, and finally were on our way.
One of the interesting things about flying little aeroplanes in Greece is that there are barely any other little aeroplanes flying about in Greece. The appalling bureaucracy appears to have killed most of them off. This means that you have the sky virtually to yourself, but it also means that controllers have an insatiable desire to know everything about your flight at almost every minute. Within the first half-hour of leaving the coast of Crete, we must have been asked for estimates to this or that waypoint on our flight-planned route at least ten times. It was worse than the navigation test for the PPL. Thank goodness for SkyDemon!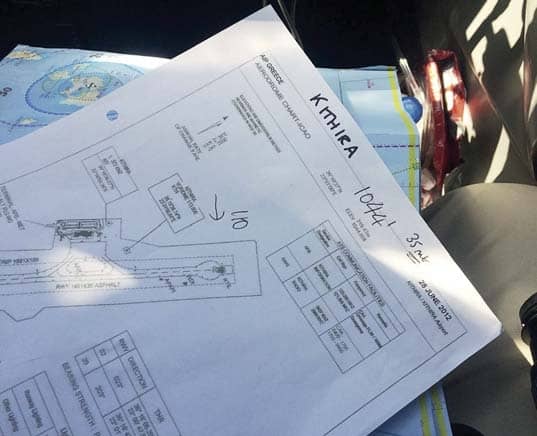 But that wasn't the whole of it. Matters were additionally complicated by the presence of an extremely long and convoluted NOTAM concerning a huge air and sea military exercise across practically the entire Aegean. Even SkyDemon−normally so helpful with these things - appeared to be stymied by the sheer unintelligibility of this NOTAM, merely drawing a great big circle around most of Greece where the exercises were supposed to be taking place at various times during the day. And if all that wasn't enough, the Turkish authorities then waded in with a very long NOTAM of their own, in which they stated that the Greek NOTAM was entirely illegal under various cited conventions going all the way back to the 1923 Lausanne Peace Treaty and should therefore be totally ignored.
You can probably guess where all this is going. The Greeks immediately responded with a second, even longer NOTAM, countering that under no circumstances should the Turkish NOTAM be observed, citing another bunch of ancient international treaties which all added up to the blunt message that the Turks were, basically, way out of line. No wonder poor old SkyDemon was getting confused. So was I. Anyone reading these notices would think World War III was about to break out just as Sally and I were off to do our little aerial tour of the Aegean islands.
My philosophy in these situations is essentially to soldier on and hope that nobody would really want to shoot down a Cessna 182 and thereby start a war. I've also learned over the years−and I don't just mean this from a flying perspective−that the further south you go the more rules you tend to get and the less anybody takes any notice of them. This was the principle we were about to put to the test.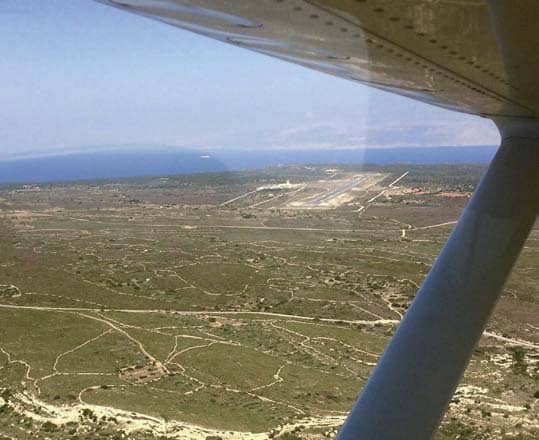 The first island on our route was Santorini−a celebrated, pictureperfect Greek idyll of whitewashed houses and churches clinging to a cliff, albeit one scarred by too much tourism. As we approached its coast, I asked the friendly female controller if we could descend to 1,000 feet and orbit over the harbour. She agreed and down we went, skimming over the tops of yachts and cruise ships anchored below the town. I'd seen innumerable photographs of Santorini taken from the vantage point of the town itself, and very pretty they were too, but nothing quite prepared me for the opposite view as we levelled out over the water and looked back up. The little town perched perilously on the spine of a cliff, a dazzling confection of streets and buildings appearing for all the world as if the whole lot might fall into the sea at any moment. We stared, amazed. It was worth more than all the NOTAM and endless ETAs just to get that incredible view.
It was at this point that the Santorini controller cut across our reverie and announced that, because of the NOTAMed Greek military exercise, she'd been advised by Athens Information that we could not fly our planned island tour and that we were to proceed immediately and by the most direct route possible to our destination, Kythira. This was a major blow. For the briefest of moments, I wondered whether to explain that I was observing the Turkish NOTAM instead, but caution prevailed. This was not a time for arguments about history. We'd come three-quarters of the way across Europe to see the Aegean islands and we weren't going to be stopped now. Thinking I detected the merest hint of embarrassment in the controller's voice, I decided to act on it.
You can read up to 3 premium stories before you subscribe to Magzter GOLD
Log in, if you are already a subscriber
Get unlimited access to thousands of curated premium stories and 5,000+ magazines
READ THE ENTIRE ISSUE
December 2019