THE GEICO SKYTYPERS
Model Airplane News|August 2020
The family-run business that changed the skywriting industry forever!
A precision flight squadron made up of six WW II vintage North American SNJ-2s, the world-famous GEICO Skytypers Air Show Team performs exciting flight maneuvers at many top airshows across the country. One of the most widely recognized airshow teams, the Skytypers have been thrilling crowds for decades, and can often be seen in GEICO commercials with an airsick GEICO gecko flying backseat!
The History
The Skytypers began operation in 1932, when a little-known beverage company hired Andy Stinis (pictured here) to perform skywriting to promote its product. That company was Pepsi-Cola, and for the next 22 years the company used skywriting as its best mass advertising medium. In 1946, Andy developed what he called "skytyping," a faster, more advanced method of skywriting using multiple aircraft to create more complex displays and messages in the sky. Skytyping produced a high-quality image, with messages that were clearer at long distances and stayed intact much longer. In 1964, Andy was awarded the patent for computer-controlled skytyping between multiple aircraft.
In 1965, Andy's son Greg moved a fleet of six SNJ-2 aircraft out to California, creating a West Coast Skytyping division. For 10 years, Greg Stinis ran both the East and West divisions, but due to business growth and economics, he focused more on the West Coast. Greg then hired Mort Arken to run the East Coast operation. Arken, a retired U.S. Army and U.S. Navy pilot with 30 years of experience, was a natural showman with extensive sales experience. He teamed up with Greg to deliver Skytyping and aerial formation demonstration flights for a host of clients—among them, Anheuser–Busch, Miller Brewing Company, Coors, Pepsi-Cola, Universal Pictures, Toyota Motors, Disneyland, Coppertone, Solarcane, Ford, and General Foods, to name just a few.
Arken fell in love with the business, and had such a passion for aviation that in the 1970s he purchased the East Coast division and the six SNJ-2 aircraft from Andy Stinis. In 1979, Greg Stinis formed Skytypers Inc., taking over all patents and rights to continue his father's business legacy.
Between these two divisions, the Skytypers performed at scores of prestigious and historic events: The 1984 Olympic Games in Los Angeles, NFL Superbowls, Macy's Thanksgiving Day Parades, New York City's Fourth of July celebrations, and even skytyping over the White House in the nation's capital.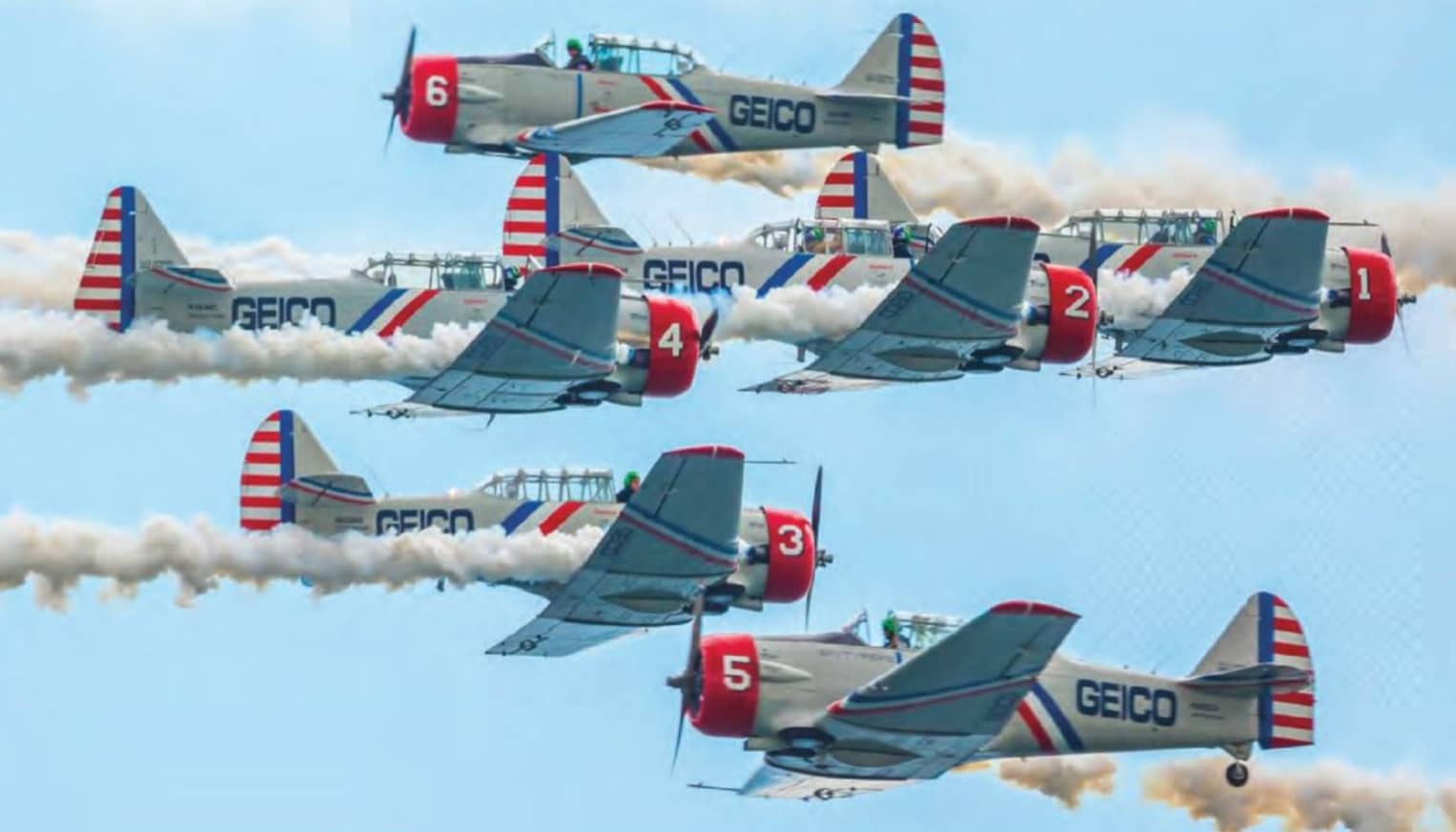 With the help of Arken's business expertise, they struck an agreement to skytype around the country as the Miller Squadron for the Miller Brewing Company. In 1989, Greg expanded the West Coast division into Japan, becoming the first U.S. civilian WW II aircraft team to fly and tour that country. Since then, Skytypers has created several joint ventures throughout the world, including South Africa in 1994 and France in 1999.
You can read up to 3 premium stories before you subscribe to Magzter GOLD
Log in, if you are already a subscriber
Get unlimited access to thousands of curated premium stories and 5,000+ magazines
READ THE ENTIRE ISSUE
August 2020