T-28 TROJAN
Model Airplane News
|
October 2020
Compact warbird for glow or electric power
SPECIFICATIONS
MODEL: T-28 Trojan
TYPE: Sport-scale warbird
WINGSPAN: 48 in.
LENGTH: 36 in.
WEIGHT: 3.25 lb.
WING AREA: 385 sq. in.
WING LOADING: 19.5 oz./sq. ft.
POWER: .25 to .32 2-stroke glow or Mega 2230/3 brushless motor (or equivalent) w/3S, 6000mAh LiPo battery
RADIO REQ'D: 4- to 5-channel (elevator, throttle, rudder, aileron); retracts optional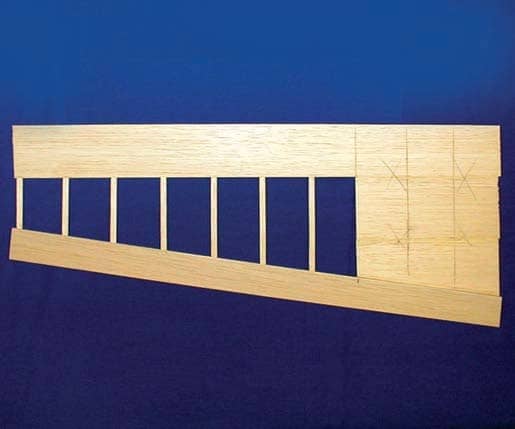 The T-28 is one of those airplanes that, when you see it for the first time up close, you wonder whether the designers didn't miss the mission. It's a trainer, right? Well, in sheer size, it sure seems intimidating. Massive, robust, macho—all that, plus! So why would all that translate to a great RC model? Easy; look at the desirable traits in RC trainers, and what do you find? Big wing, lots of dihedral, tricycle landing gear, ample room for equipment and rugged construction (among other attributes). Now, I'm not saying that this T-28 should be the first model you try after destroying your third foamie ARF, but it is one to be considered if your interests lean toward RC scale. The model has been built and flown in both glow- and electric-power configurations, and both performed well, each with its own advantages.
The first step is to make your own "kit" by cutting out all the parts. For those who consider themselves "parts-cutting challenged," there is a complete laser-cut kit package including all the necessary parts. To complete the package however, you'll need to add some strip-wood and sheet wood.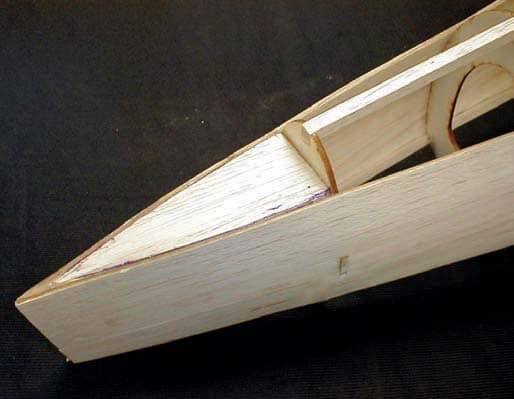 AT THE WORKBENCH
The wing panels are built individually and directly over the plans. Pin the leading-edge sheeting into place and then the trailing-edge stock; then add the lower capstrips. Position the lower spruce spar by using the W2 and W11 ribs as reference points, and glue it into place on the balsa leadingedge sheeting. Now glue the rest of the ribs into place. Note that the plans show both retractable- and fixed-gear installations. Choose the version you plan to build, and use the appropriate W3 and W4 ribs and doublers. Add the hardwood landing-gear blocks, G1 and G2 gussets, plywood bellcrank, and center-section scrap filler for the wing hold-down bolts. Now add the upper spar, gluing it securely to the ribs. With the panel assembly still pinned to the building surface, carefully position the W1 root rib in place, and use the dihedral gauge to establish the correct angle for it. Build the remaining panel in the same fashion.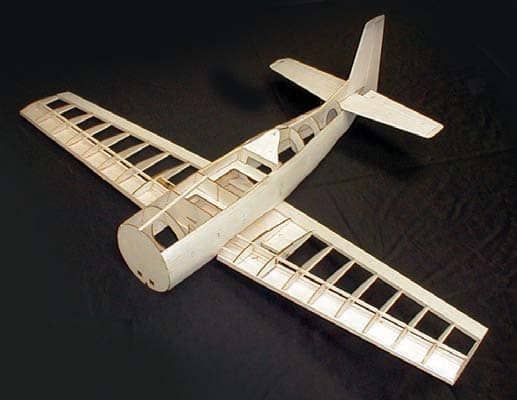 You can read up to 3 premium stories before you subscribe to Magzter GOLD
Log in, if you are already a subscriber
Get unlimited access to thousands of curated premium stories, newspapers and 5,000+ magazines
READ THE ENTIRE ISSUE
October 2020