SMOKE ON!
Model Airplane News
|
Summer 2020
At full-scale and RC airshows, watching aerobatic aircraft equipped with smoke systems adds greatly to the appeal for both the spectators and the pilots alike.
Experienced pilots can make their aircraft all but disappear within the bellowing smoke during torque rolls, tail slides, and so forth. Simply put, a smoke system is a pure attention-grabber! I decided to upgrade the smoke system in my Hangar 9 QQ Yak 54, so I thought it a good time to go over fundamentals for the plumbing, the mounting of the fuel and smoke tanks, the pump installation, and the radio programming required to regulate the smoke fluid.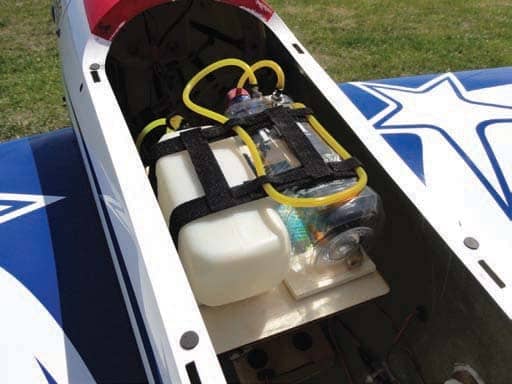 TANK AND PUMP INSTALLATION
A smoke system includes the smoke pump, gasoline-grade and neoprene fuel lines, a smoke oil tank, fuel fittings, and a smoke muffler. Depending on the pump used, a battery to supply power to the pump may be required. The TME SmartSmoker Pro (tmenet.com) can be powered by a spare receiver channel. Smoke pumps can draw as much as 1 amp of current and, on average, will use about 17 mAh per minute. It is a good idea to use a larger than normal radio battery pack if you are going to use lots of smoke-on time. The first order of business is to mount the smoke tank. The original tank tray on the Composite QQ Yak 54 is designed for only the fuel tank and is mounted directly above the wing tube. So I made a 1/8-inch lite-ply floor and glued it over the existing tray using Zap 30-minute epoxy (zapglue.com). Slots in the new tray allow Velcro straps to secure both tanks.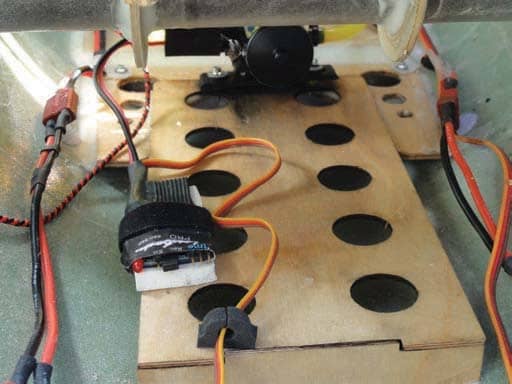 You can read up to 3 premium stories before you subscribe to Magzter GOLD
Log in, if you are already a subscriber
Get unlimited access to thousands of curated premium stories, newspapers and 5,000+ magazines
READ THE ENTIRE ISSUE
Summer 2020