RADIO RUNDUP: Our favorite programmable transmitters
Model Airplane News
|
November 2020
For many years as new and innovative radio systems have become available, Model Airplane News has been here to review them all and have shared our findings with our readers. From 27 and 72MHz to the first 2.4GHz rigs, our editors and contributors have taken these RC radio systems and put them through real-world field and bench testing. The level of sophistication we have today is truly impressive and the radio programming features have reached levels that we couldn't even dream of back in the day. So here, in no particular order, are our eight favorite editors' picks for quality, price, and performance.
Jeti DS-24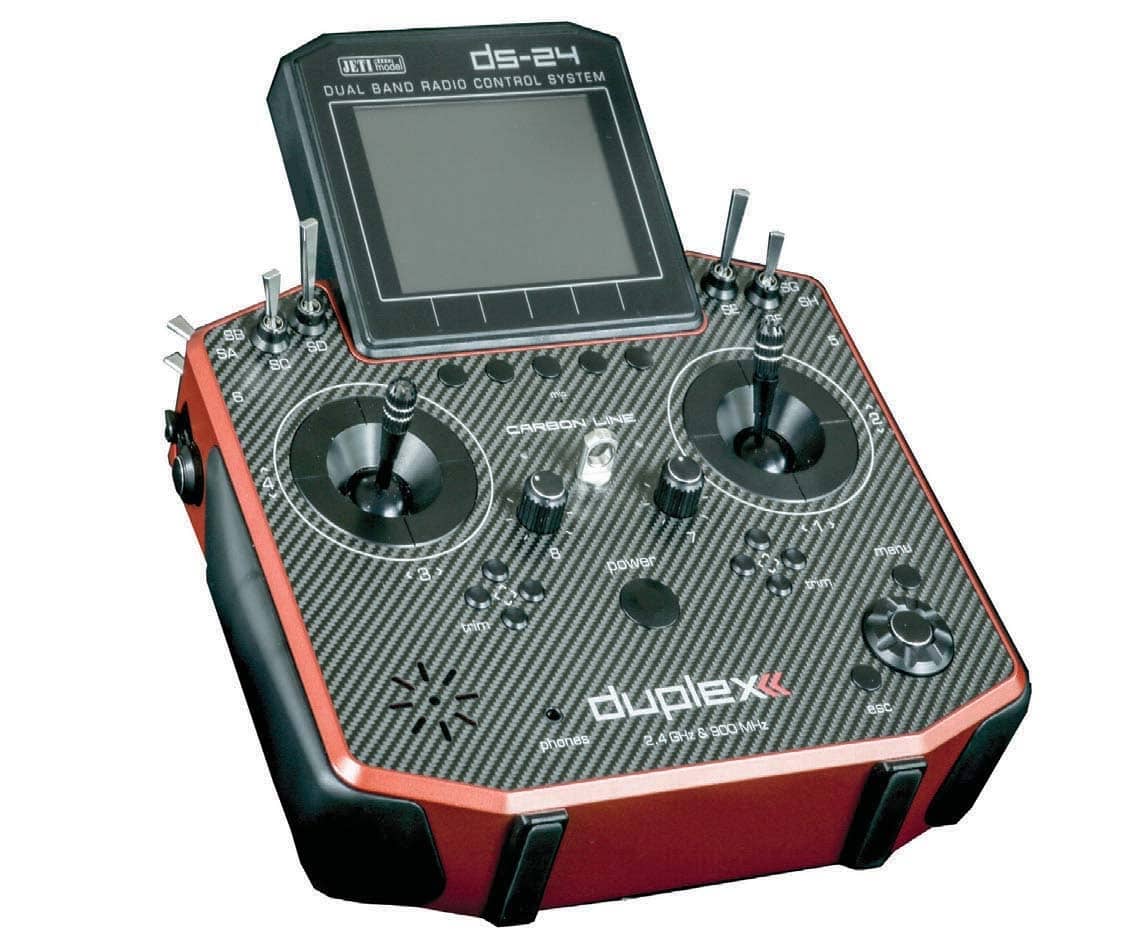 AT A GLANCE
RADIO DS-24
MANUFACTURER Jeti (jetiusa.com)
DISTRIBUTOR Chief Aircraft (chiefaircraft.com)
NUMBER OF CHANNELS 24 (plus 8 remote commands)
MODULATION Duplex 2.4GHz, frequency hopping
BAND Two 2.4GHz, one 900MHz
PROGRAMMING Airplane, helicopter, glider & multirotor
TRANSMITTER BATTERY 3.6V 5200mAh Li-ion
PRICE Starts at $2,195.00
HITS
+ Dual-band, triple redundancy with 5 antennas
+ Integrated vibration feedback
+ Voice commands
+ Included aluminum carrying case
This impressive top-of-the-line radio system comes with a well-padded lockable aluminum carrying case and a useful protective mat, ideal for the workshop and at the flying field. Though not a light transmitter, the case is well balanced and comes with machined aluminum gimbals and sticks supported with nine bearings. Hall-effect magnetic sensors provide the highest precision and reliability to stick inputs. A vibration system is integrated into the transmitter for various in-flight alarms such as low battery voltage. The DS-24 comes in two versions, a hanging desk style for "pinch" fliers, and a handheld version (with a center strap attachment point), for "Thumb" fliers. The DS-24 can transmit on 2.4GHz as well as 900MHz bands and includes five built-in antennas. A 3D wheel allows easy navigation of the 56 programming menus and sub-menus. Jeti also offers several Telemetry modules for real-time flight information.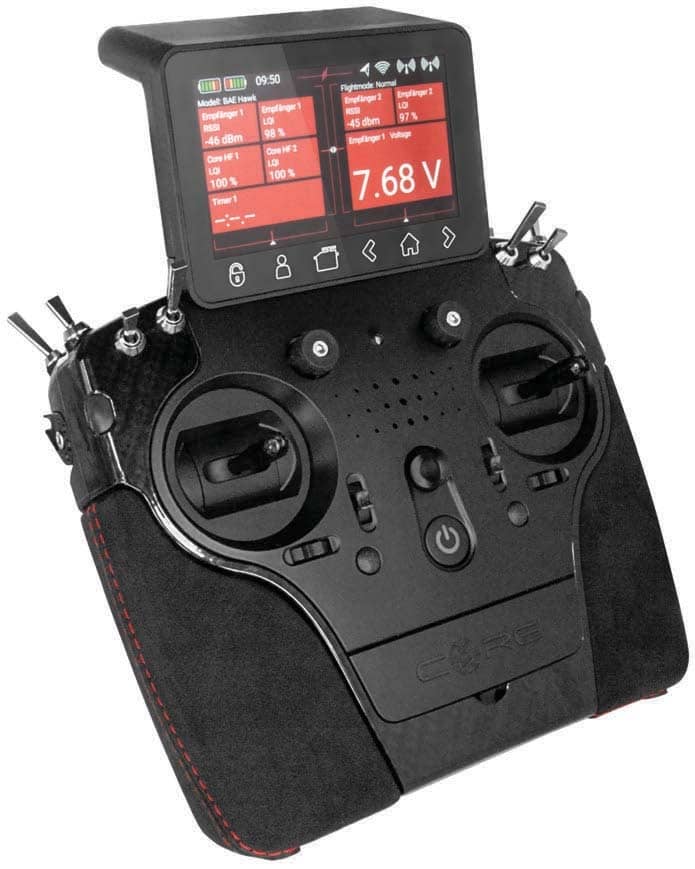 PowerBox Core
AT A GLANCE
RADIO Core Radio System
MANUFACTURER PowerBox Systems
DISTRIBUTOR Chief Aircraft (chiefaircraft.com)
NUMBER OF CHANNELS 26
MODULATION Frequency-hopping process
BAND Redundant 2.4GHz
PROGRAMMING Airplane, glider, jet
TRANSMITTER BATTERY Two 3400mAh, 7.2V internal Li-Ion batteries
PRICE $2,490.00
HITS
+ Padded carrying case
+ Transmission protocol is based on the proven Weatronics system
+ System Processor: 4096-bit resolution, 10ms frame rate
+ Up to four equal-value receivers can be bound to the transmitter
+ Dual 3400mAh, 7.2 V Li-Ion transmitter batteries used
The PowerBox Core is a flagship level radio system, ideal for turbine-powered jet pilots and sophisticated scale flyers. Included are a well padded carrying case, a 9-channel PBR9D receiver, a switch change tool, (the standard switch arrangement can be customized by the user), a padded neck strap, switch label stickers, and a uses manual. The radio is available as a handheld or tray design and with either a black or titanium faceplate. The main display has a thin film transistor touch screen and is bright enough to be seen in strong sunlight.
The control sticks are precisely machined and have a black anodized finish. The radio features 26 channels and runs all of them at full 4096-bit resolution and a 10ms frame rate. The radio has an ever-expanding telemetry system, including receiver voltage, signal level, and frame losses that can be added to the main display.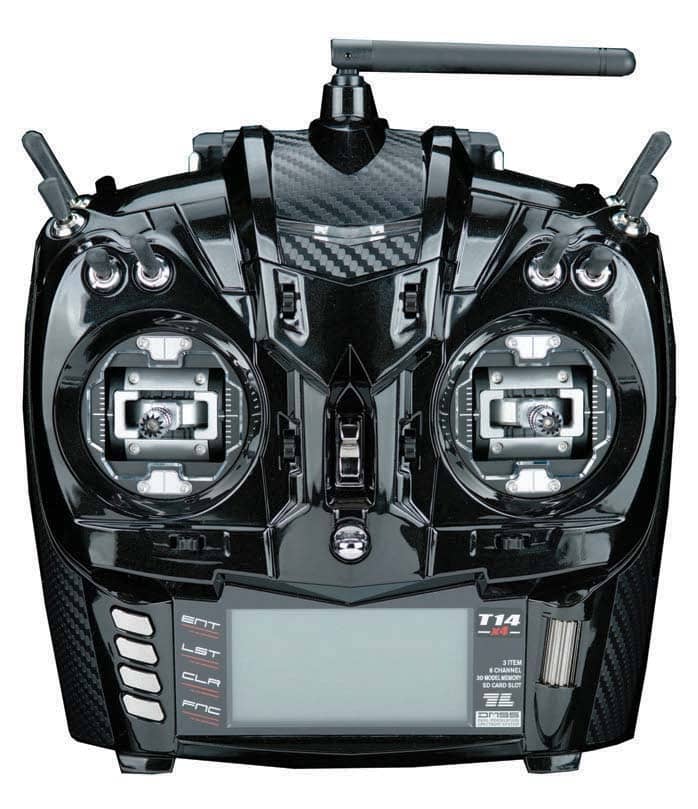 JR Propo DFA T14x4
AT A GLANCE
RADIO JR T14x4
MANUFACTURER JR Propo (jrpropo-jp.com)
DISTRIBUTOR JR Propo/Dee force (deeforce.net)
NUMBER OF CHANNELS 14
MODULATION DMSS
BAND 2.4GHz
PROGRAMMING Airplane, sailplane, helicopter
TRANSMITTER BATTERY LiFe 6.4V 1400mAh
PRICE $699.99
HITS
+ 30 model memory (SD card expandable)
You can read up to 3 premium stories before you subscribe to Magzter GOLD
Log in, if you are already a subscriber
Get unlimited access to thousands of curated premium stories, newspapers and 5,000+ magazines
READ THE ENTIRE ISSUE
November 2020