QUADZILLA
Model Airplane News
|
November 2020
A four-motor sport flier with pattern-ship performance
QUICK SPECS
MODEL: QUADZILLA
TYPE: 4-MOTOR SPORT PATTERN PLANE
WINGSPAN: 50 in.
WEIGHT: 43 oz.
WING AREA: 375 sq. in.
WING LOADING: 16.5 oz./sq. ft.
RADIO REQ'D: 4-channel
GEAR USED
RADIO: Hitec Eclipse 7, 555 receiver, HS81 servos (hitecrcd.com)
MOTOR: 4 Graupner Speed 400 can motors
SPEED CONTROL: Castle Creations 45A w/BEC, wired in parallel (castlecreations.com)
PROPS: APC 4.75x4.75 (apcprop.com)
BATTERY: FlightPower Evo 25C 3-cell, 3700mAh LiPo (flightpowerusa.com)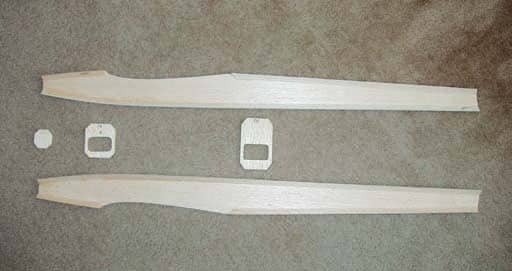 Yeah, I know. This plane looks like the parent company of the B-17 Flying Fortress, Boeing, decided to build a Reno Racing machine! But really, the Quadzilla was born from my desire for something totally different. I was thinking that everything had been done in RC: helis, jets, scale, pattern—even twin pattern models! So what haven't I seen before? A four-motor sport pattern ship! This would be a nightmare with glow but easily accomplished with electric power. How to keep it simple? Inexpensive brushed motors would only require one speed control and relatively simple parallel wiring. So using my multi-motor experience and some basic parameters, I conceived Quadzilla with a 50-inch-span with a sheeted-foam wing and basic box-structure fuselage. It uses four Speed 400 or "long can" 480 motors, a single 45- to 55-amp speed control and a 3-cell, 3700mAh LiPo battery pack.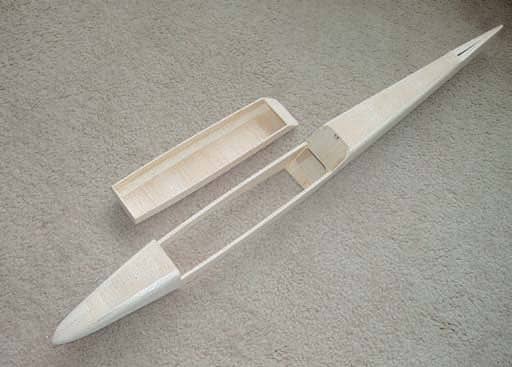 How does it fly? Very well thank you! Well enough to win "Best MultiMotor" award when I introduced it at the Mid-America Electric Fly event. With a FlightPower 25C EVO battery, I get 440 watts, and the plane weighs 43 ounces. Its clean airframe really helps it penetrate the wind, and with four 4.75x4.75 APC props, top speed is quite shocking. If four motors seems like overkill to you, the plan also includes nacelles for a twin motor installation as well as a conventional single-motor fuselage. For those flying from hard surfaces, I've even included landing gear details.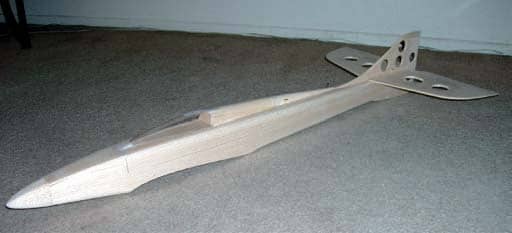 FUSELAGE
You will need to decide which variant of Quadzilla you would like to build before starting. Use the appropriate F1 and fuselage sides for your version. The single motor fuselage is 1 inch longer than the twin- or four-motor model. The fuselage is of simple box-type construction. There are only three formers, so begin by laminating them from two cross grain layers of balsa. Glue the ply doubler to the bottom of F2, and drill for the wing locating dowel. Cut out two identical fuselage sides from medium-hard balsa. Glue triangle stock as shown along the top and bottom edges of the fuselage profile. Taper it toward the tail so the sides will come together. Add the medium balsa doublers between F2 and F3. If building the single-motor model, use a plywood doubler on the sides from F1-B to F3 and on the top and bottom of the fuselage. Using a triangle, glue F2 and F3 to one fuselage side. Line up the other side, and glue it to F2 and F3. Pinch the tail together, and once you are sure it is straight, glue it. Put F1 in position and when you are sure the fuselage is true, glue it in. If using F1-B for single motor, install it with the motor installed.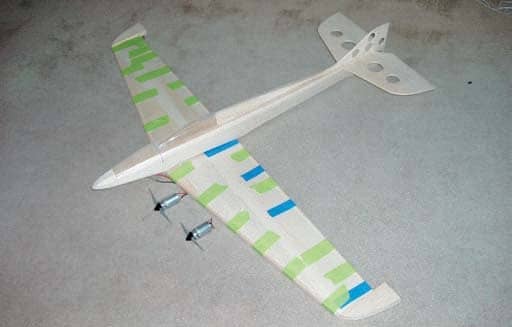 You can read up to 3 premium stories before you subscribe to Magzter GOLD
Log in, if you are already a subscriber
Get unlimited access to thousands of curated premium stories, newspapers and 5,000+ magazines
READ THE ENTIRE ISSUE
November 2020