DAWN PATROL 2020
Model Airplane News
|
November 2020
Patrols and dogfights over Long Island
The ninth annual Long Island Skyhawks' (LISH) Dawn Patrol was a very successful event. Even though Covid-19 required social distancing at the flying field, the 2020 WW I get together went off without a hitch. The club members are serious giant scale modelers and their impressive low-pressure WW I fun fly includes a dash of competition that spices things up. As always, to be a true "Dawn Patroller," you have to get to the flying field early … really early, like before sunrise! Then as the fog clears your airplane has to be ready for action.
Most of the regulars get to the flying field mid-week and help with field set up for the event. The LISH members really do have a great flying field. Leased from a local sod farm, the grass runway is always well maintained and there's a chalked centerline running down the entire 1,000-foot-long runway. At show center, there is a spot landing and bomb drop target marked out, and there are always plenty of pilot stations behind the safety fence. During the Dawn Patrol mass flight this year, there were about 10 to 12 pilots socially distanced down the flightline.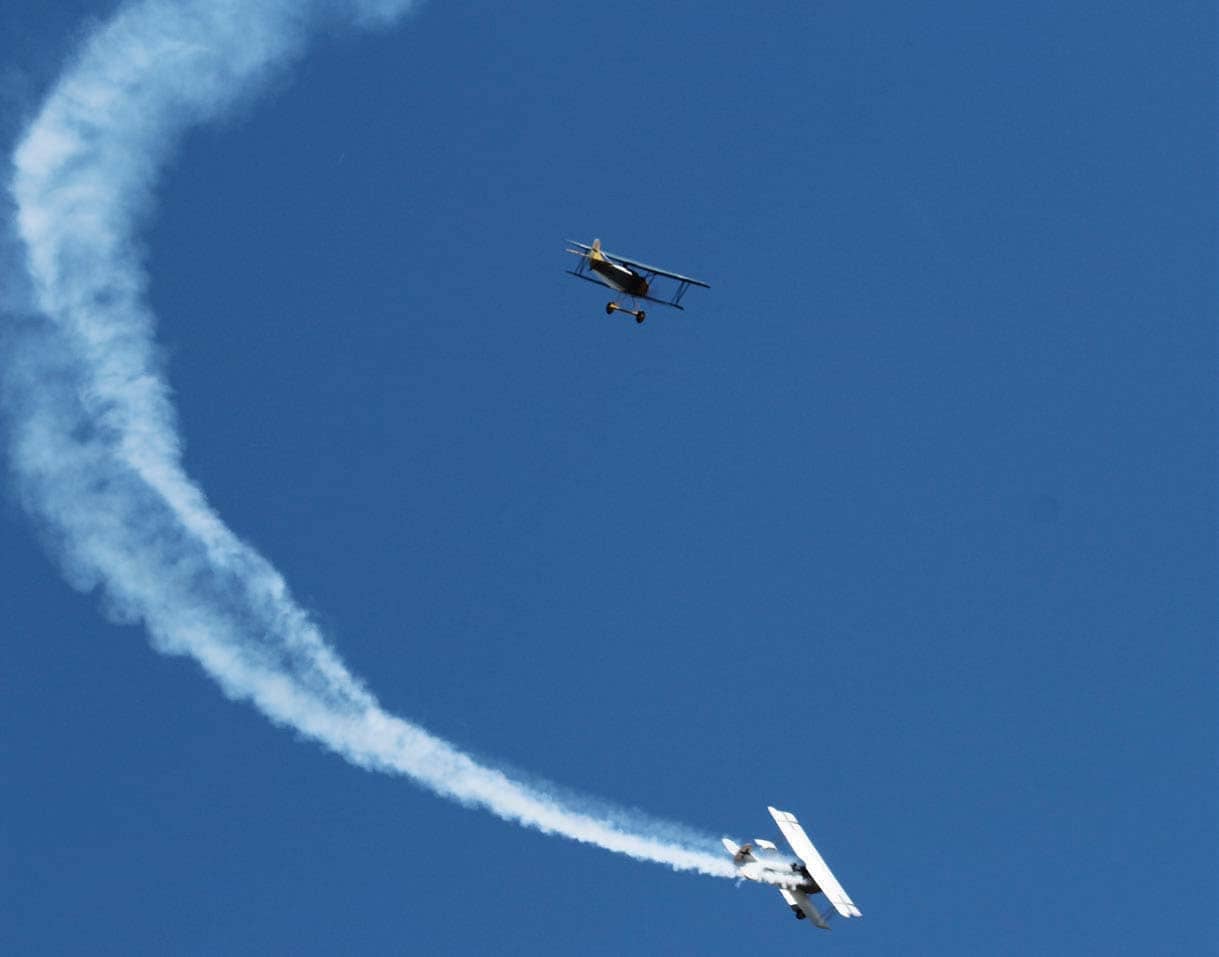 LIFE ON THE FLIGHTLINE
One of the great traditions at Dawn Patrol is the hot breakfast sandwiches cooked right on the flightline by club secretary Bob Sikora and president Andy Marone. This year there was plenty to feast on from sausage grinders, burgers and hotdogs and even grilled shish kabobs. Saturday, everyone was treated to an excellent catered lunch, and of course there are always loads of homemade sweets and goodies.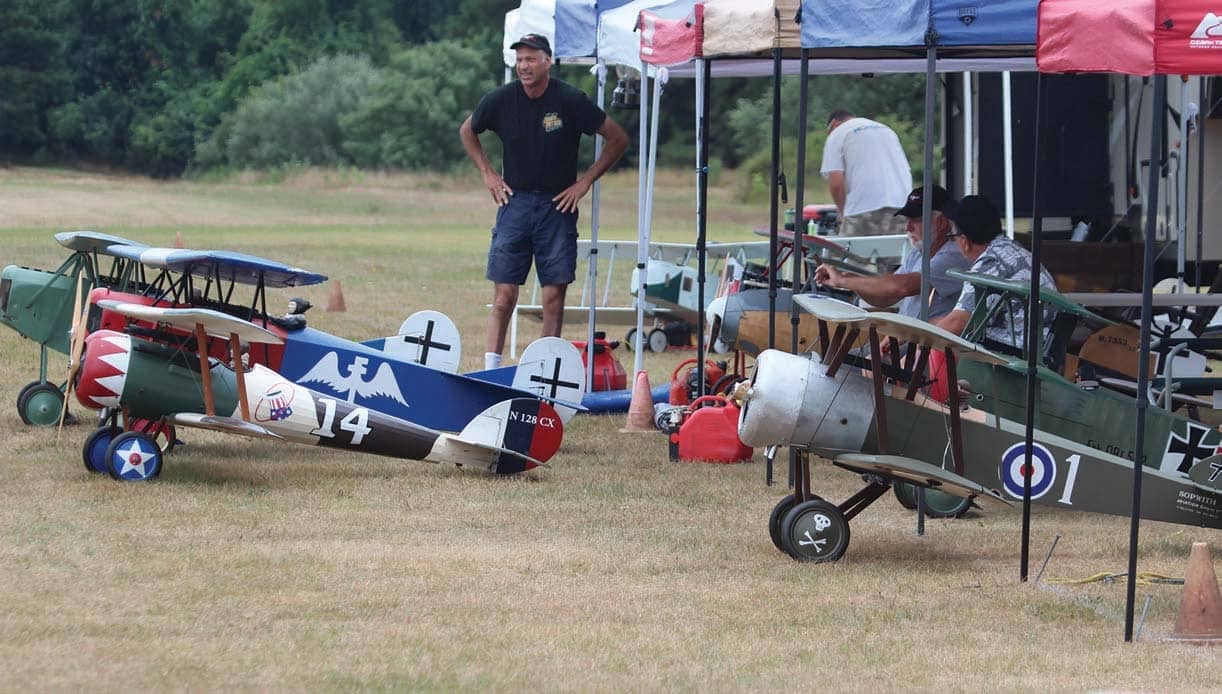 The Skyhawks have an impressive membership, with plenty of RC scale competitors calling the club home. With its roots deep in Long Island's aviation history, the club was established in the late 1980s as a "giant-scale-only" organization following IMAA aircraft size rules. Started by experienced fliers and builders, the membership has included giant-scale designers and flyers such as Nick Ziroli Sr., Roy Vaillancourt and Ron Weiss. About 10 percent of the current membership has competed at regional and national scale events like the AMA/NASA Nationals in Muncie, Indiana, and the Top Gun Scale Invitational in Lakeland, Florida. So it's no surprise that the club has high standards for scale modeling and competition, and the flightline always shows it.
For the most part, 1/4-scale and 1/3-scale planes rule the day. Many Balsa USA kits are represented as well as giant-scale designs built from Glenn Torrance plans and even a couple of classics from RichUravitch.com. The most popular dogfighter there seemed to be the Fokker D.VII, with several versions and scale sizes represented. There were also a couple of multiengine bombers on hand and they weren't just eye-candy on display in the pit area. These behemoths flew and put in several flights. See the sidebars for more information.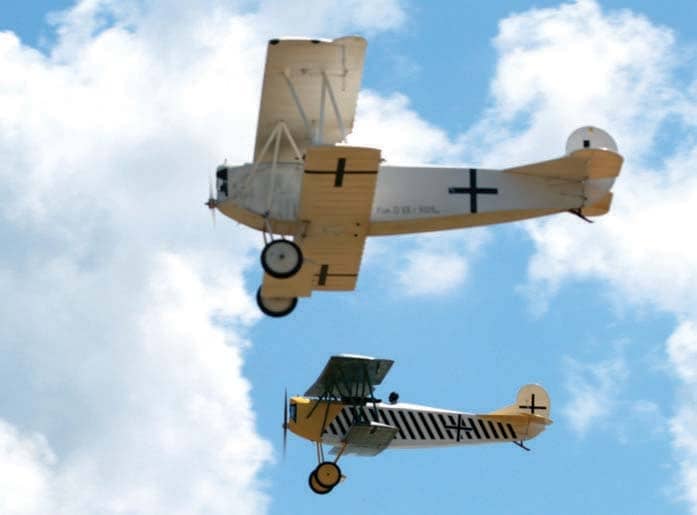 You can read up to 3 premium stories before you subscribe to Magzter GOLD
Log in, if you are already a subscriber
Get unlimited access to thousands of curated premium stories, newspapers and 5,000+ magazines
READ THE ENTIRE ISSUE
November 2020