"RIETBOK" AIR ACCIDENT
Global Aviator|June 2020
South African Airways Flight 406
South African Airways Vickers Viscount 818 ZS-CVA crashed in the Indian Ocean off Kayser's beach, approximately 15 nautical miles nouth-west of the Ben Schoemant Airport, East London an 13 Marh.
Summary
On 13 March 1967 Vickers Viscount aircraft ZS-CVA, Rietbok, was on scheduled commercial flight SA 406 from Port Elizabeth to Johannesburg via East London and Bloemfontein. Its estimated time of arrival at East London was 1714 GMT, but the weather there was poor. The captain had indicated that he would probably overfly East London, but that he would have a look at conditions there before deciding to do so. The last communication from the aircraft was when it notified East London Airport Control that it was at 2 000 ft with the coastline in sight.
It is estimated that the aircraft was then between 20 and 15 nautical miles from the airport and that the time was approximately 1709.
At 1710.08 the aircraft crashed into the sea. The approximate position of the crash was 33°13.45' S, 27°38.3'E.
On board were Captain Gordon Benjamin Lipawsky, First Officer Brian Albert Richard Trenwith, three cabin crew and 20 passengers. Airsea rescue operations were promptly activated, but there were no survivors.
Bits of floating wreckage, consisting mainly of cabin interior fittings, were recovered by naval vessels and other pieces were washed ashore. The main wreckage of the aircraft is believed to be lying at a depth of between 180 and 220 feet, approximately one-and-a-half miles off-shore.
Extensive salvage operations were attempted, but were hindered by murky water, a current up to 8 kts, and dangerous sea conditions.
Cause of the accident
The available data is not sufficient for the originating cause of the accident to be determined with any degree of probability. In the opinion of the Board certain possibilities can be excluded as being inconsistent with the evidence and/or as being remote and improbable: among these possibilities are structural failure, failure of controls or control surfaces, multiple engine failure, instrument failure, explosion, fire, a bad weather accident and pilot error.
However, on available evidence, the Board cannot exclude as the originating cause of the accident, a heart attack suffered by the captain in the air, with ensuing loss of control of the aircraft, and with the first officer being unable in the time available to regain sufficient control to prevent contact with the sea.
Responsibility for the accident
The Board's investigation revealed no breach of duty or other culpable failure on the part of any person.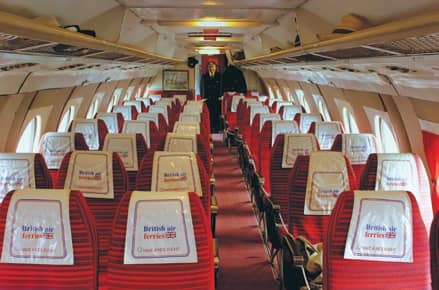 Investigation
History of Flight South African Airways Viscount aircraft
You can read up to 3 premium stories before you subscribe to Magzter GOLD
Log in, if you are already a subscriber
Get unlimited access to thousands of curated premium stories and 5,000+ magazines
READ THE ENTIRE ISSUE
June 2020