Helicopter Traversing Systems
The last mile connectivity problem
One of the unique aspects about naval helicopters – one that often falls into a grey zone between helicopter manufacturer and shipbuilders – is the helicopter traversing system.
On a warship, landing of the helicopter marks the beginning of another important evolution that must be handled with equal precision and alacrity: the movement of helicopter from deck to hangar (known as 'strike down') and vice-versa (known as 'ranging' on deck). Why are these two evolutions important? Simple. The process of strike down and ranging imposes limitations on the warship's maneuvering, thereby rendering it vulnerable to both medium and adversary.
Consider a 6000-ton warship cutting through the waves with a 12-ton helicopter onboard. The only things holding the helicopter on deck, or in hangar, are the tie-downs or moorings. These must come off during traversing. Time, tide and formation wait for no one. Nobody in a seagoing fleet has abundant patience, neither is the medium (sea) always calm or forgiving. When the moorings are removed for traversing, something must hold ship and helicopter together. Once we have that figured out, a system should be in place that moves the helicopter through those few metres when everything else is conspiring to tip it overboard. That job is done by a Helicopter Traversing Systems (HTS).
Light helicopters like the 2-ton Alouette (Chetak) depend on a human HTS (call it 'one-two-six-push' or 'heave-ho' if you will). A steering arm is attached to the nose wheel, lashings are removed or shifted on the move (called 'running lashings'), deck crew 'manhandle' the helicopter, while a supervisor barks "slight starboard", "slight port", "midships", "on brakes", "off brakes", "stop pushing", etc over the roar of machinery noise. This is HTS version 1.0!
Anything above this weight category will not manhandle kindly. It's literally and metaphorically a slippery slope trying to push iron birds on a moving deck without the right implements. Naval aviators will recall at least a few occasions when 'manhandle' threatened to turn 'man overboard!'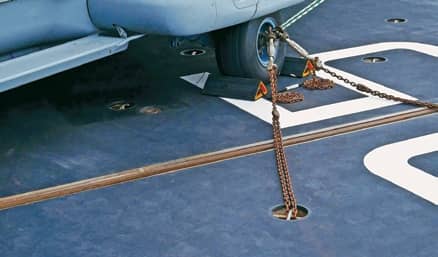 You can read upto 3 premium stories before you subscribe to Magzter GOLD
Log-in, if you are already a subscriber
Get unlimited access to thousands of curated premium stories and 5,000+ magazines
READ THE ENTIRE ISSUE
March 2020