The Death Rattlers
Flying and Fighting with VMF-323
Marine Fighting Squadron 323 (VMF-323) was commissioned on August 1, 1943, and was quickly brought up to combat-ready status under the leadership of young Maj. George Axtell Jr. Instilling great discipline and aggressive fighter tactics, the men of VMF-323 certainly earned their squadron's nickname as the "Death Rattlers." At the controls of the F4U and FG-1 Corsairs, the men of VMF-323 not only provided ground support for the island-hopping Marines below but also shot down more than 124 Japanese planes. Here is the story of three such men who, by their own accounts, were each "just doing my job."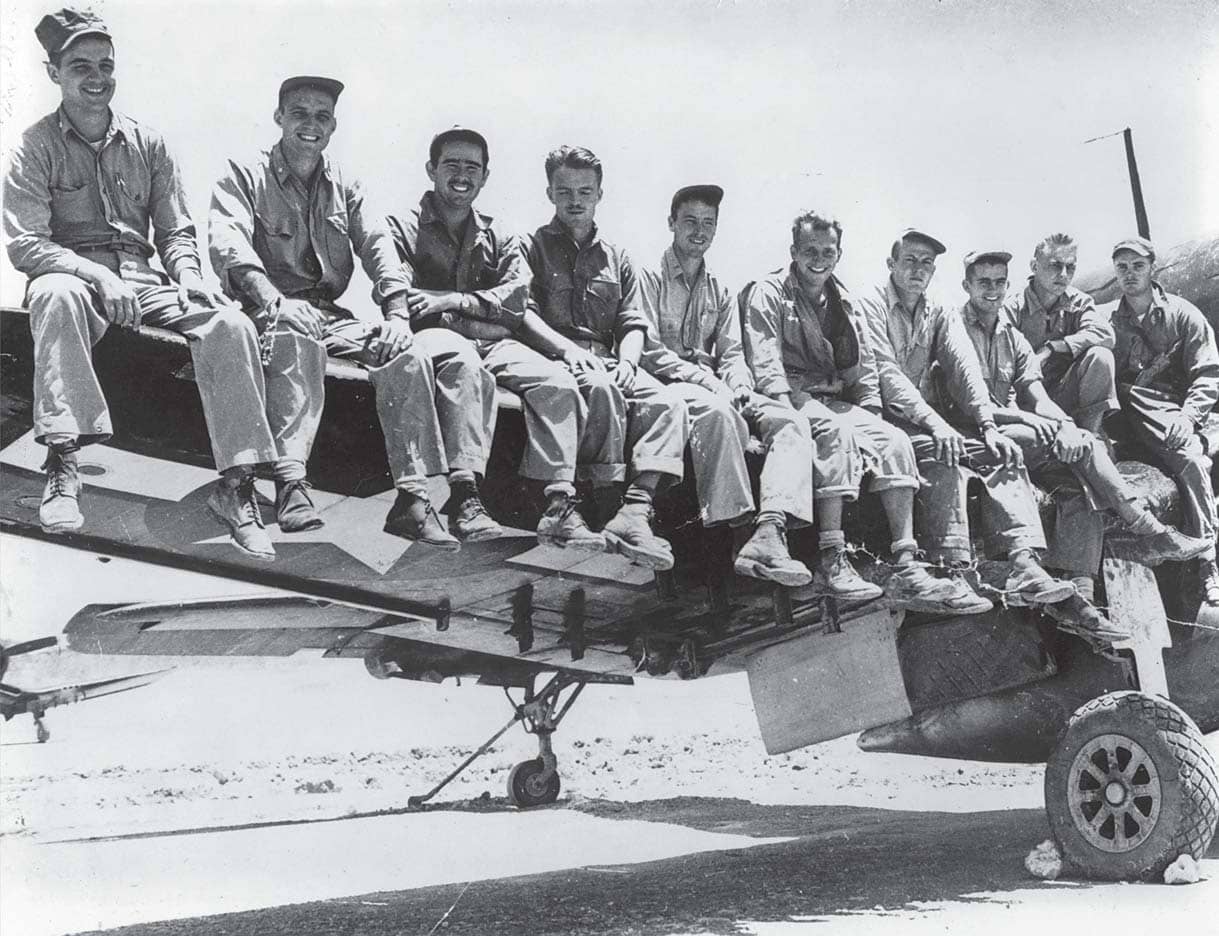 Maj. Gen. George C. Axtell Jr., USMC, Ret. "When I was promoted to the rank of major in 1943 and given command of a Marine fighter squadron, VMF-323, at the ripe old age of 22, I suddenly became the youngest squadron commander in the Marine Corps. I may have been tough and hard on them and had very little patience for screwups, but my role as CO [commanding officer] was not to make friends. My role was to mold boys into men, creating the deadliest, most highly trained fighter pilots in the world at the controls of the Corsair.
"To me, the Corsair was the nicest fighter I had flown at the time, even better than the F6F Hellcat. The F4U was very smooth; steady; and a delightful, stable gun platform. We could also carry a large assortment of ordnance, including napalm, rockets, and bombs, as we supported the Marines on the ground during the island-hopping campaign.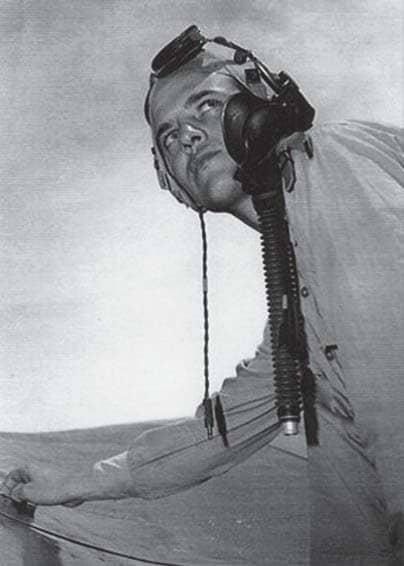 "I was leading a flight of eight Corsairs in the late afternoon of April 22, orbiting above the picket ships that formed a defensive ring around Okinawa, as their radar scanned the skies for incoming kamikazes. One of the Corsairs had to abort because of mechanical problems, so we were down to seven as we flew circles above the ships at 25,000 feet. I received a vector from the controllers to proceed about 50 miles north of Aguni Shima. The weather was lousy with cloud cover all over the sky as we flew in and out of rain clouds. That was the trick of the kamikazes: to use a weather front as a shield and fly on the back side of it as they made their way south from Japan. Today was no different.
"All of a sudden, we popped out of a cloud, and there were enemy airplanes all over the place. They were below us at between 5,000 and 10,000 feet, heading for our ships. There must have been 40–50 Japanese Aichi D3A 'Val' dive-bombers, all of them hell bent on dying for the Emperor of Japan. Those were the worst ones because they were normally the tough ones to shoot down; they just didn't give a damn! I dove our seven Corsairs down onto the Vals, as I led the first flight of four Corsairs and my XO [executive officer], Maj. Jefferson Dorroh, led the other three. Airplanes were going up and down all over the sky, as I swung into one of the Vals, identified it, and gave him a burst. He blew up in front of me. I went looking for more, as did my section leader Lt. [Jeremiah] O'Keefe.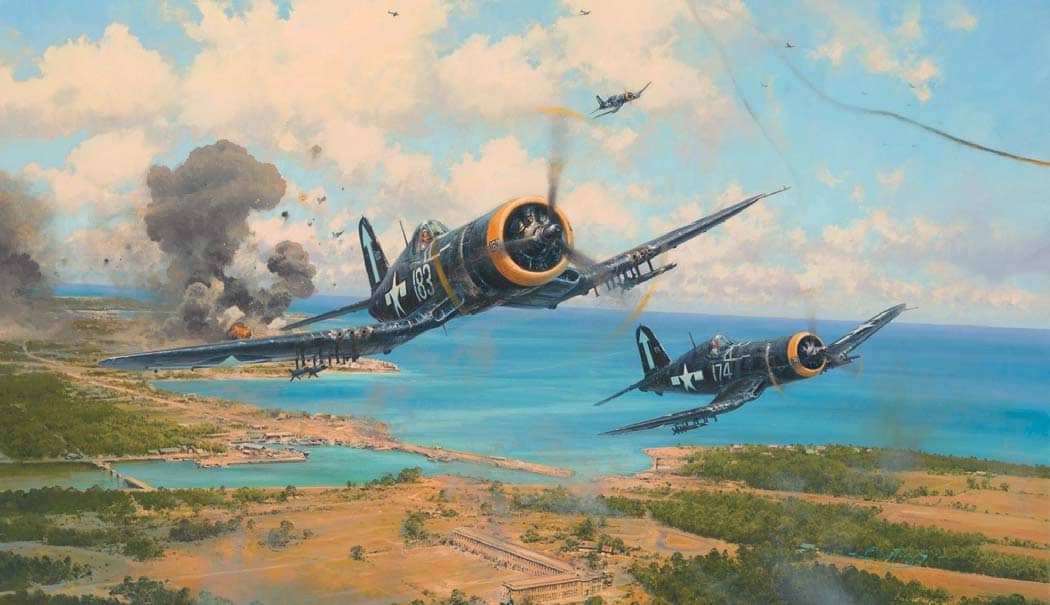 "The weather was horrible, but you get spaces where you can see three or four miles. One moment you're in a rain shower, and suddenly, when you come out of it, you find a Val on the other side of a cloud. You go in until you get so damn close that it fills up your gunsight; you swing in behind them and shoot the airplane that's in front of you, as you look around for the next one. We trained not to shoot from too far out and to get in as close as you could. You're not thinking; our training taught us to just react and to go into it. The one hard-and-fast rule is to kill them, to destroy the enemy. We knew we were more highly trained, and always thought we were better than anything or anybody else out there. Never once did we think otherwise. Anything less and you were dead. By the time it was all said and done, I got five Vals and damaged some others. Maj. Dorroh bagged six and Lt. O'Keefe shot down five, as our squadron, as a whole, accounted for 24.75 victories that day." [Editor's note: George Axtell was awarded the Navy Cross for extraordinary heroism on this mission.]
Lt. Jeremiah O'Keefe, USMCR, Ret. "We were terribly impressed with the Corsair. We thought it was a wonderful airplane, and we really felt honored and delighted to have an opportunity to fly it. At that time, it was one of the finest airplanes in existence, although the only other fighter I had flown was the little Grumman F4F Wildcat. Stepping up to a Corsair was a big improvement because it proved to be both an aerial gunfighter and a great ground-support weapons platform. The Corsair had an enormous capacity to carry rockets, machine guns, napalm, or regular bombs.
"Our squadron had been in the South Pacific for almost a year and had not seen any enemy action during that time. We flew a lot of patrols over islands that had already been captured or bypassed by Allied ground forces, and there was no aerial opposition to speak of. Our squadron had been given the nickname of 'Death Rattlers,' named after the venomous rattlesnake of the American West, so it was only a matter of time before we would make our first kills when we entered the combat arena in April of 1945 led by our CO, Maj. Axtell, as we orbited over the picket ships off Okinawa.
You can read up to 3 premium stories before you subscribe to Magzter GOLD
Log in, if you are already a subscriber
Get unlimited access to thousands of curated premium stories, newspapers and 5,000+ magazines
READ THE ENTIRE ISSUE
June 2019