China Blitzer
Flight Journal
|
February 2019
Combat Over The Hump
Lt. Col. Benjamin H. Ashmore,
There have been countless tales of U.S. Army Air Forces World War II fighter pilots weaving over boxes of bombers pulling contrails high over Europe and then slugging it out with the Luftwaffe, taking the fight from the lower reaches of the stratosphere down to the deck. The majority of war correspondents were stationed in Europe during WW II, so it was only natural that many of these documented exploits came from the European theater. But this story takes place in a far-off corner of the world, over inhospitable terrain filled with malaria, high humidity, and subzero temperatures—not a place many war correspondents dream of traveling to. Nevertheless, the fighter pilots that protected the Hump routes always seemed to be outnumbered, outgunned, and short on supplies. Follow along as one young fighter pilot from Texas cuts his combat teeth in the skies over China.
Go Get Those SOBs!
When the war broke out in December 1941, I was a 19-year-old kid from north Texas, and like most guys my age, I wanted to enter the fight. My father had other ideas, though. He had made it as far as earning his wings at Kelly Field in Texas, flying Jennys before WW I ended. I'm sure he knew guys who never made it back and had read many accounts of the horrors of war, and understood a lot more than I did what I would face. Finally, in early 1942, with constant nagging on my part, he said, "Go get those sons of bitches!"
I followed in his footsteps and entered flight training, flying PT-19s, BT-13s, and the AT-6 Texan. It was while I was flying the BT-13 that one of my instructors casually pulled me aside and said, "I think I'm going to recommend you for fighters." And in my poor old Texas farm-boy accent I said, "What's that?"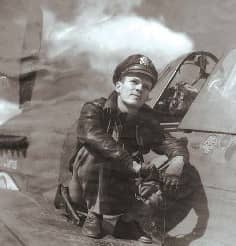 As flying cadets, we didn't have time to think about the future. We ran around knowing there was a 45 to 50 percent washout rate. You didn't blink, unless you were ordered to. If you screwed up, you were out, 'cause we had a whole bunch of guys coming along behind us. But after I understood what flying fighters was all about, I remained focused on earning my wings. That finally happened in 1943, and as a newly commissioned 2nd lieutenant, I got my chance to prove myself at the controls of a P-47 Thunderbolt.
I was sent to Richmond Army Air Force base in Virginia along with a cadre of others to be trained in the art of high-altitude bomber escorts. The Thunderbolt was huge, and once in the cockpit, it was like sitting under a big tent. It was the biggest cockpit I had ever seen in my life; you could have had a dog race inside of that airplane. The only bad thing about the P-47 was that when you got it above 37,000 feet and pushed the nose below 30 degrees, you entered compressibility. The elevator just froze up and the only way out of it was to roll the trim forward and shove the throttle to full power as you tried to pull that stick back with your trembling hand. At about 18,000 feet, the plane would slowly come out of it. It was an interesting ride down, to say the least.
After flying and surviving our new learned tactics, we would gather and talk about what we were going to do to the Luftwaffe with our Thunderbolts when we got to England. Unfortunately, we never made it to jolly old England. Right before we finished our training, 18 of us were pulled out and told to report to Miami, Florida, for further instructions. We figured that we were going to be put on submarine patrol or some damn thing and finish up our training over the Caribbean.
Leaving Miami, we were given secret orders and told not to open them until we were over Cuba. We all scratched our heads when they said we were to report to the commanding general in New Delhi, India. [Some of us thought,] "Where in the hell is India? And where's New Delhi?" And I said, "I know where India is. I always painted it pink on a map when I was in grade-school geography [class]." I got many of the guys to chuckle, and it was the last time many of us laughed for a long time.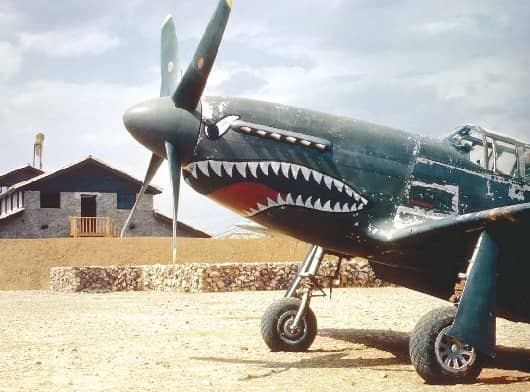 Young Tiger
Our final destination turned out to be Lahandi Field in Karachi, India. They had some fighters there; P-40Bs that had come from the AVG [American Volunteer Group, or the "Flying Tigers"]. They didn't look so good—all bruised and battered. To be honest, I hadn't ever seen an airplane look quite that bad before. The distinctive shark mouths were still on them, buried under mud, exhaust stains, and oil. Our instructors were a group of battle-hardened pilots who had seen a lot of action with Claire Chennault's AVG and Chinese Air Task Force after the deactivation of the Flying Tigers in July 1942.
You can read up to 3 premium stories before you subscribe to Magzter GOLD
Log in, if you are already a subscriber
Get unlimited access to thousands of curated premium stories, newspapers and 5,000+ magazines
READ THE ENTIRE ISSUE
February 2019