Unmanned - Needs A Piece Of The Sky
Aviation Update
|
August 2020
It's only been about a decade since drones more accurately, commercial and personal quadcopters first started being mass-produced. But already, they are everywhere. Personal drones are buzzing on the beaches and at parks, commercial drones are working on construction sites and farms and delivery drones are even starting to deliver packages/medicines in some cities. The increasing 'specialization' of drone technology for commercial use indicates there will be many different types and sizes of drones at work around a city in the near future. The massive rise in use cases being published by companies also suggests that drones will be put to use in a wide range of hitherto unimagined ways.
Continued adoption of the commercialised unmanned flights will require an expanded regulatory framework. Governments will also need to play a role for supporting this growth in form of extending the waiver provision and adapting regulations as per technology. The reality is that to fully develop and mature the commercial drone manufacturing and application development sectors would prefer a clear set of rules and regulations that are essentially standardized at the national or better yet, global level. Just like any new technology, the standardization of technical specifications and regulatory guidelines will be key to not only driving commercialization and investment into the sector, but also in setting the rules of engagement for businesses and governments. Despite this evolution and enthusiasm, the Industry faces operational challenges when integrating UAV and Pilots into existing airspace. And if these hitches aren't overcome, safety and security concerns could ground drones before they truly take off.
Industry organizations, Academia and the DGCA/ MoCA are working to mitigate potential integration problems that will naturally come with the increase in drone use. However, fully enabling the pending influx of commercial UAS operations requires a blend of operational and technological improvements, while preserving the current level of service to other operators within the system. RPA operation will need to be as repetitive and as controlled as possible throughout all characteristics of the flight. The DGCA has a long and proven track record of maintaining the safest and most complex airspace in the world. As the Commercialisation for drones continues to grow, keeping the airspace safe will remain top priority for the Aviation Regulator. Any approach that seeks to integrate with Air Traffic Control (ATC) services must ensure that any additional workload on ATC be minimized, as Air Traffic Management largely remains a manual process in India and ATC professionals are already experiencing maximum overload.
A successful integration strategy will capture the requirements of ATC by applying a scalable solution which captures the needs of ATC operations at the local and national level. Requirements must merge with existing ATC processes, providing intent (Flight Planning), predictability (GPS Way Points) and Return Home (RH) capability. Information sharing methodologies are also foundational elements of any integration scheme. It is crucial that all stakeholders access common data (i.e. ground obstacle data, UAS position and trajectory) to make decisions at both the planning stage and during operations. This tactic allows operators to secure sensitive information while enabling the UAS traffic management system to resolve user issues without needlessly burdening ATC.
To make sUAS operations in controlled airspace routinely possible, a workflow for RPA/ UAV missions is required for all aspects of the flight, from flight planning, through in-flight monitoring, to separation assurance and collision resolution. This ensures an acceptable level of risk that the UAV can accomplish its mission and safely land. To satisfy the need for scalability in the future, this workflow must function without significant changes across multiple, existing airspace classes supporting a variety of device types and performance features, while enabling diverse missions beyond point-to-point navigation.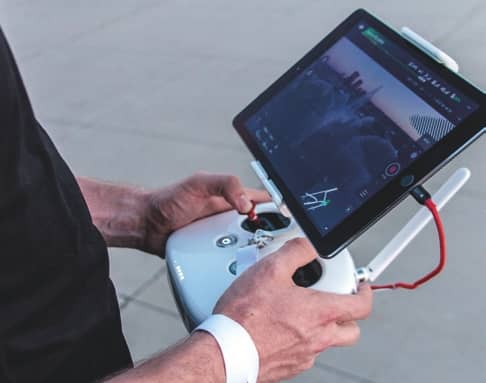 You can read up to 3 premium stories before you subscribe to Magzter GOLD
Log in, if you are already a subscriber
Get unlimited access to thousands of curated premium stories, newspapers and 5,000+ magazines
READ THE ENTIRE ISSUE
August 2020