The Mudlark Treasures Of Rae Love
Imagine walking barefoot in the middle of winter along the muddy Thames foreshore littered with rusty nails and broken glass!
Poor Victorian mudlarks braved dangerous conditions to find practical items like coal, iron, copper nails and ropes which they could sell in order to buy food and essentials for themselves and their families. If they found tools, they would sell them to seamen in exchange for biscuits and meat which were rare and special treats. Out of desperation, these young children went mud-larking to survive.
In the 19th century, author Henry Mayhew visited the Thames foreshore several times and interviewed some of the mudlarks. This extract from his book, London Labour and the London Poor, published in 1851, describes a nine-year-old mudlark who was dressed in tattered clothes:
"His trousers were worn away up to his knees, he had no shirt, and his legs and feet (which were bare) were covered with chilblains. He had been three years mud-larking and supposed he should remain a mudlark all his life. What else could he be, for there was nothing else that he knew how to do?
He could neither read nor write and did not think he could learn if he tried ever so much. All the money he got he gave to his mother, and she bought bread with it. The boy had taken to mud-larking, he said, because his clothes were too bad for him to look for anything better. He worked every day, with 20 or 30 boys, who might all be seen at daybreak with their trousers tucked up, groping about and picking out the pieces of coal from the mud on the banks of the Thames. He went into the river up to his knees, and in searching the mud, he often ran pieces of glass and long nails into his bare feet. When this was the case, he went home and dressed the wounds, but returned to the riverside directly, for should the tide come up without having found something, he must starve till next low tide. In the very cold weather, he and his other shoeless companions used to stand in the hot water that ran down the riverside from some of the steam factories, to warm their frozen feet."
In stark contrast to the poor Victorian mudlarks who searched the Thames foreshore in order to survive, today's mudlarks are well-educated, amateur archaeologists who are passionate about discovering London's history in the mud of the River Thames. Rae Love is a well-known female mudlark who appeared in the TV program Thames Treasure Hunters on the National Geographic Channel and has been featured in interviews on YouTube.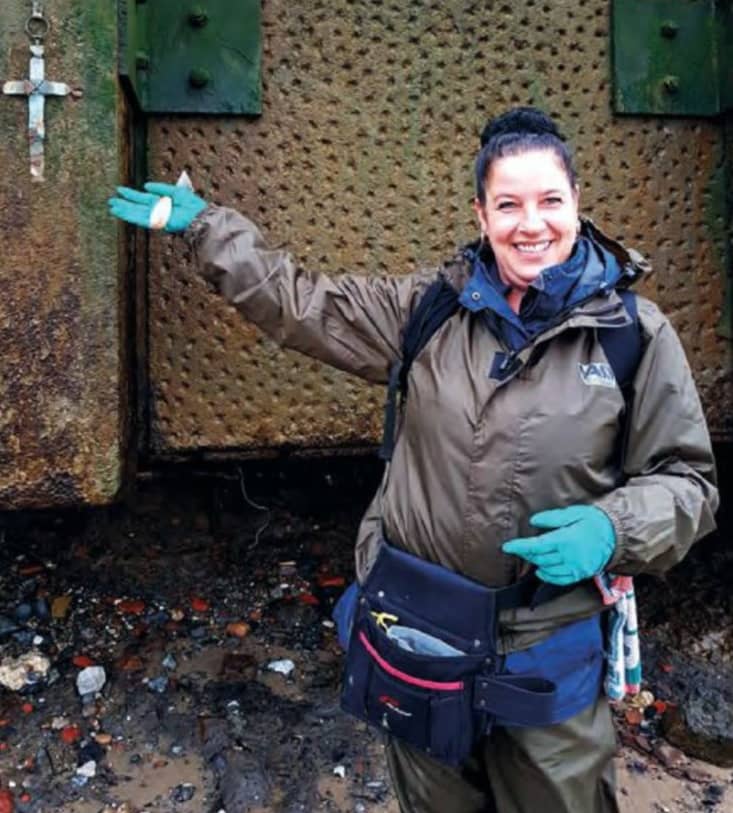 Although she recently moved to Kent, Rae has lived in London all her life. Since she was a small child, Rae has had an interest in archaeology because she grew up near an old moat surrounded by the remains of an old Medieval manor house dating to the 11th century. At a young age, she started mud-larking along the River Thames in Erith. "We had no fear of the water or of getting stuck in the thick, gloopy, smelly mud. We would pick up things on our adventures and put them in our little bags. When we got home, we would wash them and put them in our garden not really knowing what we had found. We got a good telling off for getting rotten dirty and for going into the mud of the Thames (we didn't know the dangers of getting stuck or drowning back then). If I had known then what I know now, we probably wouldn't have been so brave!"
In 2006, Rae started mud-larking on a regular basis and became an official member of the exclusive Society of Thames Mudlarks at the beginning of 2009. Not only is Rae an official mudlark, but she is also the proud mother of six children and eleven grandchildren. "I love to go to the Thames in London any chance I get because I find it very therapeutic. The Thames is the second-longest river in England, and the history relating to each stretch is a never-ending treasure trove of information. Just think, if the Thames could talk, what tales it could tell! The finds are an added bonus, and each tells their own story. To hold in your hand something that hasn't seen the light of the day for hundreds of years is pretty amazing and thought-provoking. I like to search the foreshore by eye or scraping with a small trowel. I own four metal detectors and have taken a detector with me on a couple of occasions. To be honest, I have found 99% of my best finds without the use of a detector and much prefer using my eyes. My best day of mud-larking was actually late at night with good friends, when I found a total of 88 coins. Amongst them, I was lucky enough to have found a Roman as of Vespasian from AD 74-75 and a dupondius of Antoninus Pius from AD 154 -155.
"My most harrowing experience was when I first started mud-larking on the Thames on a lone trip. I was so engrossed in searching the foreshore and was totally in my own world that I didn't keep a check on the tide coming in – that was a big mistake on my part! I looked to the right of me where my exit point had been, only to discover that the tide had already reached the wall that I needed to get around. I had to think quick to find another exit. I was literally clambering, slipping and sliding over boulders. I felt my heart in my stomach as I neared the broken ladder that would get me to safety. Eventually, I clambered up to the top and literally dropped down the other side. Lesson learned, always keep tabs on the tide and respect the river!"
During her many years of mud-larking, Rae has found some extraordinary artifacts. While I was writing this article, I had the fortunate opportunity to visit her house and view her extensive collection of finds. Rae shared her top 15 finds with me which she has collected over the past 13 years. Many of these artifacts have been recorded by the Museum of London and documented on the PAS.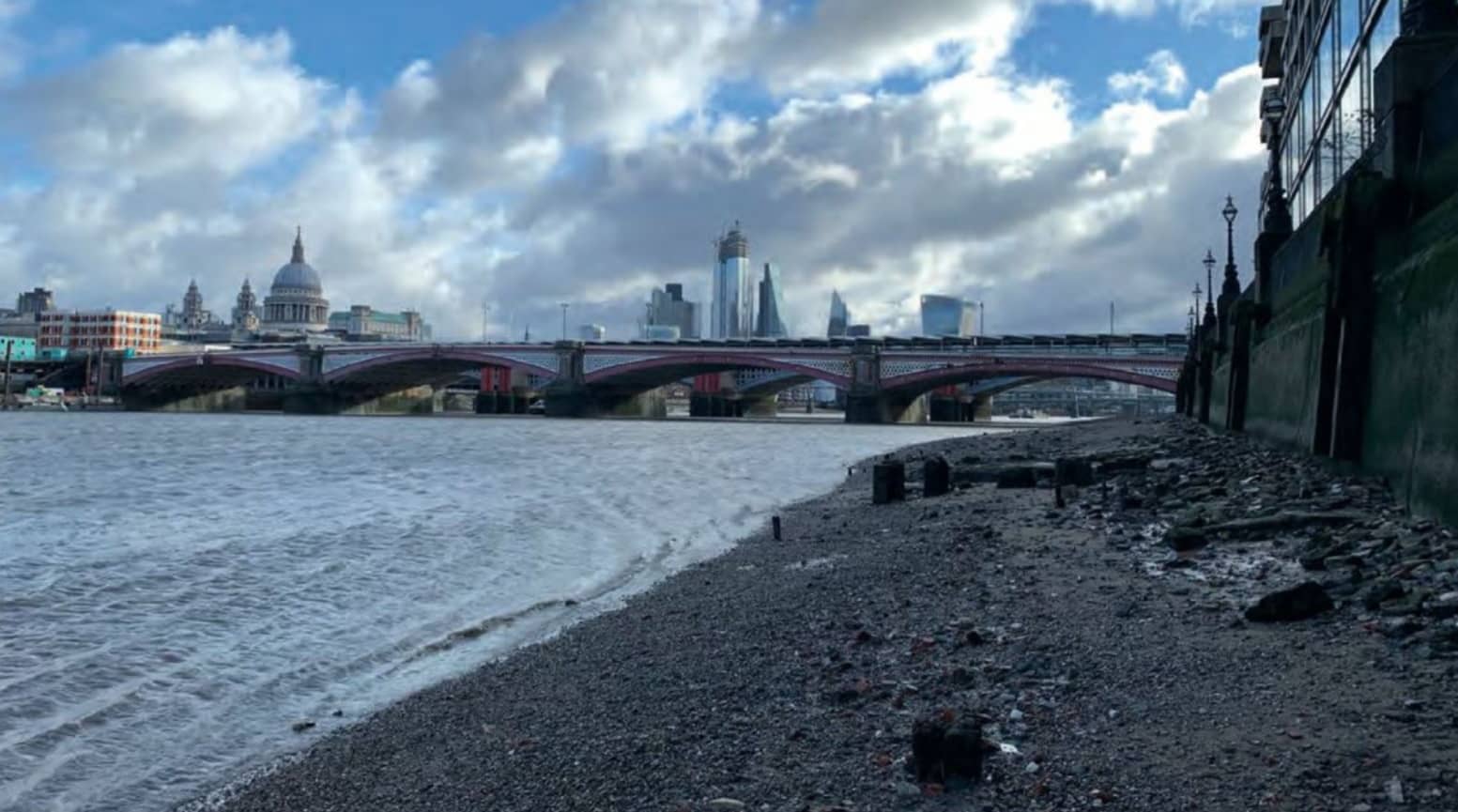 Celtic Silver Unit (LON-D2E8A6)
"When I found this Celtic coin, it was the first one I had ever found. I took it to a Society of Thames Mudlarks meeting thinking it was a forgery or fake as I had nothing to compare it to. I handed it into the FLO who confirmed that it was an Iron Age silver unit from King Dubnovellaunos of the Trinovantes tribe." The coin dates to 20 BC-AD 10 and is a beautiful work of art. On the obverse, a stylized bust is illustrated with chubby cheeks, bulbous lips and crescent-shaped lines depicting the hair. A galloping horse is shown on the reverse, surrounded by dynamic lines and rings which illustrate the energy of the moving horse. The Trinovantes were a Celtic tribe who lived on the north side of the Thames Estuary, now located in Greater London. When Julius Caesar invaded Britain in 55 BC, the Trinovantes were considered the most powerful tribe in Britain. The Trinovantes tribe fought with Celtic Queen Boudica when the Iceni tribe revolted against the Roman Trinovantes silver unit. settlers in AD 60-61. The powerful queen successfully destroyed Roman Londinium (London) in AD 61. Trinovantum, the original name of London used by Geoffrey of Monmouth in his books, Historia Regum Britanniae (The History of the Kings of Britain), was named after the Trinovantes tribe. Celtic coins are a very rare find along the River Thames, so Rae's silver unit is a special coin which is evidence of the Celtic presence in the London area.
Roman As Coin (LON-3A3E20)
Continue Reading with Magzter GOLD
Log-in, if you are already a subscriber
Get unlimited access to thousands of curated premium stories and 5,000+ magazines
READ THE ENTIRE ISSUE
September 2019